A declaration by the Justice Department to resume seeking the harshest of penalties for alleged low-level, illegal drug offenders has drawn widespread criticism from sentencing reform advocates in higher education. They say the reversal of policy is unwarranted and unfounded based on criminal science studies of the last two decades.
"This policy just lacks imagination," said criminologist Charles Adams, coordinator of the Criminal Justice Program at Maryland's Bowie State University.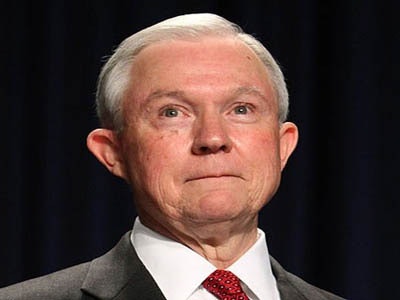 Returning to law-and-order, lock-them-up rhetoric and policies for low-level and first-time offenders of non-violent crimes — many of them college bound and college students — runs in the face of growing efforts to use incarceration as a last resort, to cut prison costs (Maryland spent $25,000 a year per prisoner to house and feed inmates, he said) and reduce the ranks in the nation's overcrowded prisons.
"The administration is determined to roll back all the progress of the last eight years," Adams said.
Adams was echoing peers across the nation responding to a brief statement last Friday by former Alabama Sen. Jeff Sessions, now the nation's attorney general. The statement effectively reversed nearly a decade of efforts by the Obama administration to defuse the get-tough stance of the federal government regarding illegal drug traffic dating to the Reagan Administration and beyond.
Sessions, a law-and-order era Republican, made it clear in his brief statement that getting tough on crime was high on his agenda. In a memo establishing regarding the "charging and sentencing policy" for the Department of Justice, Sessions says, "It is a core principle that prosecutors should charge and pursue the most serious, readily provable offense. . . By definition, the most serious offenses are those that carry the most substantial guidelines sentence, including mandatory minimum sentences."
"There's absolutely no evidence it ever worked and will work," said Dr. Vickie Jensen, acting chair of criminology and justice studies at California State University Northridge. Jensen has focused on criminal justice studies for 20 years and is considered an expert on women in prison issues in California. She says criminologists across the political spectrum are in agreement that harsh penalties on low-level offenders have no effect.
"This (Trump) administration has a very different relationship with research scientists," said Jensen, citing research by the American Society of Criminology that shows harsh sentences have little, if any, impact on low-level crimes.
"This (the Sessions decree) takes us back to the 1930's," said veteran criminal and constitutional law professor Larry Woods, a civil law attorney who has taught at Nashville's Tennessee State University for two decades. "It's tragic. It's tragic," said Woods, asserting implementation of the new policy toward low level offenders "just makes it harder on the oppressed."
"We're back to where we were when (Ronald) Reagan took office," said Dr. Dorothy Dillard, veteran sociologist and chairman of the department of sociology and criminal justice at Delaware State University.
"It defies everything research shows," said Dillard, ticking off studies over the last few decades that show harsh punishments of offenders don't work.
"It's a more social and health issue than a safety and violence issue," Dillard added, citing Sessions' history of not embracing the studies and findings of sociologists and criminologists.
For sure, the Sessions decree reflects a frightening turn of events for those fighting for more practical sentencing laws and prison diversion programs, said Kemba Smith Pradia. She is the former Hampton University student whose mandatory minimum federal prison sentence of 24½ years drew national attention to lawmakers' trend toward embracing harsh sentences as a weapon against crime.
Pradia was a low-level, first-time, non-violent offender, when she was among a group of 21 people indicted, many of them first-time, non-violent students like her.
"It's just going back in time," said Pradia, whose sentence was commuted to time served — six and a half years — by then-President Bill Clinton in December 2000. She since has returned to college, earned a degree and joined campaigns for sentencing reforms.
Pradia was at the White House in April 2016, giving then-President Obama a hug for his embrace of efforts to reduce and or commute the prison sentences of thousands of people swept up the 1980's and 1990's wars on drugs.
Obama had also quietly gotten funds for the Justice Department's Smart on Crime programs to fund local anti-crime efforts as well as some Pell Grant funds used for `pilot' programs funding college education efforts aimed at felons readying for transition back to civilian life.
Before Obama left office he had commuted the sentences of more than 1,000 felons. Thousands of low-level offenders serving unusually long federal prison terms were left for the next president.
Many say they felt Obama was giving the next president a challenge to build on the momentum of the criminal justice community and on Capitol Hill to do more.  This month's actions, Pradia said, suggest the outlook for the next several years will be to do less to help those swept into the so-called war on drugs and reverse gears.
"He seems totally disconnected," Pradia said of President Trump. Referring to the prospects that Trump and Sessions would build on the gains of the last decade, she noted, "I knew it was a long shot. I hope Congress gets itself together."