The presidents and chancellors of 10 minority-serving institutions called on members of Congress to strengthen federal investment in the Pell Grant program, in a letter released on Wednesday afternoon.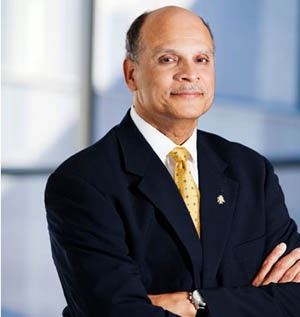 "The Federal Pell Grant program is the foundation of student aid for higher education, and it is a critical part of ensuring the American Dream is possible," they wrote. "This is particularly true on our campuses, where, on average, over half of our undergraduate students receive Federal Pell Grants."
Campus leaders who signed the letter included Dr. Mark Rosenberg, president of Florida International University; Dr. David Wilson, president of Morgan State University; and Dr. Harold Martin, chancellor of North Carolina A&T State University, among others.
Presidents and chancellors thanked Congress for restoring year-round Pell in the 2017 budget passed in early May, which will allow students to attend classes year round and minimize the amount of student debt they accrue. Year-round Pell grant funding was eliminated in 2011.
Higher ed groups had called for the restoration of year-round Pell for years, a move that finally found the broad bipartisan support it needed in Congress this year. At a meeting with leaders of historically Black colleges and universities in Washington in February, House Speaker Paul Ryan stated, "I like year-round Pell. That makes a lot of sense."
Looking ahead to the 2018 budget, presidents and chancellors called on Congress to continue adjusting the dollar amount awarded each year for inflation and to increase the maximum award amount. The maximum Pell award for 2017-18 will be $5,920, which is significantly less than the annual cost of many four-year schools, public or private.
"Unfortunately, right now the spending power of a Federal Pell Grant is at its lowest point ever, covering less than 30 percent of the average cost of attendance at a four-year public, institution," the chancellors and presidents wrote. "And the median family income for a Federal Pell Grant recipient is well below the poverty line and still declining."
They also called on Congress to leave surplus dollars in the Pell Grant program fund. In its "skinny budget" released in March, the Trump administration proposed removing $3.9 billion from the $10.6 billion surplus in the Pell grant fund. Higher ed advocates, however, say that maintaining surplus Pell dollars is essential for years when the economy takes a downward turn.
The presidents and chancellors argued that the Pell grant ought to cover more of the cost of tuition. While tuition costs have skyrocketed, Pell awards have not kept pace.
"A college education consumes a larger share of annual income, upwards of 76 percent for low-income families, even after factoring in grant aid from all sources," the presidents and chancellors wrote. "That's simply unreasonable. The Federal Pell Grant must be stronger to alleviate some of that financial burden and bring educational opportunities within reach for everyone – but particularly for those with the lowest incomes."
Democrats in the House and Senate introduced legislation, the  Pell Grant Preservation and Expansion Act, that would strengthen the Pell program on Tuesday.
Staff writer Catherine Morris can be reached at cmorris@diverseeducation.com.