Not sure that most people know that as a result of draconian legislation, it has been in effect "illegal" to teach ethnic studies in Arizona since 2010. It is one of the twin laws that we in Arizona will never recognize as laws, regardless of what anyone says or however the courts rule.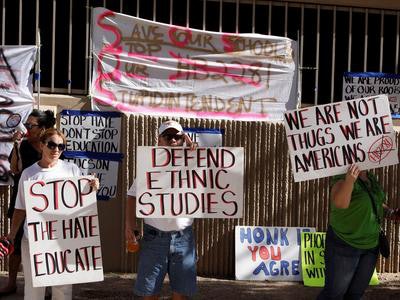 However, in about a month (June 26-30 and July 17-21), the constitutionality of the anti-ethnic studies HB 2281 legislation will be put to a test. At that time, the long-anticipated trial will be held to determine whether there were racial motivations in terminating Tucson Unified School District's highly effective Raza Studies Department.
That's like asking whether the United Stated was founded upon genocide, land theft and slavery. But what sounds like digression, is not. The truth is, some people barely know that Arizona is in the United States, though this wasn't always the case. The state has been a part of the United States only since 1912. Before that, as part of war booty, it had been a U.S. territory since 1848, as a result of an immoral and illegal war against Mexico. And before that, it had been and always will be Indian Country. For some, this is ancient history and irrelevant, though for this situation, this is actually the point.
There are particularities about the trial, but overall, this actually boils down to the question of what is permissible, and what is impermissible, knowledge. At the moment, this applies to K-12 students, but does not affect colleges and universities, but not for the lack of trying.
The inspiration for this legislation was former state superintendent, Tom Horne, who went on to become the state's attorney general. His crusade against Raza Studies began in 2006 and culminated with the passage and the signing of HB 2281, by then Gov. Jan Brewer in May 2010. He advanced the notion that what was being taught in Raza Studies was racist and that it was grounded in values outside of and incompatible with Western Civilization.
Enter the Maya or maíz–based concepts of In Lak Ech and Panche Be.
In Lak Ech translates into: Tue eres mi otro Yo: You are my other self. It is a concept that teaches students to see themselves in each other, regardless of race, gender, color, religion, etc. Panche Be translates into: Buscar la raiz de la verdad or "to seek the root of the truth." It also translates into "don't believe the hype" or "critical thinking." This was the philosophical core of Raza Studies. And mind you, Raza Studies was highly successful, graduating its students in the 90th percentile while the college-going rate was in the 80th percentile. Despite this, Horne objected to it, precisely because the students were being taught these concepts/values. He couldn't care less whether the students were successful; his only interest is that they should be taught knowledge that came from the Greco-Roman tradition, as opposed to these maíz-based values.
Incidentally, the genealogy in this country of these concepts can be traced to Maya scholar, linguist and philologist, Domingo Martinez Paredez, via a series of books, including Un Continente y una Cultura. In the late 1960s and early 1970s, Martinez Paredez had a working relationship with Teatro Campesino, including its founder, Luis Valdez. The playwright Valdez, of Zoot Suit fame, wrote Pensamiento Serpentino in 1973, in which he expounded upon these concepts. It is a classic treatise; a Chicano interpretation of this philosophy.
When Raza Studies was created in Tucson in the 1990s, at the core of the program during its early years until it was dismantled in 2013, was the teaching of these and other maíz or Maya-Nahua-based values. These values, like the maíz, are and have been Indigenous to this continent for many thousands of years. These values — the whole program, actually — were deemed to be un-American by Horne, while Greco-Roman knowledge was/is considered acceptable or permissible knowledge in the state of Arizona.
The lawsuit against HB 2281 was initially filed in 2010. It has morphed from Curtis Acosta, et al. v. John Huppenthal, et al. to Arce v Huppenthal, to Arce v. Douglas.
It is important to remember that the topic of Raza Studies is not owned by the state of Arizona, TUSD, or the courts. Raza Studies does not even belong to the discipline. If anything, it belongs to a community, one that has changed ever since the discipline was first created in the late 1960s. What it is and the task of defining and determining what should be taught, belongs to this community/communities, which includes its students, parents, educators and especially its elders.
When the discipline was created, it was very different, viewing this community, generally as a product, created as a result of the Mexican-American War. As this community has evolved and come to different understandings, the discipline too has evolved. This program was designed so that its philosophical core should be Indigenous, based on a changing understanding and consciousness within these communities.
In fact, when the UNIDOS students took over their school board on April 26, 2011, the students invoked Article 31, Section 1 of the 2007 UN Declaration on the rights of Indigenous Peoples. They asserted, and the article affirms, that: "Indigenous peoples have the right to maintain, control, protect and develop their cultural heritage, traditional knowledge and traditional cultural expressions…"
Incidentally, section 2 reads: "In conjunction with indigenous peoples, States shall take effective measures to recognize and protect the exercise of these rights."
The significance of a people (young students) determining for themselves who they are and what should be taught was historic. It is for them to decide, not a state, or the courts. This has always been the crux. Most significant was when my colleague Norma Gonzales was forced to take down the "Aztec Calendar," after the passage of HB 2281, as she was teaching it to her students. That was deemed to be illegal, and in effect, impermissible (knowledge). On that day, the state determined that Mexican American students should not be taught (their) Indigenous knowledge. So what was permissible? Apparently, three ships arriving to these shores and anything thereafter?
That is what is at stake here. And it will not be the state or the courts that will make this decision.
Dr. Roberto Rodriguez is an associate professor in Mexican American studies at the University of Arizona.