Montana State University researchers have received a $282,000 grant from the U.S. Department of Agriculture to create a new approach to solving issues on Montana's Indian Reservations.
MSU researchers are planning to hire eight tribal college students who are passionate about developing solutions related to health, food and agriculture. Those students will engage in a new program called PATHS, or "Pathways to Agriculture and Native Foods, Tribal Health and Sovereignty."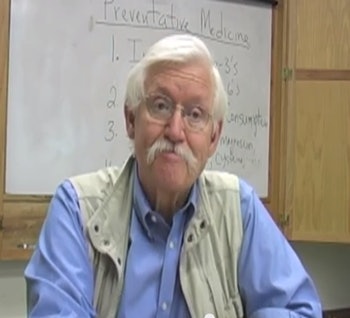 The paid internship will take place over a period of 14 months and the interns will work at projects based in Montana and Washington, D.C. Interns will receive job training and mentoring from tribal leaders and community innovators along with the MSU PATHS team.
The core members of the PATHS team are Dr. Holly Hunts, an associate professor of consumer economics; Dr. David Sands, a professor in the Department of Plant Sciences and Plant Pathology; Dr. Ed Dratz, a professor in the Department of Chemistry and Biochemistry; Dr. Florence Dunkel, an associate professor in the Department of Plant Sciences and Pathology; and Claire Sands Baker, a longtime nonprofit advisor.
The program attempts to improve and assist Montana communities through three components: research, teaching and outreach. "We are seeking more effective ways for Montana's Land Grant University to help support and inspire Native American students to become leaders in their communities and to find creative ways to deal with problems their communities face," Hunts said.
There are 37 Tribal Colleges and Universities (TCUs) across the nation, including Montana State. In a study done in 2002, Native Americans represented fewer than 1 percent of all students enrolled in college; most attended two-year institutions—normally within the tribal college system, according to the 2005-2006 Chronicle of Higher Education Almanac.
Typically, TCUs are underfunded. They receive funds through the Tribally Controlled Colleges and Universities Assistance Act of 1978(TCCUAA) and the only federal funding TCUs can receive goes toward Native students. The USDA grant will help non-Native and Native MSU students earn money as well as gain experience researching public health and environmental problems in their communities.
The group behind the grant hopes it will show agencies such as the USDA that it developed an improved way to address advanced issues.
Most Native Americans do not live on reservations. The USDA classifies reservations as "food deserts," meaning they have limited resources of fresh produce, dairy and meat. They also have limited access to markets, transportation and finances needed for daily meals. Because of this, most Native American diets consist of highly processed, commodity foods that lack nutrition and freshness. In turn, these diets can lead to diseases and negative effects on school performance and mental health.
The PATHS program seeks to change this by promoting "food sovereignty," or tribal communities having control of their food system.
"We have started to see major improvements in school performance of Native American school children in small pilot studies using nutritional supplements without changing food sources—which are showing that improved nutrition is crucial for improved school performance," Hunts said. "As these pilot studies are completed, we hope to use the pilot data to broaden these programs until returns to traditional foods might be accomplished."
Interns will have the opportunity to choose projects related to areas including nutrition, health, economics, entomology, native foods, food sovereignty, agriculture, community development and consumer advocacy.
The PATHS team is currently reviewing applications for the internships. They also created a Facebook page (@PATHS.MSU) where they have been posting more information about the program. Students who are interested in applying for the internship must be 18 years or older, and all majors are welcomed.
"We are not relying on the highest grade points but rather on a sense that the applicant would like to engage in learning new approaches to problem solving," Dratz said.
Montana State researchers told MSU writer Evelyn Boswell that the students' work could possibly turn into new tribal businesses.
The goals of the PATHS program include teaching the interns how to solve community problems and creating career pathways for Native students.
The student interns will be split into two sections. One section will begin the program this summer and the other in 2018. The first group will spend six weeks at MSU researching and developing necessary job skills and familiarization with a broad range of science topics and tools.
"We have identified local, Tribal and global food producers that we will introduce the students to – in order for students to visit and learn about successful and emerging efforts," Dratz said. "We hope by introducing the interns to successful Tribal programs and coupling that with related lab experiences at MSU that they will become familiar with a variety of science-based approaches and science tools so that they will excited to think about what things might work well in their own communities."
Since there will be a lot of MSU faculty participating in PATHS, students chosen will have the opportunity to select the laboratory of their choice, whichever suits their research interests and style. There are two labs for the students to choose from, the biochemistry and food lab or metabolism and physiology. The biochemistry and food lab consists of duties such as measuring and weighing samples, and examining the food enzymes and fatty acids. The metabolism and physiology lab includes measuring the effects of consumption on individuals such as body fat, muscle content, metabolism and blood chemistry.
During their second summer, the students will meet with national policy makers in Washington, D.C. who have previously worked with MSU researchers. In addition to collaborating with them, the interns will work independently on their individual projects.
For details, contact PATHSMSU@gmail.com or their Facebook page @PATHS.MSU or text (406)599-9457.