Many historically Black colleges and universities (HBCUs) still are in the process of rebuilding their student base after a precipitous decline in enrollments that began with a change in how the Parent PLUS loans were granted, and others face budgetary distresses that threaten their survival.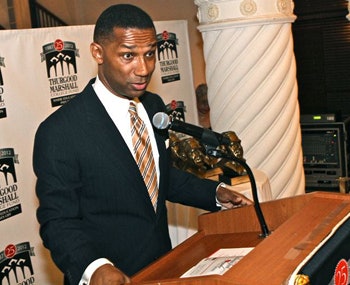 Johnny C. Taylor, Jr., president and CEO of the Thurgood Marshall College Fund (TMCF), struck a somber note Friday at a panel, "Historically Black Colleges and Universities and The Road Ahead," at the American Enterprise Institute.
"We are hopeful, but not optimistic," Taylor said.
Taylor said that for HBCUs to ensure their survival in the upcoming years, they must be "critical, not destructively critical, but constructively critical." He suggested that HBCUs and their advocates need to begin planning what the institutions need to look like 50 years from now, to ensure they are keeping up with the constant changes in the generations to come.
Lezli Baskerville, president of the National Association for Equal Opportunity in Higher Education (NAFEO), however, stressed the strengths that HBCUs bring to the table. Baskerville said to grow HBCUs' funding, and support we must "change the narrative" of the purpose of HBCUs from the past to the present.
"The reality is as long as we define ourselves as small and underfunded and failing, and for first-generation, low-income [students], people will not be inspired and not invest in us," said Baskerville. "We are diverse; America cannot realize any of its goals, or excellence, and diversity in the workforce, for justice, for leadership at the helms of multinational corporations without thriving, diverse HBCUs."
One area of concern is the rising cost of tuition and its impact on students. In a conversation after the panel, Dr. Michael Lomax, president and CEO of the United Negro College Fund (UNCF), told Diverse that UNCF is closely watching changes to the Pell Grant program.
With the new administration, there has been a renewed conversation around the future of HBCUs. Organizations in Washington that advocate for the HBCU community, such as TMCF, NAFEO, the United Negro College Fund (UNCF) have been making their case to the White House that HBCUs could benefit from additional financial support from the federal government.
Advocates at the panel on Friday said that they needed to be proactive in educating the current administration on why certain programs are important. HBCUs benefit from the Capital Financing Improvement Act, which provides low-interest federally backed loans to HBCUs for the construction of buildings and facilities on their campuses.
In signing the 2017 omnibus spending bill, President Trump released a signing statement that questioned the constitutionality of the act.
"HBCUs are mission-based; they are not race-based; they are not ethnicity-based. They are not a suspect category," said Baskerville.
Another area of concern that was brought up was the importance of ensuring that faculty members receive new learning within the subjects they teach, to ensure students are being prepared for the workforce. Lomax said UNCF is investing in externships for faculty, "allowing them to see what those companies want them to teach." Panelists agreed that teachers must stay updated, so students are not behind when they enter the workforce. NAFEO has also established a faculty fellowship program that allows teachers to work in their field of study for one year.
Tougaloo College in Mississippi has a faculty development center and a partnership with other HBCUs in UNCF that offer continuous training for teachers.
"The faculty and students are really the core of our educational institutions," said Tougaloo President Dr. Beverly Hogan.  "That is what we have to focus on every day. How do we keep them engaged? How do we keep them refreshed?"
Each panelist detailed plans for their organizations to increase the number of African-American students who attend HBCUs, to prepare students for the workforce and to stress the importance of HBCUs in today's society.
 "They say they want to do a lot more for us, and we want to see them do it," Lomax told Diverse in regards to plans with the White House. "We're looking and withholding judgment."