NEW YORK — When students from the Pathways in Technology Early College High School — or P-TECH in Brooklyn — graduate today with an associate degree as well as their high school diplomas, it will be much more than a formality, according to founding principal Rashid Davis.
"You are at the beginning of — I'm going to call it — an educational revolution," Davis told some of the soon-to-be graduates at a celebration last week.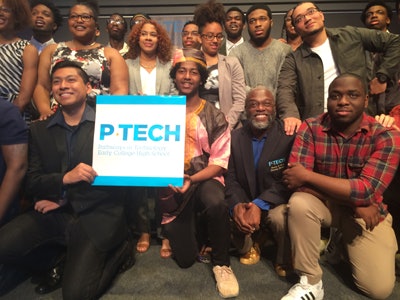 Indeed, the 34 graduates — from the inaugural and a few successive cohorts of P-TECH in Brooklyn — are on the cusp of a growing movement in American education that enables students to graduate from high school with a no-cost associate degree.
P-TECH in Brooklyn has become a focal point for the movement — known variably as the "early college" or "dual enrollment" movement, among other names — since the school's establishment in 2011, in large part due to its partnership with information technology giant IBM.
The public-private partnership also involves the New York City Department of Education, City University of New York and the New York City College of Technology, from which students can earn a degree in computer information systems or electromechanical engineering technology.
Students are not academically screened for entry into the school — a policy seen as ambitious and bold. A major selling point for the school is that students who successfully complete the program get top consideration for jobs at IBM, although there are no guarantees.
In between entry into the school and graduation, students are paired with mentors from IBM and have the opportunity to secure internships at the company.
P-TECH in Brooklyn has spawned the creation of dozens of similar schools throughout the nation — from Chicago to Norwalk, Conn. — that seek to capitalize on a three-way partnership between the public K-12 system, higher education and business.
Texas recently replaced its tech prep program with a P-TECH program that is set to begin in September. IBM says there will be 80 P-TECH schools in the U.S. and around the world by the 2017-18 school year. Seven are in Australia and two are set to open in Morocco this fall.
Whereas up until now much of the publicity about P-TECH in Brooklyn has been about its promise, with this being the sixth full year of the six-year grade 9-14 program, the focus is steadily shifting more toward its performance, specifically, the extent to which its students are earning associate degrees and — perhaps more importantly — securing jobs at IBM.
When the school gets commendations from education experts, those commendations are often accompanied by caveats.
"I think it's certainly more effective," said Andrew R. Hanson, senior analyst at the Georgetown University Center on Education and the Workforce. However, Hanson noted that "the bar is pretty low for these kinds of programs" because completion rates at community colleges are "very low."
The completion figures at P-TECH Brooklyn are a bit of a moving target, but by all accounts are anywhere from three to four times the national on-time completion rate of 12 percent for community college students
During an interview with Diverse, Davis stated that "zero" students from the first cohort of 91 students who began in 2011 have dropped out, 36 — or roughly 39 percent — have earned an associate's degree, and an additional 15 are on track to finish in August. Five, he said, are still trying to finish high school.
As of spring, a total of 54 students had graduated early from P-TECH Brooklyn — that is, with an associate degree in computer systems technology or electromechanical engineering — and are now pursuing their bachelor's degrees full-time or starting their careers at IBM.
An estimated 25 are pursuing their bachelor's degrees full-time, and roughly 15 were in the process of applying to four-year universities as of this spring, figures obtained from IBM show. Diverse has a pending request for updated figures from IBM.
"More than 80 percent of those students who already earned a two-year degree are moving forward with a four-year degree," Davis said, comparing the figure with the New York City citywide average of 55 percent.
Hanson, of Georgetown, said: "The fact that they've been able to get numbers that high is, I think, a great testament to the effectiveness of the model."
Davis says the fact that P-TECH Brooklyn is a year-round model helps explain its success.
Davis said P-TECH doesn't have to deal with "summer dropoff" or "summer melt" — that is, falling out of the college pipeline the summer before college — because P-TECH has a certain "connectedness to college" and students can also take college classes during the summer.
Davis said the school's figures are even more noteworthy when you consider how low completion rates are for male students of color in STEM degrees.
"When you look at the reality that six years after graduating high school in the traditional pipeline, you have single digit completion rates overall for computer science degrees," Davis said. "So the fact that we have a more than 70 percent young men-of-color population and we're talking about college completion, specifically in STEM degrees, without the need for remediation, that puts us really in a class all by ourselves."
At the same time, questions are being raised about the number and kinds of jobs that students from P-TECH are securing at IBM.
Mary Alice McCarthy, director of the Center on Education and Skills at New America, said more needs to be known about how much IBM is following through on hiring P-TECH graduates and what kinds of jobs the company is offering them. "I think they need to be sort of held accountable a little bit for that because it's important not to oversell this program to parents and students," McCarthy said.
Thus far, only 10 students from P-TECH in Brooklyn have secured jobs at IBM.
Stanley S. Litow, president emeritus of the IBM Foundation and P-TECH co-founder, said P-TECH is "proof of what can be achieved."
"Nothing is more critical to our nation's economy than preparing our students with skills to succeed in college in New Collar careers, regardless of their income or zip code," Litow said.
Litow connected Diverse with several P-TECH in Brooklyn alumni who now work at IBM.
Radcliffe Saddler, 20, is among them. He is an associate designer.
"How many 18-year-olds — I was like 17 or 18 at the time — could say that they work at a Fortune 500 company and just rub shoulders among people that you only see occasionally?" Saddler said in explaining his rationale for taking the job when he graduated from P-TECH in Brooklyn with an associate degree computer technology and computer systems technology in 2015 after just four years.
Saddler, who originally hails from Kingston, Jamaica, is currently working on his bachelor's degree in public policy at Baruch College. He credits IBM's tuition reimbursement program with enabling him to pay for college.
Asked if he would tell current 8th graders who are thinking about P-TECH whether the school and its promise of work at IBM pays off in the long run, Saddler said: "I would start out by saying everyone defines success differently."
"For me it's worth it and, you know, coming from a place where my family struggled to make ends meet, and now like I would consider myself living a middle class lifestyle, so for me it is worth it," Saddler said.
Two other P-TECH alumni who work at IBM indicated they had jobs as a P-TECH liaison or as university internship coordinator, respectively.
Hanson, of Georgetown, said: "I would say certainly it's better that they have a job, especially if it's a good job."
"But if they're bringing their graduates directly into the program itself, that seems to be to sort of shore up their numbers," Hanson said. "I think it's worthy of further investigation for sure."
But Hanson wasn't knocking the model and called it a "great experiment."
"We'll be able to use it to learn and grow and design future programs," Hanson said.
Davis, the founding principal, is also cognizant of the need for more data on the effectiveness of the P-TECH model.
"This is not the end. This is actually the beginning," Davis said, adding that it will take another six years to examine the data and see how the school can make sure more students finish the program.
"I will not be happy until I'm able to say 100 percent of the cohort has moved from Grade 9 through 12, finishing high school and college," Davis said.
Jamaal Abdul-Alim is a 2017 Education Writers Association fellow who is examining the effectiveness of the P-TECH model. He can be reached at jabdul-alim@diverseeducation.com or you can follow him on Twitter @dcwriter360.