After Thursday's announcement that the U.S. is pulling out of the Paris Accord on climate change, it's unclear who is suffering the most from gassy, hot air — the world, or Donald Trump.
Trump says he wants a "better deal" for the U.S., but the Paris Accord is non-binding with each country submitting its own plans. The Obama administration submitted the U.S. plan, but it's always been subject to change.
Trump, unilaterally, could make any changes.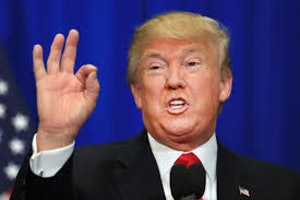 But it's far more dramatic to just make a big deal over pulling out of the landmark Paris Accord, and then asking to renegotiate.  That's the kind of thing Trump does best: executive grandstanding.
Of course, no countries involved in the accord have expressed any interest in re-negotiating the non-binding agreement. Trump has just carelessly ditched a working framework that puts the U.S. outside the mainstream when it comes to global environmental policy.
Thus, we're left with something more dangerous than anything afflicting the polar ice caps — Trump's hot air.
The Washington Post's Fact-Checker column went through the president's statements in his climate deal pullout speech, and shows Trump's basic misunderstanding of the accord. For example, would China or India really be allowed to build additional coal plants when the U.S. can't? That would be sort of unfair if you love coal plants or coal jobs, and Trump made that case.
But nothing in the Paris accord stops the U.S. from building coal plants to keep up with China or India. As the Fact-Checker column pointed out, coal is losing favor due to competition from natural gas, a fact that's forced  China to cancel  more than 100 coal-fired plants this year.
Trump's misreading of the climate agreement doesn't end the nation's responsibility to the earth.
Trump may not have the sense to lead our country to a greener, cleaner environment. But until someone at the helm does, it will be up to states, municipalities, as well as those in the public and private sectors to pick up the ball that Trump has very casually dropped.
For higher ed, it may mean looking at the model being reaffirmed just last Friday at the University of California.
After the Trump withdrawal, UC announced it was "doubling down" as it plans for the future, Trump or no Trump.
"As president of the nation's largest research university, which has for decades pioneered cutting-edge approaches to curbing emissions and transitioning to a carbon neutral future, I am deeply disappointed in President Trump's decision to withdraw the United States from the landmark Paris climate agreement," said UC President Janet Napolitano in a statement. "The importance of a global coalition taking coordinated action to reduce greenhouse gas emissions and to avert the worst consequences of a warming planet cannot be understated."
UC's commitment is led by its Global Climate Leadership Council which was formed in 2014 and continues to guide the university on systemwide sustainability and its goal to be carbon-neutral by 2025
The advisory group is made up of UC officials, students and outside experts. On Friday it reviewed UC's claim that it has reduced systemwide emissions by 15 percent since 2009.
Some of it is due to the largest solar purchase ever made by a U.S. university in 2016. UC hoped it would supply 14 percent of UC's total energy cost. The university says more than 40 megawatts of renewable energy is now being generated on UC campuses, enough energy to power 10,000 homes a year.
There's also a collaborative effort with California State University educators and students in the works.
The key word is collaborative. It isn't the zero-sum game of deal makers like Trump who insist on winning and winning big. It's the right-way to approach climate change, in coalition with others.
But at this point, Trump has made it clear, relying on the feds for leadership isn't going to happen on this issue and many others.
Fortunately, the UC model exists as one way higher ed can deal with climate change on its own.
Colleges and universities can't and shouldn't wait. Sustainability is at stake.
It may even be up to diversity advocates to convince the wary and lead the way.
Go ahead.  Add the color green to the palette of the protected. The good of the planet represents all of us.
Emil Guillermo is an award-winning journalist and commentator. He writes for the civil rights group, AALDEF at http://www.aaldef.org/blog