As a teenager, Barbara Smith idolized singer Marian Anderson, the world known Philadelphian whose historic performance more than 50 years ago on the steps of the Lincoln Memorial still captivates people. Anderson's rich contralto voice inspired the Northeast Texan to pursue a college education that would provide her formal training in singing.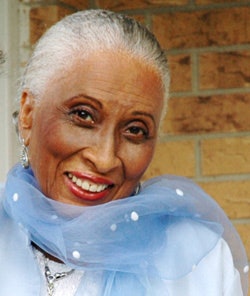 As a 19-year-old sophomore at the University of Texas at Austin, Smith had no idea her practice room singing would eventually resonate far beyond the music halls of her campus. A series of unexpected events eventually earned her a place in history with Anderson and other women who became opera legends.
"She became respected as a symbol for those who should be acknowledged for their talents beyond their race," says Aaronetta Hamilton Pierce, chair of the advisory committee on Black studies at the University of Texas at Austin.
Pierce, interviewed earlier this month by phone, was echoing sentiments from others familiar with the life and legacy of Barbara Smith Conrad, the internationally known mezzo soprano opera singer. Conrad died last month in Edison, New Jersey, according to The New York Times.  She had advanced Alzheimer's disease, although a specific cause of death had not been determined when news of her passing was disclosed by family members, the newspaper said.  She was 79.
Today, as the music and higher education communities reflect on Conrad's life and career, many cite her college story as a good example of the challenges facing college presidents and chancellors, the impact of decisions some make to protect their institutions and how students endure, survive and persevere despite the developments around them.
Pierce and others were speaking of the humiliating sacrifice Conrad was forced to make as a student in the 1950s when racial desegregation in the South was in its earliest of stages. Three days before she was to begin performing with her fellow students in the opera "Dido and Aneneas," Smith was told she could not perform.
Dr. Logan Wilson, then UT-A president, had made the decision after hearing from a state lawmaker who was a friend of the institution, that the state legislature might not give the institution as much money as it was seeking, if some lawmakers knew a Negro was playing a major role in the play, a role historically played by a white person.
The university issued a statement about the casting change, saying it was done to ensure "Miss Smith's well-being and to squelch any possibility that her appearance would precipitate a cut in the university's appropriation," The New York Times story about Conrad said.
Dozens of students protested the decision. It was heavily reported on by The Daily Texan, the aggressive campus newspaper and The Houston the more progressive minded of the city's two major daily papers. As news of the UT-A decision spread nationally over news wires and in Time magazine, several nationally known figures emerged to challenge the decision.
Entertainers Sidney Poitier and Harry Belafonte condemned the action. So did former First Lady Eleanor Roosevelt. When she was First lady several decades earlier, Roosevelt was instrumental in getting the historic Lincoln Memorial performance by Marian Anderson.
The performance was arranged after the Daughters of the American Revolution (DAR) refused to allow Anderson to sing at nearby Constitution Hall, which was owned by the DAR. Belafonte offered to pay for Miss Smith's music education at any school in the world.
Smith politely declined Belafonte's offer, although he became and remained a mentor for her for the rest of her career. She also tried to calm the waters on her campus in an interview with The Daily Texan.
"After the first shock and hurt had passed, I began to realize that the ultimate success of integration at the university is much more important than my appearance in the opera," she told the campus paper.
By performance time "Dido and Aneneas" went on as scheduled and without Smith.
The legislature approved funds without a glitch for UT-A. The decision to bend to racial pressures was not universally shared, however.
Smith stayed at UT-A to graduate before she started a stellar career that took her around the world for performances at major opera houses, including the Metropolitan Opera in New York.
"She was a trailblazer," says Dr. Gwendolyn Brown, vocal music teacher at Nashville's Fisk University, the institution Conrad said she had really wanted to attend. Fisk had drawn national attention with its Jubilee Singers.
"Her voice was wonderful and refreshing," says Brown, a contralto singer who says she would listen to Conrad's music while studying music and wonder if she could do as well. Brown says she never got to meet Conrad, yet from what she knows about her, she feels Fisk would have been a great learning place for her when she was pursuing college in the 1950's.
"My heart wanted to go to Fisk," Conrad told The New York Times in a 2011 interview. "But you didn't run away if your staying could make a difference—it could encourage other Black kids," she told the newspaper.
"Barbara's personality was characterized by peace and strength," says Don Carleton, executive director of UT-A's Dolph Briscoe Center for American History. "She never saw herself as a victim and never let her role in the struggle for civil rights define her," he says. "Instead, she met controversy and prejudice with courage, grace and hope."
Conrad donated her papers to the Briscoe Center and worked with it when it was producing "When I Rise," a documentary about her and working with Admiral Bob Inman, in establishing the university's Endowment for the Study of American Spirituals.
Just as her singing may have earned her a place with her idol Marian Anderson, Conrad's personality was apparently a lot like Anderson's.
In his 2002 biography, "Marian Anderson A Singer's Journey, biographer Allan R. Keiler, a music professor at Brandies University, says in an interview about his research, Anderson never spoke "a tone of meanness, bitterness, blame" about her experiences surrounding the refusal of the DAR to allow her to sing at Constitution Hall because she was a Negro.
Pierce, Carleton and others had essentially the same to say about Barbara Smith Conrad.