WASHINGTON — U.S. Secretary of Education Betsy DeVos appeared before a Senate education subcommittee Tuesday to defend her department's proposed 2018 budget amid charges that it would make college less affordable and increase student debt.
Sen. Dick Durbin (D-Illinois) said the proposed federal education budget of Republican President Donald J. Trump offers "no relief for students" who are being saddled with increasing amounts of student loan debt.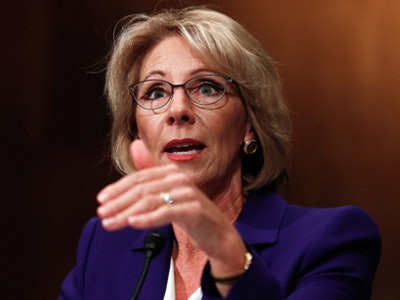 "In fact, just the opposite is true," Durbin said, lamenting how the budget freezes the Pell grant, forcing students to borrow more money, and cuts the federal work-study program, thereby lessening opportunities to reduce their debt.
Durbin also took DeVos to task for submitting a budget proposal that he said would increase interest by $38 billion over 10 years of payments by student borrowers due to the elimination of subsidized loans. The White House characterizes the $38 million as "10-year savings."
"It means a greater debt at the end of the day," Durbin said.
DeVos said she "totally agrees" with Durbin that student debt and student loans are "grave concerns" but said her department's proposed budget "actually gives students a well-defined and new way to address their student loans long-term." She was referring to a proposed income-driven repayment plan that would cap student loan repayment at 12.5 percent of a borrower's discretionary income and forgive the loan after 15 years for an undergraduate.
"So it's a really specific plan that will allow students to address this," DeVos said.
DeVos made her remarks before the Senate Committee on Appropriations' subcommittee on education.
Sen. Jack Reed (D-Rhode Island) queried DeVos about the budget proposal to take $3.8 billion from the Pell grant surplus fund instead of offering larger Pell grants.
"How does that make college more affordable?" Reed asked.
DeVos said it would be up to Congress increase the maximum Pell grant — it currently stands at $5,920 for the 2017-2018 school year.
"If there's a desire to increase the Pell grant amount for students, I think that is something you have to consider," DeVos said.
"Where would we get the money?" Reed shot back.
On the  administration's proposal to cut the federal work-study program nearly in half — from $989.7 million to $500 million  — DeVos suggested students can find employment outside of the federal work-study program.
"Work does not have to be limited to on-campus activity," DeVos said.
DeVos also stressed the need to place a bigger emphasis on career and technical education.
"We haven't done a good job of helping students to know what their full menu of options are when pursuing higher education," DeVos said. "We've segmented out career and technical education in such a way that it seems the lesser of two, in that we've placed a higher emphasis on four-year college and university."
Despite her talk about the importance of career and technical education, or CTE, some lawmakers — such as Sen. Tammy Baldwin (D-Wisconsin), co-chair of the Senate CTE caucus — criticized DeVos for promoting a budget that proposes to cut career and technical education funding by $168 million, or 15 percent.
Baldwin also questioned why DeVos would cut by $1.5 billion after-school programs and student support and academic enrichment programs that she said could be used to support STEM education, and eliminate the Supplemental Educational Grant for students with the greatest financial need.
"How do draconian cuts reflect any other thing than an effort to push college further out of reach to more and more young people?" Baldwin said.
DeVos said SEOG was "duplicative." The education secretary also said CTE needs to be part of a broader discussion about "overlap" with programs housed in the Department of Labor.
Some lawmakers sought to pin down DeVos — a proponent of vouchers and school choice — over whether schools that stand to benefit from a $250 million voucher program in the proposed budget could discriminate against students based on disability.
DeVos would not answer the question directly, instead saying only that "if a school receives federal funds, they need to follow federal law," a refrain she repeated several times when asked the same or similar questions throughout the hearing.
Similarly, DeVos did not respond to Durbin's concerns about how or if she would seek to protect students from the for-profit colleges, which he described as the "most heavily subsidized for-profit companies in America today."
Durbin said 80 to 90 percent of for-profit colleges' revenue comes from federal funds.
"These are not crafty entrepreneurs. They are people who have learned how to game the government," Durbin said. "And the only protection taxpayers have is in your hands."
Durbin said the for-profit colleges are "exploiting students across the United States" by leaving them saddled with debt and defrauding students.
"The question is what are you going to do about this?" Durbin said.
Under DeVos, the Education Department has postponed enforcement of the gainful employment regulation from the Obama administration that would have sought to hold career colleges, primarily for-profits, more accountable for student outcomes, such as their ability to repay their student loans, by cutting off federal financial aid. A news report from Politico earlier this week indicated that the administration "has been eyeing further delays" for the gainful employment rule as it considers opening new negotiated-rulemaking sessions to rewrite it.
Jamaal Abdul-Alim can be reached at jabdul-alim@diverseeducation.com or you can follow him on Twitter @dcwriter360.