When it comes to LGBTQ and queer studies, Dr. Dwight A. McBride has been a pioneering theorist, churning out groundbreaking scholarship that examines the intersection of race and sexuality.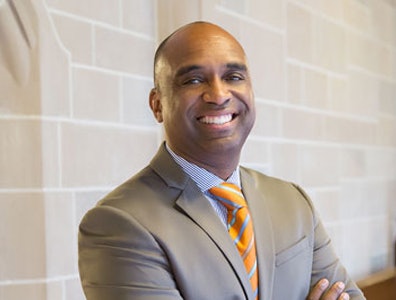 An expert on African-American literature, cultural, sexuality and gender studies, McBride rose to national prominence with his thoughtful and provocative essays, such as "Can the Queen Speak: Sexuality, Racial Essentialism and the Problem of Authority," and his best-selling book Why I Hate Abercrombie & Fitch: Essays on Race and Sexuality.
Currently the Daniel Hale Williams Professor of African-American Studies, English and Performance Studies and the dean and associate provost for graduate education at Northwestern University, McBride is now readying himself for the next challenge of his career: to become the provost and executive vice president of academic affairs at Emory University.
It's a post that he says he's ready to assume, after he has spent years as a fierce advocate for equity and access issues in his current post as graduate school dean. During his tenure as dean of the graduate school, McBride has been credited with increasing the number of minority graduate students and pushing the university to become more receptive to the issues that impact LGBTQ students.
Northwestern officials say that McBride implemented a major increase in financial and academic support for Ph.D. and MFA students and expanded professional development for graduate students and postdoctoral fellows.
"Northwestern has benefited greatly from Dwight's stewardship of a complex academic enterprise, his strong scholarly achievements and his untiring efforts to create a holistic student experience," says Dr. Daniel Linzer, who is the retiring provost at Northwestern. "He will be very much missed by many."
McBride says that his decision to leave Northwestern was not an easy one. He first arrived at the university in 2002 and has spent the majority of his career there, save a few years when he departed for the University of Illinois at Chicago where he served as the dean for the College of Liberal Arts and Sciences.
"For me it was important if I was going to go on in higher education it needed to be the right context, the right place, where I felt like my values, my interests could add value to an institution," says McBride, who counts Dr. Ruth Simmons, the former president of Brown University, as one of his mentors. "So when this opportunity at Emory came forward, it really hit a lot of those things for me."
He says that Emory's strong commitment to strengthening diversity, outreach and greater collaboration with the city of Atlanta as well as "thinking strategically about their global footprint" were factors that pulled the South Carolina native back South.
McBride says that he is inspired by the vision of Emory's president, Dr. Claire E. Sterk, who took the helm of the school last September.
"Her values and mine align very well," says McBride. "I felt like the vision that she is laying out is something I can get excited about and help build a strategy and implement it. It's an opportunity I'm just thrilled about."
McBride's journey into the academy was encouraged by his working-class parents in Belton, South Carolina, a rural town located about 75 miles from Charlotte, North Carolina.
Initially, he thought he wanted to be a lawyer or a professional singer.
He was the first in his family to go to college, choosing Princeton University, where he was tapped to serve as a research assistant for Nobel Prize winner Toni Morrison, who was on the faculty. His sister followed his footsteps and also went on to college.
"My parents did what they needed to do to make that possible for their kids in a way that was not possible for them," says McBride. "That's why access, equity, diversity and affordability are critically important issues for me. We have to make sure that for people who can do the work, aspire to do the work, finances and where they are from should not keep them from obtaining access."
McBride earned his Ph.D. from the University of California, Los Angeles, and began his teaching career at the University of Pittsburgh.
He is the recipient of numerous accolades, including the Lambda Literary Award for LGTB Studies and the 2004 Passing the Torch Award given by the Center for Lesbian and Gay Studies.
McBride says that he's looking forward to the new challenge.
"I'm thrilled and deeply humbled to be selected as Emory University's next provost," says McBride. "I've long been impressed with Emory and its reputation for research, clinical and teaching excellence. And throughout this search process, with each successive visit to Atlanta and to the campus, I fell a bit more in love with the institution and the incredible aspirations its constituents have for its future."
This story also appears in the June 1, 2017 print edition of Diverse.