A U.S. Department of Education memo that suggests a more narrow approach to civil rights investigations is being blasted by civil rights advocates as a "retreat" from the protection of students against acts of discrimination.
"This sounds like, 'We see no evil. We only investigate what is requested and otherwise we see no evil,'" said Dan Losen, director of the Center for Civil Rights Remedies within The Civil Rights Project at UCLA. "To me, that's really an injustice."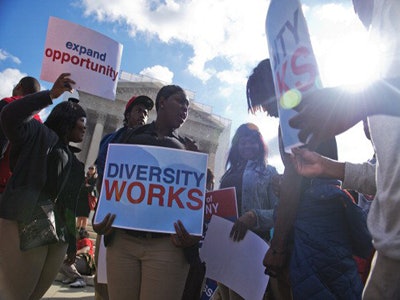 Losen was referring to a U.S. Department of Education memo from Candice Jackson, acting assistant secretary for the Office of Civil Rights (OCR).
The memo, recently uncovered by ProPublica, states "effective immediately, there is no mandate that any one type of complaint is automatically treated differently than any other type of complaint in respect to the scope of the investigation, the type or amount of data needed to conduct the investigation, or the amount or type of review or oversight needed . . . "
The memo singles out and cancels an Obama administration era rule that OCR investigators obtain three years of past complaint data or files in order to assess the compliance of a target of a discrimination complaint.
If a complaint filed on behalf of a student claims that the student was unfairly  disciplined because of race, for example, it will now be up to OCR investigators to determine what other data is needed to determine if the students' peers from other racial groups were treated differently, the memo states.
"For the sake of clarity, these instructions mean that OCR will only apply a 'systemic' or 'class-action approach where the individual complaint allegations themselves raise systemic or class-wide issues or the investigative team determines a systemic approach is warranted through conversations with the complainant," the memo states.
Losen says it's wrongheaded to take such a narrow approach because discrimination tends to be systemic and victims often don't have the wherewithal to identify or articulate that they are victims of systemic discrimination.
"They're gonna turn a blind eye to what might be an obvious systemic or class-based issue just because the complainant doesn't raise it that way," Losen said. "Most complaints come from individuals who are not lawyers. They may think they're saying it's systemic but they're just writing about their own child. Then the agency might say they didn't raise it as a systemic complaint. Regardless of what the data say, they're not gonna go there."
Though the vast majority of cases that OCR handles are at the K-12 level, the office also handles complaints at the college level.
A department spokeswoman says the new policy is about being more efficient.
"This is about ensuring every individual complainant gets the care and attention they deserve," said Elizabeth Hill, press secretary for the Education Department.
Citing how processing times have "skyrocketed" in recent years and the case backlog has "exploded," Hill said in a statement that the new instructions "seek to clear out the backlog while giving every complaint the individualized and thorough consideration it deserves."
"There is no longer an artificial requirement to collect several years of data when many complaints can be adequately addressed much more efficiently and quickly," Hill said. "These new instructions also direct that all civil rights violation (sic) be given equal care and importance, and every type of civil right to be enforced with equal vigor and vigilance."
An OCR budget request shows the number of complaints that OCR has received rose from 10,392 in 2015 to 16,720 in 2016. The request also shows that the level of staff to handle complaints has been cut nearly in half since 1980 but that some of those reductions were due to technological advances that improved efficiency.
Losen and other civil rights scholars say it's disingenuous to say the new rule is about improving efficiency.
"To suggest a backlog of investigations as a reason for reducing if not refusing to investigate certain kinds of civil rights complaints filed by complainants is ludicrous," said John C. Brittain, a UDC law professor and civil rights attorney.
Liz King, senior policy analyst and director of education policy at The Leadership Conference, a civil and human rights coalition, said if the administration of President Donald J. Trump were truly intent upon reducing the case backlog, it would devote more resources to the Office of Civil Rights instead of proposing cuts.
To illustrate her point, King cited this budget request from the Office of Civil Rights itself.
Among other things, the request seeks to decrease the number of attorneys or equal opportunity specialists by 27, down from 385 to 358.
And the budget request warns that in fiscal 2018, OCR staff "must handle its increased complaint workload while maintaining existing operations."
Accordingly, it states that at the current staff level "the number of days to complete investigations may continue to increase," and that the office "may have difficulty" meeting the performance target levels. In 2016, only 78 percent of cases were resolved within 180 days — two percentage points short of the performance target of 80 percent, the document states.
King said it does a "disservice at every level of education" to treat cases of discrimination as isolated and "one student's experience of discrimination" instead of asking whether the experience is part of a bigger problem.
King cited campus sexual assault as an example of the kind of complaint that might be indicative of a larger problem on campus.
A victim of sexual assault "may not have been the only person to experience that on campus and the campus may not be doing enough to keep that campus safe and having a fair process" for students to report a case and receive a response.
"If a remedy is only applied for one student but all students or most students or some students of a certain background all experienced that same barrier, they're all entitled to relief even if they themselves were not the complainant," King said.
Jamaal Abdul-Alim can be reached at jabdul-alim@diverseeducation.com. You can follow him on Twitter @dcwriter360.