WASHINGTON — Students should have a stronger voice in decisions that affect the colleges and universities they attend, and shared governance is one of the best ways to make that happen.
That's the argument that Rini Sampath, policy director at the National Campus Leadership Council, a national student advocacy organization, proffered Tuesday at an annual summertime gathering of accreditors.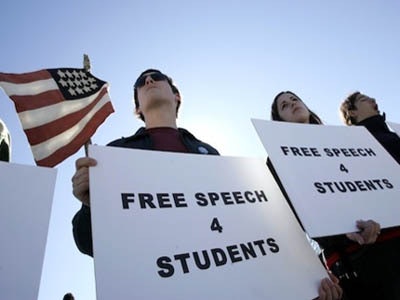 "In order to drive change, students have to be at the table," said Sampath, a 2016 graduate of the University of Southern California who served as student body president during her senior year.
"It's different to be outside the building yelling versus being inside where decisions are being made and having an active voice in order to drive change," Sampath said.
Sampath said student perspective is crucial when it comes to issues such as sexual assault, mental health, diversity and inclusion. Such issues may often be overlooked because they are not considered critical to the academic environment but those issues and academics go hand in hand, Sampath said.
"If a student is struggling and doesn't have the resources on campus to deal with their mental health needs, that affects performance, their ability to do well on exams," Sampath said.
Sampath made her remarks Tuesday at the annual summer workshop of the Council for Higher Education Accreditation, or CHEA.
The conference comes amid continued Congressional interest in accreditation reform and ongoing discussions and questions about what role — if any — the federal government should play in the accreditation of America's colleges and universities.
"We don't have a lot of hope that the current administration is going to move forward with particularly innovative or good ideas in this space," said Carmel Martin, executive vice president for policy at the Center for American Progress, a Democratic-leaning think tank in Washington, D.C. She based her statement on concerns about how the Trump administration rolled out its apprenticeship initiative — which calls for industry recognized apprenticeships in addition to the ones overseen by the U.S. Department of Labor.
"We just want to make sure that if legislation were to move or if executive action were to take place that it doesn't become a way to just allow anybody and everybody to enter the (accreditation) space, claim Title Four aid and not have any real standards for quality assurance," Martin said.
While critical of President Donald J. Trump's plans to create an alternative system for apprenticeships, Martin advanced her organization's vision to create an alternative system of accreditation. She stated it would be based on high standards and a less burdensome process for education providers that are able to meet them.
The idea is to assure quality and encourage innovation, Martin said. The federal government would enforce the standards under CAP's plan for an alternative accreditation system.
Some speakers at the summer workshop differed over how and if the federal government should be involved at all in accreditation.
Rickard Ekman, president of the Council of Independent Colleges, said that the "growing federal role has been a bad thing."
"We should resist as much as possible but I don't think we'll ever get to a point where the federal government is entirely out," Ekman said.
Richard Legon, president of the Association of Governing Boards of Universities and Colleges, or AGB, said Ekman's approach is all wrong.
"It's really terms like 'resistance' and 'let's defend what we've got' that's working against our business interests," Legon said. "We can't resist. We need to trade. We need to be less defensive. The perspective of investors who invest over $160 billion a year in our business is that we're not getting the bang for the buck that we think we're buying," he said in reference to the amount of annual federal spending on higher education.
"We need a smarter argument and to tell people, 'We understand your concerns,'" Legon said. "The one thing we can advocate for is really a reminder, and that is, at the end of the day the most unique aspect of higher education is its autonomy," he said, arguing that the power of colleges and universities rests largely in the hands of independent governing boards. "We have a structure that you shouldn't strip away."
Sampath said student leadership is stronger in states — such as Wisconsin — where student involvement in shared governance is built into the university structure and codified by state law.
She said there should be a state-by-state push to ensure a stronger student voice in shared governance.
"Student leadership is stronger because this type of a model exists," Sampath said.
Jamaal Abdul-Alim can be reached at jabdul-alim@diverseeducation.com or you can follow him on Twitter @dcwriter360.