When Dr. Johnson Akinleye took the helm of North Carolina Central University as its interim chancellor, life was particularly challenging at the historically Black institution.
The university was still mourning Dr. Debra Saunders-White, who died of kidney cancer in November 2016, just three years after she took the reins of the public university located in Durham, N.C.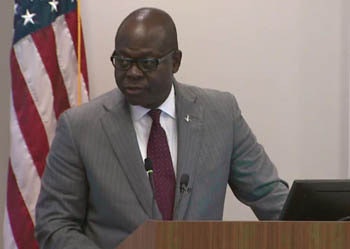 But after Akinleye received the nod earlier this week to become the permanent chancellor of the 107-year old school, observers now wonder how he will position NCCU as a competitive player on the HBCU landscape.
"Any time an institution can move for permanent leadership/stable leadership, it is better off than interim," Dr. Marybeth Gasman, director of the Center for Minority Serving Institutions at the University of Pennsylvania, told Diverse via email. "NCCU is a very good institution and I look forward to seeing how he leads."
A veteran college administrator, Akinleye, who arrived at NCCU in 2014 to become provost, won't have a steep learning curve. When it was announced that Margaret Spellings, the president of the University of North Carolina System, had selected him to be chancellor, faculty, staff and senior administrators rejoiced.
They've praised him for his commitment to students and faculty, and said that the university likely will experience a surge in growth under his leadership.
"The entire university community is pleased that he rose to the top, and that the recommendations of the search committee were approved by President Spellings," Dr. Carlton Wilson, NCCU's interim provost and vice chancellor, told Diverse in a phone interview.
Akinleye is a product of HBCUs, having earned a bachelor's degree from Alabama A&M University and a Ph.D. in Communication Studies from Howard University.
"I plan to continue to assess, evaluate and transform the university as we move toward increased efficiencies, sustainably shared resources, expanded academic and research portfolios and enhancements to the university's brand and reputation," Akinleye said in a phone interview. He added that he will continue the work that he started as interim chancellor.
Two years before Akinleye arrived as provost, NCCU underwent a total revamping of its academic programs. Some degree programs were completely discontinued or merged with others in a response to the number of students enrolled, degrees awarded, and the retention and graduation rates of students.
The changes took place under the leadership of then-chancellor Dr. Charlie Nelms, who was generally praised for how he implemented the changes, in a sweeping effort to strengthen the overall university.
Currently, the university's enrollment is trending upward.
"We have a strategic plan that calls for about a 1% increase in enrollment each year," said Wilson. "Thus far, we are meeting that and even moving beyond."
He said that the university's retention rates are stable, too, but can always be improved.
"Of course, we always would like to improve retention and graduation rates just like most other universities," Wilson said. "But, all of the leading indicators here at the university currently are very, very strong. We want to make sure that the students that we recruit and enroll, graduate in four years or less, and that they are positioned to pursue very competitive careers."
Faculty have high hopes for Akinleye. They hope that in addition to strengthening academic programs and student success post-graduation, that he will turn his attention to increasing the financial growth of the university.
"One of the toughest issues for HBCU presidents is trying to bring in a lot of outside funding," said Dr. Jim C. Harper, the chair of the History department at NCCU. "But, I believe he's going to hit the ground running."
Faculty and students are also looking to Akinleye to continue his efforts to innovate the curriculum. They said that during his time as acting chancellor, he was a staunch supporter of expanding the college's online educational offerings.
Akinleye said that he will strike a balance between honoring and recognizing the school's traditions while pushing for present-day advancements.
"Built on tradition but embracing modern demands of the marketplace, our university may be uniquely positioned to satisfy the requirements of 21st century students seeking opportunities to demonstrate their potential for academic excellence," he told Diverse, adding that with the growth of the university, he will also focus on infrastructure concerns.
"In light of expectations for this pattern to continue, our investments in renovation and expansion projects will be an important part of fulfilling our enrollment potential going forward," Akinleye said.
Gia Savage can be reached at gsavage@diverseeducation.com