Julia I. Lopez was already retired for three years from her position as senior vice president of the Rockefeller Foundation in 2008 when she received a call from a head hunter who wondered if she might have any interest in serving as the president and CEO of the College Futures Foundation (then known as College Access Foundation of California).
Just three years old at the time, the foundation, which awards nearly $20 million in grants annually and has an endowment of about $500 million, was pushing a lofty goal: that college attainment and success be options for every student in California.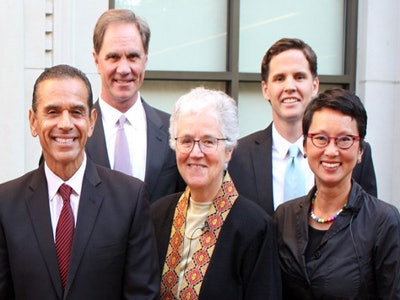 "I wasn't looking for a job, but the opportunity was very attractive for me at the time because it was a start-up essentially," says Lopez, who spent half of her career working in local and state government in New Mexico and California before transitioning into philanthropy in the 1990s, where she developed a broad portfolio working on a wide array of issues from food security to poverty, "I had an extensive background in California," says Lopez. "I was good at philanthropy, but I had very little experience in higher ed."
Still, it did not take Lopez long to make an impact in the education arena.
During her tenure at the College Access Foundation, she shifted the foundation's strategy from simply being a grantor of student scholarships to facilitating and tracking data on college attainment in the state. In the process, her supporters say, she helped to change the policies, practices, systems and institutions to better support student success throughout California.
"Julia Lopez has been a leading champion of students and low-income populations throughout her career," says Toby Rosenblatt, chairman of the College Futures Foundation's board of directors. "She leaves a legacy to be proud of, and leaves College Futures at a good moment for new leadership to take the helm. The foundation is on a strong new trajectory to significantly improve college access and success for California students."
Having spent her early years working in the San Francisco Department of Social Services, where she oversaw programs serving the city's most disadvantaged residents, Lopez was ready to jumpstart a conversation about educational inequities when she took the helm of the foundation.
"My work has really been about creating opportunity for folks who didn't have it, including in the early days advocating for inmates to get an education in the 1970s," says Lopez about her advocacy for college students. "So for me, it was just putting that knowledge to work in a different domain, so to speak.
"The theme of opportunity, system barriers for folks who are perfectly capable of doing what needs to be done, but the system is not set up to be their friend, that's what I've been doing all of my life. So, for me, it was just putting that knowledge to work in a different domain."
In the early years, the foundation was doling out about 5,000 scholarships to low-income students from across the state by funding college access programs that had already established relationships with this demographic.
But then, Lopez had the idea of tracking the students they funded through the National Student Clearinghouse.
"One, is that you fall in love with these students once you meet them," says Lopez. "These are kids who are the poorest in the state. We weren't looking for valedictorians or top 10 percent. We were looking for kids who might not otherwise go to college. You fall in love with them and see the light in their eye. And as we followed them we began to see those hurdles; what happens when they enter the system — two-year community colleges and four- year colleges, which in California are primarily the public system."
She says that the challenges that the students faced really began to inform the work that the foundation does.
"We are a private foundation, and so, in the end, our bread and butter is grants, and, quite bluntly, that's what gets us in the door," says Lopez, adding that she wanted to make sure that the resources and grant-making were used to support the work in the field. "We didn't lead with the money. We are trying to be a thoughtful, strategic evidenced-based partner, helping to lay out some of the issues and challenges."
And it appears that the foundation, which Lopez describes as "relatively small but we pack a big punch because we're smart about it," is gaining traction, attracting the attention of some of the national philanthropic entities like the Bill & Melinda Gates and Kresge Foundations that are looking to make their work in California more visible.
"We don't have skin in the game. Basically we are saying, 'This is what's happening, and the institutions appreciate having an outsider like us — an independent partner — helping to lay out some of the issues," she says.
As she is about to embark on her second retirement, Lopez says that she is proud of the work that she has done leading the 11-year-old foundation, adding that, over the past few years, the process of distributing scholarships to students has been franchised out to community foundations that look to College Futures for guidance on how to "do scholarships strategically and become advocates for student success."
College Futures has also been bringing together educators from K-12 schools, community colleges and public four-year institutions in California for regular conversations about how best to address issues like college remediation.
"There was a lot of finger-pointing," says Lopez. "We have basically changed the tenor of those conversations by pointing out to them that they look at their feeder patterns. There are a number of high schools that feed into community colleges and four-year colleges. Our whole approach to this work is more like a relay race. Those institutions have to do really well at what they do. But they need to figure out how to do the handoff of the students."
With eight out of 10 students in California enrolled in public education, Lopez has ignited a discussion about the future of funding public higher education in the state.
"The current financial model is not sustainable," she says, adding that, despite cutbacks, California has made a real investment in higher education. "Our financial aid system is second to none, but not enough thought has been given on how to make this sustainable over the long term," says Lopez, who adds that the pipeline of students graduating from high school and planning to matriculate at college is rising.
And she says that more must be done to help these students, a majority of whom are low-income, Latino, African-American and Asian, who have dreams of someday becoming college graduates.
"It's a moral, just and equity issue, but it's also an imperative," she says of the need to make college more accessible to all. "We have got to figure this out."
This story also appears in the June 29, 2017 print edition of Diverse.