An open and honest connection with students, faculty, administration and staff marked Dr. John M. Dunn's tenure as president of Western Michigan University. And although he is retiring, that connection, he says, will not be broken.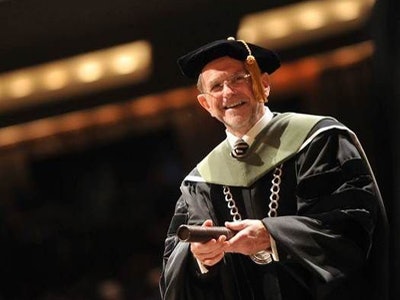 While it is something of a rarity to see a university president with a background in physical education, in many ways that has been at the root of Dunn's commitment to the overall well-being of Western Michigan University. From implementing a tobacco-free campus, to ensuring there is healthy food in the dining halls, to freely sharing his own story and perspective, Dunn has cultivated a positive, inclusive environment.
Dunn, whose research interests include the long-term health of people with disabilities, says a background in physical education works well with university leadership because of its breadth and interest in other fields. His commitment to quality of life issues touches on his hope that all students feel a personal connection to the university.
"I've had the pleasure of awarding over 50,000 degrees in my 10 years — graduate and undergraduate. On our campus, although we are large, each student is individually identified. They walk across the stage and shake hands with the president," says Dunn, who came to Western Michigan after more than 30 years as an educator, including 20 years at Oregon State University, where he began as a faculty member and rose to the position of associate provost. He then served for seven years as dean of the University of Utah's College of Health.
He is particularly proud of Western Michigan's Seita Scholars, a program for students aged 18 to 25 who have aged out of Michigan's foster care system. It is the embodiment of his belief that all individuals should have access to and opportunity for education.
"In Michigan, we have about 500 youngsters that age out of foster care each year," says Dunn. "We knew that 70 percent of those young people wanted to continue their education at a community college, university or technical program, but only 5 percent were doing so. We decided to make a very strong and fundamental change to be the campus that those students could come to."
The university covers tuition and fees and provides a place to live plus food year-round. There are also academic coaches and a support system that Dunn hopes will serve as a model for colleges and universities across the U.S. About 110 of these scholars have graduated to date and 160 are currently enrolled.
"Some of these young people have been in 16 different placements in their lives," Dunn says. "You have to work really hard to make sure they know you are sincere. You can't stand there with a suit and tie on and say, 'Trust me.' It's going to be challenged because they've been told many times over, 'Trust me,' to be disappointed and let down. We believe it and we live it."
Dunn wants there to be a feeling of belonging and engagement throughout the university — from grounds crew to food services to office personnel to faculty. Although it's an institution of nearly 24,000, he sees a sense of community and shared purpose.
That doesn't mean there haven't been challenges over the course of his decade as president. Financial issues were significant, particularly during the economic downturn in 2008. State funding was reduced by 15 percent at one point.
"We need to think differently, be wise, utilize our resources carefully, and we have," says Dunn. "This meant that tuition adjustments had to be made. At the same time, trying to find additional ways of financial aid and support for students. Our overall foundation has grown from about $157 million and I think we're approaching $400 million now. There have been a lot of people willing to help and to support, but we need more of that."
Dunn has even donated the incremental raises he's received over his initial annual salary of $345,000 to scholarships. He says people have been there to support him throughout his life, and helping others achieve their potential is very rewarding.
The university has an increasingly diverse student body in terms of gender, race and ethnicity as well as significantly more international students. When he became president, there were 967 international students, and today there are more than 1,800.
Dunn says any president must be cognizant and understand what is happening with the student population.
"An enjoyable challenge is to be fully engaged with your students," he says. "Young people today want to know who is leading and running the university and 'Do you really care about me?' You have to work hard to make sure that you demonstrate that in some meaningful ways."
A couple of times a week, he's eaten lunch at the Bernhard Student Center. He says students are shocked to see him sometimes, but the proximity is informative for him and builds relationships that are vital at difficult times. While he doesn't understand the current fascination with selfies, he willingly poses with anyone who asks. Students, faculty and alumni have Dunn's email address. He reads his own emails and answers if he can or refers them to the proper person.
"I think we're entering into a next wave where the successful presidents are going to work hard to make sure they're cognizant of and interested in students and they're demonstrating that," Dunn says. "A lot of this younger generation is looking for those kinds of connections and relationships."
On Jan. 30, 2017, Dunn issued a statement with reference to President Donald J. Trump's executive order banning all immigration from seven predominantly Muslim countries. He stated that as president he would do all he could to advocate for the university's international students, nearly 100 of whom come from the seven specified nations. He also stated his support for students currently protected under the DACA policy.
"The really great universities, whether small or large, understand it's essential that student populations are being educated in a diverse environment," Dunn says. "International students bring to the university campus their talent, intellect, culture, who they are and their language that allow all of us to benefit in very significant ways.
"For the student from Michigan that's raised in a very small town, maybe in a town that didn't have a lot of diversity, the fact that he or she can come here, interact with students from 100 different nations and be challenged  a little bit about assumptions that they've made … that's powerful.
"We use as our mantra here that we're a learner centered, discovery driven and globally engaged university. We're very passionate about making sure that the world is present on our campus."
Following his retirement from the presidency on June 30, Dunn will remain at Western Michigan for one year as president emeritus, working on fundraising, solidifying the university's international relationships and writing about his perspective on university history. After that, he will move closer to family in Oregon but will visit the campus regularly.
This story also appears in the June 29, 2017 print edition of Diverse.