Earlier this month, a regional accrediting agency blocked the Education Management Corp.'s plan to sell the Art Institute of Philadelphia and the Art Institute of Pittsburgh to a Los-Angeles nonprofit.
In March, EDMC announced plans to sell 31 Art Institute schools, along with the South University and Argosy University educational systems to the Dream Center, a nonprofit religious organization associated with the Pentecostal Church. The move would convert EDMC systems from for-profit to nonprofit status.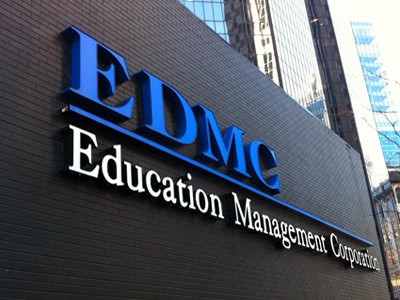 To date, the Dream Center's efforts have centered on alleviating the societal ills associated with homelessness, hunger and poverty, according to its website. The Dream Center does not have a history of managing institutions of higher education, although it does run a private Christian high school.
Before being finalized, the sale must be approved by multiple regional and national accreditors. In its June 22 meeting, Middle States Commission on Higher Education (MSCHE), which accredits the Art Institutes' locations in Philadelphia and Pittsburgh, rejected the proposed change "because of insufficient information and evidence conducive to Commission review." The institutions can resubmit their request to the commission once they provide additional materials.
MSCHE also recently placed the Art Institute of Philadelphia on warning status after the institution underwent its decennial self-study and site visit. The Pittsburgh location, which is not on warning, is on a different schedule and as a result has not undergone a similar review at this time.
The Dream Center and EDMC did not respond to requests for comment.
EDMC saw the same rapid rise and fall in enrollments that many other for-profits experienced in the wake of the recession. At its peak, the organization enrolled 157,000 students across its systems. Capitalizing on surging student enrollments, for-profits were able to charge hefty tuitions. Yet many were criticized for leaving graduates with heavy debt burdens and degrees that were at times not recognized by employers.
When the Department of Education sanctioned the for-profit Corinthian Colleges in 2014, cutting off its access to federal dollars, the system quickly collapsed. Another for-profit system, ITT Tech, underwent a similar demise in fall 2016.
While EDMC so far has succeeded in evading a total closure, its reputation was besmirched by a years-long lawsuit revolving around $11 billion in student loans to EDMC schools between 2003 and 2011. The case was originally brought about in 2011 by the U.S. Justice Department and four attorneys generals in response to allegations of questionable student recruiting practices.
When the case was settled in 2015, EDMC agreed to forgive $102.8 million in outstanding loan debt that applied to 80,000 former students, amounting to less than $1,300 per person on average. The repayments only applied to loans distributed by EDMC, not from federal or other private loan services which accounted for the vast majority of loans and aid distributed to students. EDMC settled with the federal government for an additional $95.5 million.
As an element of the deal, EDMC did not have to admit wrongdoing. Like many of its for-profit peers, EDMC was accused of making inflated claims about career outcomes to prospective students and compensating employees based on the number of students they enrolled.
Yet in the wake of the lawsuit, enrollments have languished. EDMC announced in May 2015 that it would sunset 15 of its Art Institutes locations, and its New England campus is now dogged by a class action lawsuit.
"My diagnosis of what's going on with the for-profit industry and certainly specifically with EDMC is that they engaged in such a fury of predatory conduct that their toxic reputation has now really solidified in the public mind," said Barmak Nassirian, director of federal relations and policy analysis at the American Association of State Colleges and Universities (AASCU). "They have figured out that the only way out is to rebrand."
Other schools have already sought to rebrand themselves. The Zenith Education Group assumed management of Corinthian College's remaining locations in the wake of their collapse. On Wednesday, the organization announced that its Everest career colleges will be rebranded as Altierus Career Colleges. DeVry University, a for-profit college system, renamed itself Adtalem Education Group in April.
Both names are extracts of existing Latin words, but have no actual meaning.
Although the rebrand is intended to change public perception of the institutions in question, their practices and educational quality have not changed substantially. "What you see is the same thin gruel served up under new labels," Nassirian said.
Although EDMC agreed to revisit its recruiting practices in the 2015 settlement, critics say that there is still reason to believe that students are not getting the educational outcomes they are given to believe at the outset. In a letter to regional accreditors sent in June, five members of Congress warned that EDMC's sale poses "significant risks for students and taxpayers."
The letter was signed by Sen. Elizabeth Warren, D-Mass., Sen. Dick Durbin, D-Ill., Sen. Kamala Harris, D-Calif., Sen. Sherrod Brown, D-Ohio, and Rep. Rosa DeLauro, D-Conn. "EDMC's troubling legal history raises important questions for your agency's review of this transaction and about whether the Dream Center's takeover of EDMC's school will improve the quality of education offered to students," they cautioned accreditors.
While for-profits have been accused of aggressive recruiting tactics in general, they are also known for targeting veterans and military members in particular. An Obama-era provision bars for-profits from receiving more than 90 percent of their revenue from the federal government, with an important exception. Departments of Defense and Veterans Affairs tuition assistance benefits are not counted toward the 90 percent limit.
Critics say that this loophole gives for-profits the incentive to go after veterans and service members, since every dollar in tuition revenue from the DoD and VA frees up an additional nine dollars from other federal sources.
According the Student Veterans of America (SVA) website, a total of 118 GI Bill students currently attend the Art Institute of Philadelphia, which has an undergraduate enrollment of 1,071 students. Another 79 attend the brick and mortar Art Institute of Pittsburgh, while another 1,298 GI Bill students are enrolled in the Pittsburgh location's online division.
"We maintain reservation and concern over schools that have historically demonstrated a pattern of predatory behavior," said William Hubbard, SVA vice president of government affairs. "With the sale of this school we are hopeful but cautious [that] the new programs will provide a high quality education for their students."
Staff writer Catherine Morris can be reached at cmorris@diverseeducation.com.