While working a $15-an-hour job as security guard at a Caterpillar plant in Joliet, Ill., Ed Richardson knew he had to get more education and training to have a real shot at a career.
The Caterpillar plant where he worked had been planning to move most of its production to Mexico to cut costs. Richardson, 25 — who had already dropped out of a junior college in Texas — wanted to get back into school.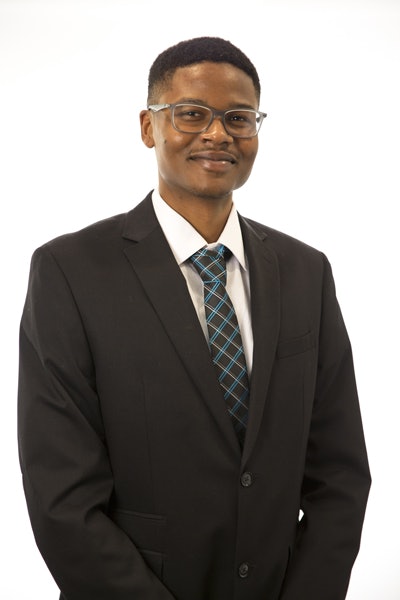 "I needed to look for a new opportunity, and without college or any formal training, it's tough to find opportunities," Richardson said.
So Richardson set up a job search on indeed.com. He used keywords such as "trainee" and "apprenticeship" — the latter term being an idea he got from other Caterpillar employees who told him that apprenticeships were how they had gotten into the company.
It was that keyword — apprenticeship — that caused Richardson's job search results to come back one morning with an enticing ad.
The ad was for an apprenticeship at the Chicago offices of Aon, a global insurance company. Richardson easily met the qualifications.
"I immediately jumped at it because it said in the job description: 'No corporate experience and no degree required,'" Richardson recalled.
And the deal got sweeter — Aon would pay the apprentice's college tuition.
"The job description made it a no-brainer," Richardson said.
After going through a series of phone, video and in-person interviews with Aon managers, Richardson is now about six months into his apprenticeship as a claims analyst with Aon Benfield, a reinsurance intermediary.
He and 25 other apprentices also attend nearby Harold Washington College, one of several schools in the City Colleges of Chicago network. Aon apprentices take courses toward an associate's degree in business management, with concentrations in either HR, insurance or IT to correlate with their roles at Aon.
Their weeks are split between approximately 30 hours of work and about 10 hours of school. School is counted as part of the 40-hour work week.
"You get your schooling paid for and then — with your 40-hour weeks [including] school time — you're compensated for school as well," Richardson said.
Apprentices are guaranteed full-time positions at the end of their apprenticeships, a public relations specialist for the company said, although it remains to be seen whether and how those offers will work out.
As Richardson seeks to use his apprenticeship to catapult himself toward a career in the insurance industry, both President Donald J. Trump and Congress are looking to expand apprenticeship opportunities for the nation as a whole.
They say apprenticeships represent an effective workforce development strategy that gives students a way to make money and affordably educate themselves for bigger and better things.
"Apprenticeships place students into great jobs without the crippling debt of traditional four-year college degrees," President Trump said in June as he signed an executive order to expand apprenticeships.
"Instead, apprentices earn while they learn, which is an expression we're using: Earn while you learn," Trump said.
Earlier this month, U.S. Secretary of Labor Alexander Acosta put out a call for nominations for individuals to serve on President Trump's new Task Force on Apprenticeship Expansion. The task force is considered a "key step" in implementing President Trump's executive order to expand apprenticeships.
There are currently 206,000 Registered Apprenticeships with the U.S. Department of Labor. President Trump has indicated he wants to expand the number of apprenticeships to five million — although not necessarily through the U.S. Department of Labor's Registered Apprenticeship program. His executive order calls for third parties to promote development of industry-recognized apprenticeship programs. The order also calls for federal support for community colleges and other two-and four-year institutions of higher education to incorporate apprenticeship programs into their courses of study.
The U.S. House Subcommittee on Higher Education and Workforce Development took up the issue earlier this month during a hearing titled "Expanding Options for Employers and Workers Through Earn-and-Learn Opportunities."
U.S. Congressman Raja Krishnamoorthi (D-Ill.) highlighted the Aon apprenticeship program specifically, noting that Aon apprentices get paid "competitive salaries" and are offered full employee benefits.
Indeed, Aon apprentices are currently paid $38,000, which includes salary, benefits and a year's tuition at Harold Washington College.
Much of the subcommittee's hearing focused on merits of the Registered Apprenticeship program versus third party industry-recognized apprenticeships being touted by the Trump administration.
The Aon apprenticeship is a Registered Apprenticeship, according to a company spokesperson.
Lawmakers sought to make a meaningful distinction between Registered Apprenticeship and industry-recognized certifications. Republican lawmakers spoke more in favor of non-registered third party apprenticeships as being more nimble and the Registered Apprenticeships as being too encumbered with bureaucracy.
Krishnamoorthi said part of the argument in favor of Registered Apprenticeships is that they "ensure a certain level of quality across the board, and so we can ensure that our children and students and others who are perhaps in career transition and engaged in apprenticeships are engaged in something that can transfer around the country, because everyone can trust in it."
Michael Bennett, vice president of Cianbro Companies, a Maine-based construction company, and chair of the National Associated Builders and Contractors' workforce development committee, testified that there is value in both Registered Apprenticeships as well as industry-recognized certification. He said he did not want to pit one approach against the other.
While Registered Apprenticeships are structured to have classroom time and on-the-job learning, the non-registered programs can be "as strict, if not more strict than an apprenticeship model," Bennett testified. He noted that non-registered programs can require a knowledge verification as well as a performance verification in which participants must demonstrate that they can apply what they know before they are issued a certification.
"There's more than one way to get to the end," Bennett said.
Richardson said one of the most beneficial aspects of the apprenticeship is that he gets to apply what he learns "as opposed to being in college and waiting for four years to see if you can remember everything you learned or not."
"You go to class one day, go back to work the next day and try something new and get instant feedback, not wait four years and seventy-thousand dollars to get feedback on whether you're doing something correctly," Richardson said.
"You can go over to the school and actually work on things like crafting e-mails, working on a marketing project, and you can come over here (to Aon) and deal with real experts and get key insights," Richardson said. "So just to be able to connect the dots between schooling and talking to key experts, it's unbelievable, I think."
Bridget Gainer, vice president for global public affairs at Aon, said the apprenticeship was born out of the recognition that the company could fill positions that the company had historically filled with holders of bachelor's degrees with lesser-skilled individuals and get better results in terms of retention and diversity.
"If you're only hiring from places that don't have diversity in college, you're going to get less diversity at your entry level ranks," Gainer said, noting that the city's two-year colleges were more diverse than the four-year colleges from which Aon historically hired its entry-level candidates.
Company executives also realized they were overlooking talent at Harold Washington College, a city college just two blocks away. The college is 42 percent Hispanic and 30 percent African American, figures that are roughly twice the rate those groups are represented in four-year colleges.
Gainer said Aon didn't want to recruit from Harold Washington as a "social program," but rather in a way that was integrated into the company's overall training and recruitment and that was "good for the business."
The company drew upon its experience with apprenticeships in Germany and the United Kingdom — where apprentices have higher retention and engagement rates — to make the case that apprentices could cut down on attrition at its Chicago office and thus save the company money that it would have otherwise had to spend on training.
"Managers felt like they knew they were getting something beneficial out of it, and that's hugely important," Gainer said. "That's what makes the program sustainable. It doesn't just ebb and flow based on the person who's in charge. It becomes something that's important to the business."
Richardson said he appreciates being in a cohort that has a large number of minorities.
"When you get in this cohort, you're surrounded by some of the most talented minorities you've basically been around in a while," Richardson said. "It's just great."
He said the support and resources that Aon provides are "second to none." He added that he'd like to see more companies step up to the plate..
"If Aon can do it and the red carpet is rolled out for us, I know other companies are capable of doing it also," Richardson said. "I'd just like to see more companies doing it."
Jamaal Abdul-Alim can be reached at jabdul-alim@diverseeducation.com or you can follow him on Twitter @dcwriter360.