Colleges and universities must begin to think of international students more as part of the overall student population and not as a separate group.
That was the message that Kent Hopkins, vice president of enrollment services at Arizona State University, delivered Monday at a U.S. State Department forum for professionals in international education.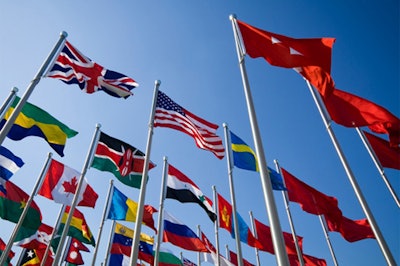 "I think it is incumbent upon us to treat our international students more in an immersive way," Hopkins told nearly 600 attendees at the annual EducationUSA forum. EducationUSA is State Department network of more than 400 international student advising centers in more than 170 countries.
"I think too many times we tend to think domestic students do this, international students do this, graduate students do this," Hopkins said. "You should have a singular, overarching premise on how you serve students."
At the same time, Hopkins also urged attendees to stay in regular contact with international students — particularly to allay concerns international students may have about their visas in light of President Donald J. Trump's proposed travel ban — and to create special foundational programming to help international students get up to speed on how things are done in American higher education.
Part of making international students feel like they belong involves having campus facilities for international students more centralized instead of at some remote location. Hopkins recounted how when he first began his job at ASU more than a decade ago, the school's international student and scholar center was located in a strip mall on the northwest side of campus, yet there was a big student services building that housed a variety of other programs.
"Imagine if you were an international student in 2005 and walked into the student services building and were told to go 'over there,'" Hopkins said. "It's not the right message that we should be sending. So we moved our international student and scholar center."
Today, he said, the international student and scholar center enjoys a prominent place on the first floor of the student servings building. He said 10,000 of ASU's 72,000 students are international as of 2015 — more than twice the figure from 2008.
"We are enriched as a state to have international students interacting with our Arizona citizens," Hopkins said.
In addition to making international students feel more a part of campus, Hopkins said college and university leaders must also begin to get more students from the U.S. engaged in study abroad.
"Typically, the first obstacle is cost," Hopkins said. "Cost has a correlation to income. And the majority of our students who are studying abroad are our higher socioeconomic students. Maybe we should think differently about that."
Hopkins related that ASU has created a "Discovery Award" so that — after a student's second year at ASU — the student will have access to a $5,000 one-year award to help cover the cost of study abroad. The program is targeted toward lower-income students.
"We don't want cost to be a deterrent to [having] this transformative opportunity within study abroad," Hopkins said. "I would challenge you to think differently about how you serve students in that arena, because the first thing we typically hear is: 'I can't afford it.'"
Hopkins' remarks come at a time of lingering concerns over proposals from the administration of President Trump to restrict travel from several predominantly Muslim countries.
A revised version of the original controversial "travel ban" exempts those with a "bona fide" relationship to a person or entity in the United States, such as a college or university to which they have been admitted.
The Supreme Court is expected to take up the issue of the 90-day travel ban in October, although by then the travel ban will have expired. It is unclear if the court will see fit to rule on the issue or if the issue has become moot.
Hopkins — who said ASU has students from the affected countries — said he was hopeful that the court would rule in such a way that allows international students to continue to study in the United States.
"For me a favorable ruling would be that students who are enrolled at public and private universities throughout the United States still have the ability to complete their education," Hopkins said.
Senem Bakar, director of International Student and Scholar Services at American University, said it's important for international educators to address international students' concerns in a way that shows the university cares about their well-being.
She noted how at American University, international education professionals set up Facebook Live sessions to talk with parents of international students to address any questions or concerns they may have.
"To me that signals an institutional commitment," Bakar said.
Other sessions at EducationUSA focused on topics that ranged from how to support students from diverse populations from abroad — including LGBTQ students and students from little-known minority populations in foreign countries.
Jacob Wooden, assistant director of international admissions at Indiana University, said educators should be cautious about inadvertently outing a student who has come out to them personally as LGBTQ because the student may not be able to do so safely or legally in their native countries.
"Coming out to you is not coming out to everyone," Wooden said. International students may also have concerns about disclosing their sexual orientation for fear that it may prevent them from getting admitted, Wooden said.
Monica Malhotra, project manager at Mobility International USA, said it's important for students with disabilities from abroad to see students like themselves reflected in promotional materials.
"Many international students live a culture where the stigma of a disability is very negative, Malhotra said. "That can prevent them from even applying. They may not disclose their disability for fear of being denied admission."
Malhotra called attention to her organization's #access2usa campaign. Among other things, the campaign helped raise awareness about resources for students with disabilities so that they know more about the opportunities and challenges of studying in the United States. Those resources illuminate issues that range from what kind of sports and clubs are available to students with disabilities to the physical terrain of the institution where they wish to study.
Jamaal Abdul-Alim can be reached at jabdul-alim@diverseeducation.com or you can follow him on Twitter @dcwriter360.