Morris Brown College, a historically Black institution in Atlanta, Georgia, lost its accreditation in April of 2003 but has kept its doors and classrooms open in spite of a significant loss in funding and enrollment.
The well-known college, which once enrolled thousands of students and was also a part of the Atlanta University Center Consortium — which includes Morehouse College, Spelman College, Clark Atlanta University and Morehouse School of Medicine — suffered a loss in accreditation due to issues stemming from its finances.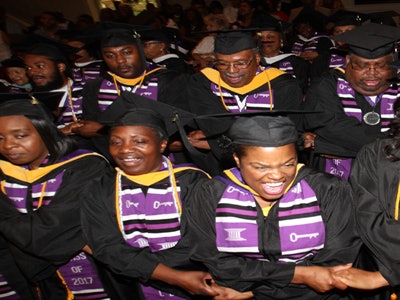 It once housed the typical fixtures of any college or university. The school had its own stadium, athletic teams, dormitories, cafeteria and a bustling campus filled with students. That all gradually disappeared along with the school's accreditation in the early 2000s under the leadership of its former president, Dr. Dolores Cross, who was found guilty of embezzling federal funds.Isn
These losses, which would normally send students flocking elsewhere, have surprisingly not deterred a core group of students who remain committed to the college that was founded by the African Methodist Episcopal Church in 1881.
"Students, faculty and staff who come to Morris Brown have made a conscientious decision to join us for various reasons, whether it be family ties, alumni or the historic value of the college," says Dr. Stanley Pritchett, the college's 18th president.
The college currently employs just five full-time professors and 10 adjunct instructors. They all teach in the three majors that the college offers, which are business administration, organizational management and leadership (OML), and music.
"Our current status has not changed that enthusiasm or willingness to move forward," says Pritchett, who was appointed to lead Morris Brown College in March 2010. He has been serving as acting president of the college since July 2008.
"We received over 700 applications for the 2016-17 school year," says Pritchett. "In the past year we have had over a thousand applications, but due to students not being able to access financial aid, we usually end up with less than 100 students that enroll at the college. Currently, we have 22 returning students confirmed and 70 confirmed as new students."
In spite of these startling figures, this historic space has continued to open its doors to students, both traditional and nontraditional, and the college functions in generally the same way it did before its accreditation loss. The school still hosts a yearly Homecoming, Founders Day activities, and has student organizations and pageants.
The school has also maintained its ties with notable celebrities. At the May 2017 graduation, comedian Chris Tucker received an honorary doctorate of fine arts and NBA Hall of Famer Walt "Clyde" Frazier received an honorary doctorate of humane letters.
"When it comes to the spirit of the students, they are still just as vibrant as they were when there were over 2000 students," says James Fedd, a member of the school's board of trustees and a member of the National Alumni Association. "The spirit of the students has not changed [because of] of the situation of the school, which is something that I commend them for."
Pritchett says that the institution runs a lean operation. "We maintain the basic operations required to meet our educational objectives," he says. "We provide student support and other co-curricular activities to provide a wholesome atmosphere for the students we serve."
Fighting the rumors
"We have not closed," says Shirley Barlow, president of the Morris Brown College National Alumni Association. "We have had students ever since we started this process with our loss of accreditation."
Those rumors irritate Barlow, a graduate of the class of 1973. She has committed herself to helping the institution get more volunteers, and financial and alumni support as a senior advisor to graduating students and part-time instructor.
Her close ties with the college also stretch into her own family. Four of her children graduated from Morris Brown. In 2005, her son attended the college during the aftermath of the accreditation loss. He attempted to transfer to another college but later learned that his credits would not be accepted so he was forced to return to Morris Brown. This is a similar narrative for many of the college's returning students.
"This past year, we had more traditional students that came and then we also have returning students who were there during the crisis," says Barlow.
The college also receives a number of local Atlanta residents who are seeking a school where they can earn a few credit hours toward the completion of their bachelor's education.
Brandy Gray, a native of Madisonville, Kentucky, has returned to the college to finish where she left off in 1998. In addition to being a student, Gray is an administrative assistant at the college.
She is getting her degree in the organizational management leadership program, which is designed for applicants who already have at least 45 to 60 transferable credits as well as a minimum two years of work experience. The program is accelerated and can be completed within 18 months to two years.
"I like the (OML) program because I'm a non-traditional student and its (flexibility) worked for me," says Gray.
She credits the smaller class numbers and assistance from professors as keys to her success as a student. "I learn better in a smaller environment and knowing that I can pretty much have direct contact to them, and even with the students. It's like we're a little family."
Gray says that she is not worried about the school's lack of accreditation.
"[There are] other schools and colleges out here that don't have accreditation," says Gray. "That has nothing to do with your academics or graduating."
Scheduled to graduate in 2019, Gray says that she is pushing herself to add two additional classes to her coursework so that she can graduate a year earlier. When she first attended the college in 1998, her major was mass communications. However, that has since changed due to the current structuring of the school where the college offers only a few academic majors.
She dismisses the idea that students attending an unaccredited school can't go on to achieve greatness.
"I've talked to many people that graduated from Morris Brown when it didn't have accreditation. They went ahead and did doctoral programs, master's programs, so it didn't get in their way. So I don't see it getting in mine," says Gray.
Experts on accrediting say that individual institutions can decide whether they will accept credits from a non-accredited school.
Joseph Parker, a 20-year-old student from Harlem, New York, is a rising sophomore. Majoring in business, Parker was one of eight students entering the college last year. He was disappointed by the lack of students and flurry of activity on campus.
"It was a lot of anticipation, a lot of hope … hopefulness, because when we came in last year, we were one of the biggest classes to come in, in a couple of years," says Parker, who was astonished to learn that the city had purchased a majority of what was once a thriving campus.
Parker, who plans to become a pastor, says that he is committed to helping rebuild the storied institution.
"You hear, 'Oh Morris Brown was this, Morris Brown was that.' But, if we try to strive to be what we were, we'll never be or become what we can be, which is better than what we were," says Parker. "One thing about Morris Brown is they see and acknowledge their past, but they're trying to shoot for something greater, and that's the thing that I love."
Shantel Williams, a May 2017 graduate of Morris Brown College, unexpectedly stumbled onto the campus one day. "I happened to cross Morris Brown's campus while doing a detour in Atlanta because of traffic issues," says Williams, who is from Bradenton, Florida. "I saw some of the buildings that were closed and then I realized it was Morris Brown. I took a walk on the campus and from there, I started googling the story."
After learning that the college was still open, Williams gave the school a call and decided to enroll.
"After speaking with the people there, after being on the campus and feeling the rich history — you can actually feel it, it's not something you can really put into words — I knew that this was the place that I wanted to be, and that it would work for me," says Williams.
Williams, who majored in organizational management and leadership, has started a new job at Emory University Hospital working with patient services where she registers patients for surgical and outpatient appointments.
"I am grateful for my degree being something Emory took, accepted and gave me a position where I can grow and advance," she says.
Regardless of its current accreditation woes, recent alumni say that they have not had any problems securing opportunities once they graduate from the college.
"Gaining accreditation requires a level of scrutiny and measurement of core requirements, compliance with standards, processes and audits," says Pritchett. "It is not something that is generally accomplished in a short turnaround time but over a successive period where parameters are set and objectives are measured and met."
Upon reinstatement of their accreditation from the Southern Association of Colleges and Schools Commission on Colleges, Pritchett says that Morris Brown plans to "create a premier educational public square that cultivates inspiration, innovation and lifelong learning."
"We enjoy a glorious past but all colleges and institutions of higher learning are challenged by the premise of how to make sure course offerings match ever changing demands of the workforce," he says.
Gia Savage can be reached at gsavage@diverseeducation.com.