Students who took 15 credits during their first year of college did better academically and were retained at higher rates than those who took fewer credits, an analysis from the Education Advisory Board (EAB) being released today has found.
The analysis — which involved nearly 1.3 million full-time college students at 137 institutions — found that college freshmen who took an average of fewer than 15 credits per semester were 19 percentage points less likely to graduate in four years.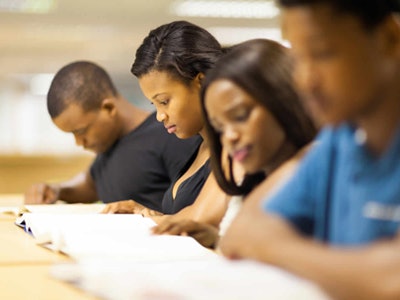 "This is a big problem," the analysis states, because more than half of incoming college students — 56 percent — only register for the full-time minimum of 12 credits per semester.
The analysis — believed to be the first of its kind on a national scale — also found that students with a high school GPA of 2.0 to 3.0 who took 15 or more credits ended their freshman year with a GPA that was 0.36 grade points higher than their peers — 3.04 versus 2.68.
The 15-credit takers were retained at a rate of 90 percent versus 81 percent for those who took fewer than 15 credits per semester, the analysis found.
Similarly positive findings held true even for students who were less prepared academically or who were Pell Grant recipients, said Ed Venit, senior director at EAB, showing that even lower- income students who are more likely to work during college can still handle the larger course load.
Venit says the findings should embolden counselors who may have been worried about overloading students — particularly first-generation college students — with too much coursework as they acclimate themselves to the demands of college life.
"Where this study would help is it gives them the confidence to recommend that students take that extra course," said Venit. EAB, among other things, helps member institutions uncover "proven, peer-tested ideas from colleges and universities around the world," according to its website.
"They need to see the data to know they wouldn't harm the students," Venit said.
Nancy T. Beane, president of the National Association for College Admission Counseling, said the findings are compelling and are consistent with her experience as a longtime college counselor.
"We have found that the students who are taking more hours generally are managing their time better," said Beane, associate director of college counseling at the The Westminster Schools in Georgia.
"They know they don't have a lot of time to fool around, therefore they pay attention to what they're doing," Beane said.
However, Beane said while she would heartily encourage her fellow college counselors to advise students to take 15 credits per semester, it's still important to make sure students have the support they need, such as tutoring, to get through their courses.
And experts warn that while it can be good to encourage students to take more than 12 credits per semester, that policymakers should still be cautious about implementing new policies meant to move undergraduates in and out within four years.
Dr. Tiffany Jones, director of higher education policy at The Education Trust, a national nonprofit that advocates on behalf of low-income students and students of color, said while the results of the EAB analysis are "exciting and suggest a promising strategy for increasing completion for full-time students," that policymakers should still be wary of unintended consequences.
"Encouraging full-time students to take more than 12 credits can be a helpful policy solution to increase course and ultimately college completion," Jones said.
The challenge, however, is that federal estimates show nearly one-fourth of undergraduates at four-year institutions and over 60 percent of students at two-year campuses attend part time.
"This means that we have to be careful not to design policy that decreases resources for the over six million students who enroll in college part-time," Jones said. She said considering how 40 percent of part-time undergraduates are over the age of 25, many may be simply unable to take more credits because of family and work obligations.
"Helpful policy approaches involve examining degree requirements to ensure students have a clear program of study to follow, and providing flexibility like incentivizing 30 credits per year instead of 15 per semester," Jones said.
Building on that point, Bonita J. Brown, director of higher education practice at The Education Trust, stressed the need for flexibility that allow students to take 12 credits per semester during the year and then take six over the summer, "which still gets them to 30 credits year and graduating in four years."
Dr. Dhanfu E. Elston, vice president of strategy at Complete College America, an Indianapolis-based organization that works with states to boost college completion rates, said the EAB analysis adds to the "growing evidence of what we already know: Time is the enemy of college completion."
"Students should be encouraged to take a course load that leads to on-time completion, saving them and their families thousands of dollars in the process," Elston said. Elston added that such practices are part of a larger college completion movement happening across the country that involves 13 states and more than 200 institutions making efforts around a campaign known as #15toFinish.
Among the colleges and universities moving in this direction is the University of Central Florida, which in 2015 started a "Think30" campaign to nudge students to take 30 credits per year. The messaging begins as early as freshman orientation with videos and the like.
"We want you to come and have a great experience, but we want you to graduate within four years," said Dr. DeLaine Priest, associate vice president of student success at UCF.
When the Think30 campaign began, Priest said, 59.9 percent of the students at UCF were taking 15 credits per semester. After the campaign, she said, the number jumped to 64.3 percent.
"We've seen results. We think we're going to continue to see results as we advertise and push this campaign out," Priest said.
Venit, the EAB researcher, said it's important for parents to get the message as well because often they are the ones writing the checks for students' tuition.
The message of taking 15 credits per semester is important even for parents of first-generation college students, who themselves may be less familiar with the in's and out's of college, Venit said.
"So a simple message like that — even if it seems obvious once you hear it — educates parents who are less likely to have experience with how college works," Venit said.
Venit explained that increased retention and completion rates can also be beneficial for institutions in terms of institutional prestige or when they are subject to outcomes-based funding, which allocates funding based on institutional performance.
"It's a perception issue for the school," Venit noted. "You want to have the best possible numbers associated with your institution."
And improved retention rates lead to more revenue, Venit said, "because by getting students back the second year, they're paying tuition."
Jamaal Abdul-Alim can be reached at jabdul-alim@diverseeducation.com or you can follow him on Twitter @dcwriter360.