After Knoxville College (KC) lost its accreditation with the Southern Association of Colleges and Schools (SACS) in 1997, the college has struggled financially, and student enrollment began to decline to the point that only 11 students were enrolled at the time of the school's closing in May 2015.
Today, many campus buildings are boarded up, a science building underwent emergency toxic chemical cleanup, and the college has yet to resume classes and enroll new students since the end of the 2014-2015 academic year.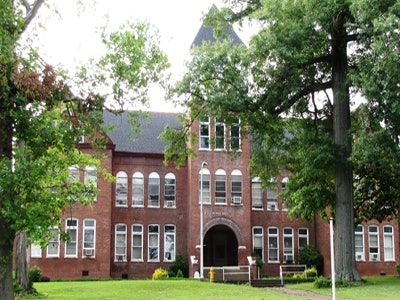 The Tennessee school's website states that the college is "not enrolling or recruiting new students at this time."
It is a sore sight for KC alumni who come back to celebrate their beloved institution.
"People who come back for the first time in 30, 40, 50 years, they're devastated by the looks," says Robert J. Booker, a KC alumnus and former executive director of the Beck Center in Knoxville during an interview with WATE 6. "Knoxville College has contributed mightily to the economy of our city, the cultural well-being of our city, so it really has been a great asset over the years."
Booker graduated in 1962 as an English major and French minor and says that the school had between 600 and 700 students when he was enrolled there nearly six decades ago.
Knoxville College lost its accreditation for violations mostly relating to finances, according to Dr. Pamela Cravey, a SACS spokesperson. SACS recorded citations related to student financial aid, financial resources, governing board and planning and evaluation of education programs, Cravey explains.
A 2014 attempt to reaccredit the school through the Accrediting Council for Independent Colleges and Schools proved unsuccessful, and the college remains on "conditional authorization" under the Tennessee Higher Education Commission (THEC), says Julie M. Woodruff, the lead attorney at THEC.
Conditional authorization means that school leaders can only work to meet THEC's minimum requirements before readmitting students. This includes showing that the school's finances are in order and that facilities are in accordance with local ordinances, Woodruff says.
Before the school shut its door, community officials and residents described the campus as vibrant. Now, residents and a city council representative say that the campus is "dilapidated" as a result of non-compliance with the City of Knoxville to repair a majority of campus buildings in 2016.
Last May, the Tennessee Department of Environment and Conservation recommended that Knoxville College's Stewart Science Hall become a government Superfund site because of chemical contamination and public safety concerns. Several fires also plagued abandoned campus buildings within the last year, leaving many residents in the neighboring area concerned.
As of February, city officials deemed the last two remaining buildings of the Mechanicsville campus — the Alumni Library and historic McMillan Chapel — unsafe for Knoxville College officials to operate from.
Woodruff adds that, because of the length of time and the reasons for Knoxville College's conditional authorization, the school was "asked to file a new initial authorization application … as well as any applications for programs that they wanted to offer."
When the college submitted the applications this year, THEC requested additional information and explanation in late April, to which the college has not yet responded.
"There is no particular deadline for this," Woodruff says. "They need to get us the information for us to move forward."
Until the institution responds to letters requested by THEC and is approved for authorization, Knoxville College cannot enroll, recruit or instruct students. College administrators and some alumni remain hopeful that the school's doors will eventually reopen.
Unstable leadership
Within the last seven years, leadership at the school has been sporadic as the board fired presidents, sometimes within months of making hires. Currently, there are only three administrators on staff, including Dr. Keith E. Lindsey, the newly appointed interim president since July 1.
The other two special assistants are volunteers, says Lindsey.
Lindsey, who served as a biology instructor at the college for the last eight years, says he is thrilled to be at the college.
"Knoxville College is in a 'Three-R' type of position," he says. "We're in a rebirth, a rebuild, and a reenergizing type of position right now. We're writing a new narrative and a new chapter."
Lindsey says that he is in the process of actively reviewing several accreditation agencies and their requirements for successfully completing the accreditation process. He adds that he has spent time speaking with alumni, board of trustee members and community leaders, and he has been "reading past records to ascertain what changes could be made in the college's operations, procedures, and policies."
The college is anticipating a January 2018 opening with hopes of beginning enrollment starting in October, according to Lindsey.
"I hope to hire 16 faculty members to join us as we open our doors to potential students," Lindsey says. He adds that the board of trustees has responded positively to his strategic plan and vision for Knoxville College.
"I have been actively working with the Academic Curriculum Committee to ensure we have a rigorous academic program dedicated to preparing students for the workforce," says Lindsey. "Completing the process will take time. However, I believe we can successfully gain accreditation."
The interim president is also working to reopen the campus buildings. While it is unclear how the college will financially sustain its efforts to regain accreditation, Lindsey, whose wife is an alumna of KC, believes that alumni support will play a large role in revitalizing the college.
"The alumni network is the college's best recruiter and supporter of the college," Lindsey says. "The college cannot survive without an active alumni base and I am personally asking for their support as we move forward."
Booker, who is also a former historian at Knoxville College and former president of the Knoxville chapter of the college's Alumni Association, says that the purpose of Knoxville today remains the same as when the college was founded in 1875.
Describing his alma mater as "top-notch" and "one of a kind," Booker says that students "got a very good education" after four years there.
Patience Ajoff-Foster, a 2008 Knoxville graduate and academic coordinator for community health and prevention at Drexel University, echoes that sentiment. "It wasn't necessarily that we didn't get a quality education, because we did, and I would argue that we got way more than what any of us would have anticipated," she says.
As an international student at the time, she recalls that Knoxville's work-study program attracted her to the historically Black school over other predominantly White institutions.
"Knoxville College, with their work-study program, afforded me the opportunity as an international student to be able to attend college and still graduate debt free," says Ajoff-Foster. "That was a huge motivation for a lot of us because you came in, you had a placement through the work-study program, and it didn't matter where you were from, and if you really focused and you applied yourself, you were able to graduate in time and graduate debt free."
Ajoff-Foster says that she and her classmates were able to graduate with bachelor's degrees and move on to prestigious graduate programs and the workforce and are now pursuing careers as pharmacists, physicians and business leaders.
Because the college's accreditation issues were financial in nature, students were "able to compete academically and beyond," she says.
Hoping for change
The KC alumna hopes that things will someday turn around for her institution and notes that it was endless support from Knoxville faculty and professors that helped many students get through college.
"People who really had their heart in Knoxville College and even the alumni … everyone was genuinely invested in your success," Ajoff-Foster says. "You had so many people rooting for you. The community was rooting for you. We were rooting for ourselves. It was just that feeling of support and community that I think gave us what we needed where we felt like we could pretty much go anywhere and do anything and see anyone."
Lindsey says that Knoxville College's future calls attention to the relevance of HBCU institutions today as they prepare students to enter society.
"Today, people wonder aloud about the relevance of HBCUs, thinking they are a relic of the past," Lindsey says. "However, upon glancing at the landscape of today's society, I unapologetically state the need for HBCUs is greater than ever. Our HBCUs stand to be a safety net to make sure that no one is left behind in this society."
Ajoff-Foster agrees. "It's an experience like no other," she says.
For her fellow Caribbean friends and classmates from the continent of Africa, she says the HBCU experience helped challenge preconceived notions about Blackness and the diaspora as a whole.
"Being at an HBCU afforded us that opportunity to be able to have some real conversations that you don't have anywhere else for African-Americans and for Blacks in particular, who are trying to navigate what you call success in a world where we're not always dominating," Ajoff-Foster says.
A storied history
Knoxville College was started by the United Presbyterian Church of North America to "promote religious, moral, and educational leadership among the freed men and women," according to the college website.
It was officially designated as a college in 1877 and became accredited when it received full membership into SACS, one of six regional accreditation agencies, in 1957.
A brief history of the school highlights its value as a place of higher education for Black people living in the Reconstruction era and beyond. Today, the college describes itself as "entrepreneurial, collaborative, and emphasizes commitment to social justice and civic involvement."
In its maiden days, Knoxville College trained teachers and nurses, educated local children and helped advance the local Black community. The school also admitted White students until Tennessee issued a state-wide mandate segregating all schools in 1901.
During the Jim Crow and Civil Rights eras, students at Knoxville College attended various protests, and, in the 1960s, they participated in sit-ins to end segregation in Knoxville, Tennessee. The college hosted leaders such as Rev. Dr. Martin Luther King Jr., Jesse Owens and W.E.B. Du Bois throughout its storied history, Lindsey says.
And Knoxville College, like other colleges and universities, had an active student life, including the Student Government Association, a debate team, a competitive HBCU trivia team and a college newspaper, The Aurora, which was published for more than a century.
By the time the 1980s rolled around, eight of the college's campus buildings were listed on the National Register of Historic Places, preserving their historic role in the education of Black students. Today, many of those buildings have shutters over their windows.
As of now, what is physically left of the college serves as a memory of Knoxville College's legacy in the community and in the hearts of its alumni. "It would be a big loss if it never came back around," Ajoff-Foster says.
Lindsey, who has become the school's biggest cheerleader, maintains hope for the future.
"The sun does not set on our HBCUs. The sun does not set on Knoxville College," he says, adding that the college "will rise again to reach new and different heights."
Tiffany Pennamon can be reached at tpennamon@diverseeducation.com.
This story also appears in the 10, 2017 print edition of Diverse.