Advocates for immigrant youth spent the weekend speaking out against rumored plans by President Donald J. Trump to kill DACA — an Obama-era program that allows certain undocumented young people to live and work in the country without fear of deportation.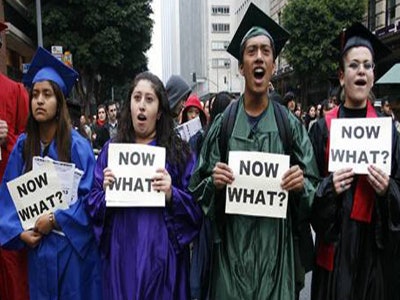 If President Trump ends DACA — the Deferred Action for Childhood Arrivals program — advocates say it will further cement President Trump's post-Charlottesville legacy as being aligned with the anti-immigration sentiments of White nationalists and White supremacists.
They also said it will put the approximately 800,000 DACA recipients — mostly youth of color — in danger of being rounded up and deported by agents from ICE.
"Killing DACA would create nearly a million new unprotected people to be hunted down by Trump's agents," said Greisa Martinez Rosas, director of advocacy and policy at United We Dream, an immigrant youth-led organization that fights for immigrant youth and their families.
"That kind of White supremacist blood sport is sick and immoral and we will resist it," Martinez Rosas said.
Vanita Gupta, president and CEO of the Leadership Conference on Civil and Human Rights, also linked Trump's rumored plans to end DACA to the White nationalists and White supremacists who gathered earlier this month for a "Unite the Right" rally in Charlottesville, Va. The rally tragically culminated in the killing of a counter-protester, allegedly by an Ohio man who plowed a car into a crowd of counter-protesters.
President Trump drew criticism for not condemning White supremacists, White nationalists and neo-Nazis by name swiftly and forcefully enough after the incident, and for placing blame for the incident on "many sides."
Gupta noted how the rally included anti-immigrant chants such as "one people, one nation, end immigration."
"Attacks on immigrants are a central element of the White nationalist agenda and movement, and we will and must renounce and resist them at every turn," Gupta said.
"That means in the streets, in the courts, and even our government," continued Gupta, who served as head of the Civil Rights Division of the U.S. Department of Justice under President Barack Obama.
"We must not allow hate and violence that we saw in Charlottesville be the guiding force for policymaking in this country," Gupta said.
DACA proponents began speaking out Friday in response to indications — first reported by the news site Axios — that Trump was "seriously considering ending DACA."
White House press secretary Sarah Huckabee Sanders, asked Friday if President Trump had made a decision to end or phase out DACA, said only that the program "continues to be under review."
Uncertainty has hovered over the program since the election of Trump — who previously stated as President-elect that he would "work something out" for Dreamers but whose administration has nevertheless arrested and, in some cases, deported them for varying reasons, such as criminal behavior or expired DACA status.
A contingent of Republican attorneys general — led by Texas Attorney General Kenneth Paxton, Jr. — has threatened to sue the Trump administration over the constitutionality of DACA if President Trump doesn't cancel the program by Sept. 5.
Gupta said there is no legal, economic or moral reason to end DACA.
"DACA is both lawful and constitutional," Gupta said. "This is a crisis created only by the administration itself and by the bullying and threats coming from Texas and a handful of states."
Gupta said if DACA ended, it would cause a $460 billion hit to the GDP over ten years and cost $60 billion to round up and deport the 800,000 DACA recipients.
She also said it would be wrong to deport DACA recipients after they have agreed to come forth, provide their biographical information to the government and pay a fee — $495 in total — in exchange for protection and permission to work under DACA.
She said while Trump has emphasized "law and order," that sending people "deeper into the shadows will only make our communities less safe."
Damaris Gonzalez, a DACA recipient and advocate at the Houston affiliate of United We Dream, said the fight for DACA is "the fight of our lives."
Gonzalez recently confronted Attorney General Paxton over DACA.
"Like I told Attorney General Paxton, we fought for DACA, we won it and we will protect it," Gonzalez said. Gonzalez said "racist politicians" want DACA to go away.
"They want for us not to have a way out," Gonzalez said. "They know we're a threat to them because we are the bigger population now and they see us as a threat.
"They are not going to be able to keep us oppressed and so it only brings me to say that we — now more than ever — need to stand together and we need to fight and we will fight."
While advocates for DACA fret over its possible end, news reports indicate that the Trump administration may be holding DACA in abeyance as bargaining power to get funding from Congress to build Trump's long-desired wall along the U.S.-Mexican border. Trump has also threatened to shut down the government in order to get $1.6 billion from Congress for the wall.
Jamaal Abdul-Alim can be reached at jabdul-alim@diverseeducation.com or you can follow him on Twitter @dcwriter360.