WASHINGTON–Sikhs and Buddhist monks, rabbis, reverends and ministers rallied in the nation's capital on Monday to protest the direction of the country under President Donald Trump and Attorney General Jeff Sessions.
Expressing concern that the moral fabric of the country and public discourse had deteriorated significantly since Trump came into office, religious leaders participated in the Ministers March for Justice to demonstrate their commitment to common values and social justice for all.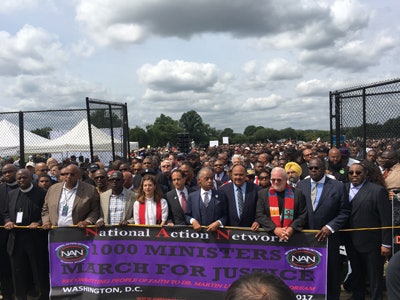 The gathering, convened by Reverend Al Sharpton, took place on the anniversary of the historic 1963 March on Washington for Jobs and Freedom, which brought 200,000 people to the National Mall and was where Martin Luther King delivered his seminal "I Have a Dream" speech. Religious leaders said Monday's event was held in solidarity with King's message of equality and justice, and was intended as a rebuke to the current social and political climate.
Galvanized by events in Charlottesville, Va., in mid-August, in which a woman died while counter-protesting White nationalists who rallied around the statues of two Confederate generals, Sharpton called on religious leaders of all faiths and denominations to march in affirmation of their spiritual values. The march had reportedly been in the works for months but gained additional energy in the wake of the protests at Charlottesville, which were characterized by anti-Semitic demonstrations and a Ku Klux Klan rally.
"When you see White supremacists and the Nazis walking with torches and saying, 'Jews will not replace us,' and other hateful things about African Americans, Muslims, and other people, it just leaves me so angry and sad — a mixture of feelings that is so hard to express," said Richard Landis, a retired attorney and an Air Force veteran from Maryland, in reference to Charlottesville.
Landis said that the Charlottesville protests appeared to represent a step backward for the country. He also brought up personal associations with his family's history. His father and two uncles served in Europe in World War II, and on his maternal side, many of his relatives endured the Holocaust.
"I thought we had fought these battles a long time ago," Landis added.
Starting at the MLK National Memorial, some 3,000 faith leaders walked nearly two miles along the Mall to the Department of Justice. The marchers said they were troubled by current events and hoped to effect positive social change.
Ariel Charles, a junior majoring in theology at Oakwood University, traveled to Washington with a group of Oakwood students, all of whom participated in the march. Oakwood is a historically Black university located in Huntsville, Alabama, that is owned and operated by the Seventh-day Adventist Church.
"We came down here simply because of social justice," Charles said. "There's a lot of corruption and things going on now that are problematic so we came down here to support the cause of social justice for all people everywhere."
Charles added that racism "has started to come back and raise its head again." He also identified equitable access to healthcare as a major area of concern and one of the inspirations behind his decision to attend the march.
"By fighting for freedom, by fighting for liberty, we're fighting a spiritual battle as well as a political one," Charles said.
Religious leaders said the march was about more than just politics — it was an attempt to reframe the national dialogue and reinvigorate civic values.
"This is a moral march," said Martin Luther King III. "This is a march for American values. In my father's words, it's a march for a revolution of values — a revolution of values that honor the worth and dignity of every citizen and all of God's children."
Staff writer Catherine Morris can be reached at cmorris@diverseeducation.com.