Moises Serrano has many titles. He is a son, a brother, a partner and a student. His documentary, Forbidden: Undocumented and Queer in Rural America, which premieres September 1 on the Logo TV channel, makes clear that he is also a brave social justice advocate. Forbidden documents portions of Serrano's life, as he navigates society as a queer and undocumented man.
"There will always be an aspect of fear to coming out," says Serrano. "But I think at least for me I had to do it. I didn't see any other option. I was really at this moment in my life where it was sink or swim. I was just tired of hiding who I was and tired of living a lie, both as a straight man and a documented man. For me it was really a point of liberation."
The documentary sheds light on the harsh realities that plague undocumented families and young people in the United States. Forbidden puts faces to the misconceived narratives that have been created about undocumented immigrants and families, while also raising awareness of Deferred Action for Childhood Arrivals (DACA), a program that currently protects undocumented youth who came to America as children, from deportation. The Obama-era policy is in danger of being rescinded under the current Trump administration.
"To a certain degree I always heard, 'No tenemos papeles' which means, 'We do not have papers.' But, of course, I never really understood the ramifications of that," says Serrano.
In 1991, when he was just a little over one year old, Serrano and his family left Cancun, Mexico, and migrated to the United Sates. An unsafe and difficult decision that many immigrant families make, in search of a better life and opportunities. Serrano does not remember much about the migration to America, but he does recall having a "normal American childhood" while growing up in Yadkin County, in North Carolina, which he describes as a rural, somewhat southern experience.
It was not until after graduating from high school in 2007 that he began to understand what it meant to "not have papers" in the United States.
"When the United States started to take away driving privileges from undocumented immigrants, barring undocumented immigrants from going to college, that's really when I found out the full ramification."
The dissolving of these two things has prohibited many undocumented families, especially youth, from leading lives that are receptive to change and advancement. For Serrano, the documentary also sheds light on how these limitations reinforced his feelings of rejection due to his citizenship status and sexual identity.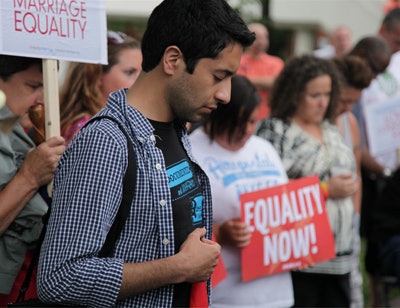 "My whole life I felt like an alien. I felt like an alien not only legally, as oftentimes undocumented immigrants are defined," he says. "I felt like I was rejected by my own country. Then I felt like I was rejected by my own family for who I was, and so it's never being able to find a home, and never feeling like you're at peace anywhere or with anyone. I think that's really what these pieces of legislation are doing. It's more than just policy. It's psychological warfare."
Ann Marie Dooley, an immigration attorney who has worked with Serrano on different social justice projects and also appears in the documentary, says that there are a lot of issues that children and families are facing in the current political climate.
"People come for the same reasons that people have always come to the United States, for a better life for their family. I think the fact that we're criminalizing that now is really a shame," says Dooley.
"Moises, before this documentary came out, he's done a lot of work in the community," she says. "One of the things that I've seen is when he shares his story, how people just have no idea that this is going on. I think people have an idea of what our immigration system is, and then they hear the stories of people like Moises and then they get the reality of what it really is. I think there's a real disconnect."
Forbidden calls attention to that disconnect, as well as the connection between higher education access and citizenship status in the United States.
"In North Carolina, for people like Moises, in-state tuition is not available," says Dooley. Under DACA, undocumented students are able to apply for college in the state of North Carolina, but they are not offered any financial assistance to pay for their education, where high costs vary for public and private institutions.
"You're talking about people who, many times their parents are undocumented. Their parents brought them here, so they're very low- income. What happens is they're not able to afford [school]. "There are a handful of states that offer in-state tuition for undocumented students. But I think that it's really a missed opportunity for states. There's been a lot of push in North Carolina for in-state tuition. I mean you've got people who have been here almost their whole lives. Some of them are top in their class like Moises, and we're just putting them aside."
Even though Serrano had received a small scholarship for college from an organization, his undocumented status prevented him from even applying because of a restriction imposed by the North Carolina University System.
"The North Carolina University System [is] centralized, so there's a board of governors that makes a decision for all of the community colleges and public universities," he says. "They had actually decided that they would bar all undocumented students from going to college, and that affected me in 2007. So, I wasn't even able to enroll at all."
Because of the lack of citizenship status and the high costs of college, opening the mailbox to a college acceptance letter is a life-changing moment that undocumented students do not get to experience. Forbidden reveals what options there are for undocumented teens. Like many others after graduating high school, Serrano entered the workforce, where there are three pathways — the low wage economic sector, manual labor, or the "shadow economy" where they're paid under the table, he says.
"I started working in construction and battling depression at the same time, because I was led to believe that I was the problem," says Serrano. "I was led to believe by my own country that I was the root of the issue, and not archaic anti-immigrant policies."
Several years later, Serrano is now a senior at Sarah Lawrence College in New York where he studies public policy and economics. After applying and getting accepted, he received a full-ride scholarship.
"I almost didn't [apply] because I was so terrified of being rejected," he says. "I think that's one thing that I probably couldn't handle even more is applying to school and then not getting in. But, fortunately seven years after my high school graduation I was accepted into Sarah Lawrence, and it's been an incredible experience."
He learned of Sarah Lawrence through a friend that encouraged him to apply, because the school was accepting undocumented students and helping provide financial aid. He says that he has undergone a massive amount of academic growth at Sarah Lawrence.
"I had to relearn how to read, relearn how to write. I had been away from academia for so long, and even a college education was completely different from a rural town high school education. So that was probably the most difficult part, and the part that I now see I've grown in the most," he says. "But also, I think Sarah Lawrence has helped me put my priorities in order. Even though I am a college student, my priority will always be my community and my family, and my advocacy. Even though I'm there full time and taking my classes, I still stop to help people with deportations, to point them into the right direction, and just be a source of knowledge for my community, because that's still incredibly needed."
Serrano advises undocumented students that want to continue their pursuit of education past high school to join the immigration movement.
"What I didn't realize when I came out as undocumented and started organizing in the immigrant rights struggle, was that this would open a pathway towards an education for me," he says. "Schools are looking for change-makers, or community leaders who are people doing something in their community. I think right now we're living at this unique moment in time where not only undocumented students, but all youth across the country can join any movement, any struggle for equality now."
Forbidden: Undocumented and Queer in Rural America will premiere on Friday at 8 p.m. ET.