After months of suspense, Politico reported Sunday evening that President Donald J. Trump will be terminating the consideration of deferred action against childhood arrivals, otherwise known as DACA, a President Obama-era policy that safeguards minors from deportation.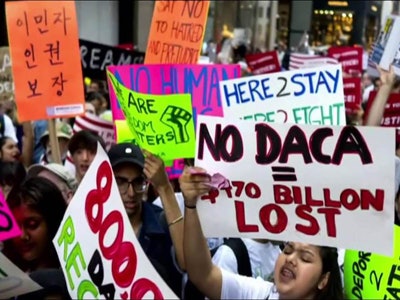 President Trump's official announcement is scheduled for Tuesday, but Politico's reporter spoke with two individuals "familiar with his thinking" who said that Trump has already decided. According to Politico's sources, the approximately 800,000 currently protected individuals will have six months before enforcement begins. For advocates and politicians invested in DACA, this raises the question of how Congress will respond.
Meanwhile, Texas Attorney General Kenneth Paxton, Jr., has threatened legal action if DACA is not repealed by September 5.
The termination of DACA, if it is announced on Tuesday, will arrive against vocal opposition from both parties in Congress. Republican Speaker of the House Paul Ryan told a Wisconsin radio station that he would be against a decision to end the program if it came from the executive branch.
"I actually don't think he should do that," Ryan said. "I believe that this is something that Congress has to fix."
U.S. Attorney General Jeff Sessions holds the position that immigration policy should be the work of Congress. Sessions reportedly urged the president to end DACA, which Sessions views as a remnant of executive overreach.
In response to the news, the National Immigration Law Center tweeted a general call to action. Minutes later the center posted a Tweet that stated, "Congress must act swiftly to pass a clean bill that protects impacted youth. #DACA must stay in place until permanent legislation is passed."
At least one member of Congress responded. Rep. Raja Krishnamoorthi, D-Illinois, Tweeted, "If the report is right @potus has shown his colors on Dreamers and #DACA," he posted. "Now Congress and the American people must show theirs. #defendDACA."
Advocates of undocumented immigrants responded to the news on social media. America's Voice Education Fund issued a statement Friday regarding Trump's decision. "He can and should spare employers from losing hundreds of thousands of valued employees. He can and should spare universities from losing some of their best students."
United We Dream, a youth-led organization based in Washington D.C., addressed the news directly in a Tweet to Politico: "We will not accept fear mongering! #DACA is still ALIVE."