While attending Slippery Rock University, a predominantly White institution in Pennsylvania, Justin L. Brown found that his peers displayed "micro-aggressive" behavior and didn't know how to act toward people of color, since it was typically their first exposure to minority students.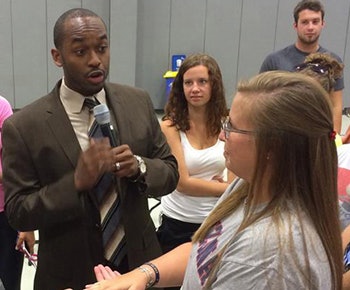 "I started this program to give students the opportunity to engage in dynamic discussion through the facilitation of activities and games so we can all talk about different people's backgrounds, races, religions, sexuality and cultures without feeling shameful or having a negative paradigm where individuals didn't feel comfortable having these dynamic discussions," says Brown, who created the Diversity Awareness Program (D.A.P.) as a sophomore in 2008.
The program's mission statement is "to promote diversity and cultural awareness in all aspects of life to students, faculty and staff on the university campuses, through active engagements of discussions on social trends, issues and ideas."
There are two different types of workshops that D.A.P. offers to colleges and universities: the program implementation workshop and the diversity training workshop. The program implementation workshop is three hours and 30 minutes long and focuses on creating a chapter of D.A.P. at a higher education institution or place of work. The diversity training workshop is a 90-minute session that addresses what it means to be culturally aware by allowing staff and students to participate in diversity activities, cultural unity scenarios and role playing.
Brown says the workshops are high-energy and dynamic. A typical diversity training workshop has students and staff participating in 10 to15 activities in small and large group settings. Each activity explores fundamental concepts related to diversity.
"The main thing that I think I emphasize [in the presentations] is that we're all responsible for our own knowledge, meaning that there are two sides to every story," he says. "I want everyone to be able to exercise those options, to be able to choose what's the truth for them, but they need to be able to make sure they have all the options available and have truly explored all of the options."
Randi N. Ferguson, assistant director of the Educational Opportunity Fund Program at Rutgers University–Camden, decided to host a D.A.P. presentation after enjoying a condensed version of Brown's presentation at a National Academic Advising Association (NACADA) conference at Rowan University.
"I really enjoyed the experience and after reading more about his program, thought this would be a great thing for our first-year students to participate in during move-in weekend," says Ferguson. "I felt like it did exactly what I would hope it would do — help bring the students together by talking about diversity in an open and honest way."
Ferguson says 59 students attended this presentation.
The Rutgers–Camden campus does not currently have a D.A.P. chapter but is open to the possibility of eventually creating one.
D.A.P. does around 50 visits to different institutions annually and has chapters on 25 campuses in the U.S., with a majority in the Northeast.
Currently, the organization is solely run by Brown as CEO and president. He thinks creating an executive board that will help him tackle all of the responsibilities, is a future possibility.
Early upbringing
Brown, 28, grew up in Coatesville, Pennsylvania, located about an hour outside Philadelphia, with four younger siblings.
"My parents are very supportive," Brown says. "They taught me what it meant to be truly accepting of all people, regardless of what background they're from. My dad's a pastor, so growing up in church really taught me the value of accepting everybody, no matter where they are, because we're all works in progress."
He received a bachelor's degree in public relations from Slippery Rock University and a master's degree in student affairs in higher education from the Indiana University of Pennsylvania, which helped him understand how to increase awareness about D.A.P. across college and university campuses.
Besides lecture presentations, D.A.P. also has several other opportunities for students and schools to take advantage of. Brown recently published a book titled Ugh!?! Not Another Diversity Book! that discusses the concepts that the program uses during its presentations, which can be used by anyone, anywhere. Three institutions are already using the book as their first orientation reading component.
The organization also offers scholarships ranging from $200-$500 once a year to three incoming freshmen who promote diversity and cultural awareness. Students can apply through the D.A.P. website.
Brown says what motivates him about D.A.P. is "being able to see the individuals take the program and own it for themselves."
"[Listening to the participants talk about] their backgrounds, their ideas about how they come to conclusions, how they were raised, their perceptions … makes me a better professional, makes me a better diversity trainer,' he says.
Brown hopes to have 40 D.A.P. chapters on campuses around the country. That way, he can plan a D.A.P. conference and bring everyone together to talk about what different chapters across the country are doing on their campuses.
Brown is also a full-time resident director at West Chester University. He started working there right after he received his master's degree and recently celebrated his four-year anniversary at the job.
WCU students are well-informed about social justice, he says, adding, "Community service is a huge component of West Chester University in Pennsylvania. It's in a great, thriving area right in the middle of Chester County, which means that this institution is pulling from five or six states for their admissions and for their enrollment. The campus is very diverse."
In 2013, Brown was inspired to create another program, Onward and Upward, after going through the Upward Bound program, which is funded by a grant from the U.S. Department of Education. He says he noticed that many students, especially low-income, first-generation minority students, were going to college without adequate information on how the college application process works.
"I wanted to have a program that impacted [low-income, first-generation minority students]," Brown says. He says that Onward and Upward is a college preparatory program for high school students that addresses the college application process and financial aid so that students can make well-informed choices.
Individuals order and receive the Onward and Upward workbook and go through it with Onward and Upward consultants. These are student professionals who meet with applicants and come up with personalized college plans for them.
Onward and Upward also has a professional development component for those who have degrees but have not yet found the job of their dreams. They receive help with their résumés, cover letters, mock interviews, attire and writing, so they can be better prepared for their future careers.
This story also appears in the 7, 2017 print edition of Diverse.