As the fall semester begins at Rutgers University, hundreds of graduate students are only now receiving their summer funding.
Last spring, 775 graduate students received award letters for the Professional Development Fund, a small stipend intended to assist those without teaching or research appointments during the summer months. However, the awardees just began receiving their checks in August.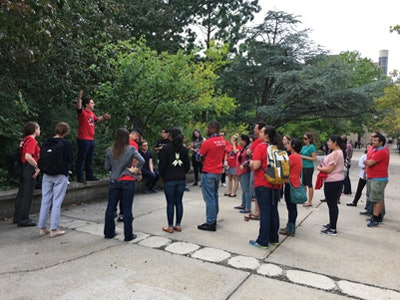 While they waited, students have had to endure most of the summer without these funds, resulting in debt and financial hardship for many of Rutgers' graduate students. President Robert Barchi and Executive Vice President for Finance and Administration J. Michael Gower issued apology letters on August 31 explaining that the delay was the result of a transition to a new payroll software.
Some students waited until Monday for their checks. On Tuesday, 25 graduate students on the Newark campus gathered for a meeting with university administrators to start a dialogue about how this process can be improved.
"I made financial decisions based on the $1250 I was expecting," said Nicole Dykstra, a third-year Ph.D. student in the Department of Biological Sciences at the Newark campus. "It's disheartening to have the university not seemingly care that much about it."
Dykstra received award letters for the Professional Development Fund, or PDF, for both the summers of 2016 and 2017. As of Sept. 13, she had not received either of the checks. She was told last year that the delay was caused by a change in the payroll system and that she would receive the entire amount for both years this summer. She added that the university stopped responding to her calls and emails this week.
As both a student and an employee of Rutgers, Dykstra feels less than appreciated.
"It's not so much the financial impact. It's just incredibly disrespectful that the university wouldn't prioritize something like that," she said. "It's a lot of sacrifice on my part, being away from my family, trying to survive on this small amount of money."
Dykstra and about 25 other graduate employees entered Chancellor Nancy Cantor's office on Tuesday to discuss their demands for the future of the PDF. Cantor was not available but Graduate Dean Kyle Farmbry; Associate Dean Kinna Perry; and Corlisse Thomas, Vice Chancellor of the Newark Campus, met with the graduate employees.
One of Dykstra's colleagues Kathleen Farley, a facilitator for the Department of Biological Sciences and a member of the union steering committee, said the conversation was respectful and productive. However, it was made clear that the administrators were unaware of the delay until last week. "They had no clue that there were people from 2016 who haven't been paid yet," she said.
The PDF was first proposed as a compromise during salary negotiations that began in 2014 and ended in March 2015 between Rutgers University administration and staff members of the American Association of University Professors, or AAUP, which helped organize the graduate student union.
"[The PDF] was negotiated in lieu of a raise, but it's clearly not implemented in a way that substitutes for a pay raise," explained Ethan Cline, a Ph.D. student in the physics department on the New Brunswick campus and a member of the teaching and graduate assistant union's steering committee.
A conventional salary increase would have crossed an income threshold that would result in higher healthcare deductions that negated the pay raise. As an alternative, the union and administration agreed to create the PDF, a reserve of money for which graduate student employees can apply to mitigate research and living expenses. The university opened what turned out to be an opaque application and decision processes for the PDF in the spring of 2015.
"It was the thinnest, vaguest application I've ever filled out for money," said Dykstra. She added the application did not require much time.
The first half of the form asked for personal information, the amount requested, an itemized budget and a description of how the funds will be used. The second half was to be filled out by the graduate student director in the student's academic department and consisted of a statement regarding the student's progress and a ranking of the student from one to five.
"We didn't want it to be a competition, but in the end we knew that it wasn't guaranteed the money was going to be distributed equally," said Lauren Frazee, a Ph.D. candidate in the Department of Ecology and Evolution and a member of the union's steering committee. According to Frazee, the three-page application was not exhaustive enough for a merit-based grant. "You wouldn't be able to assess the person's merit based on what they were asking for."
The one-to-five rubric provided to the graduate student directors was a particular barrier. In the 2016 applicant pool, students who did not receive a five were not even considered for the PDF. Cline said that all of about fifteen applicants from the physics department were declined last year because they received less than a five. The graduate director was unaware that these students' applications would not even be reviewed because of this score. "There were no guidelines for the directors and no indication of what ranking was considered sufficient," said Cline.
This issue was remedied in 2017 with a revision that asked for either a "yes" or "no" endorsement from the graduate director. However, when students submitted their applications in April, they did not expect to that they wouldn't receive their checks until the end of summer or into the fall semester.
Executive Vice President Gower's apology letter from late August listed several other reasons for the delay. He wrote, "This disbursement has been unacceptably slow for a variety of reasons including establishing a new payment process, getting full information for each eligible individual from departments, the unexpected leave of a key individual in the process, and other matters."
The letter also noted that, "Ever since this process was identified as seriously delayed, managers from University Procurement Services have been diligently working both to expedite these immediate payments and to rework the payment process so that such a delay does not happen again."
Rutgers University declined to provide more details regarding the reasons for the delay and when it was identified.
"The bureaucratic and technical reasons for the delay are irrelevant," Barchi wrote in his own apology. "It is unacceptable that many of you were still waiting payment at the end of the summer."
Cline said that Barchi's less-than-200-word apology felt "a little flat." He went on to say that while some of his colleagues are fans of the PDF, a pay raise is the ultimate goal for the union.
Cline received his check in late August. Fortunately, the delay was not a serious financial setback for him, but some of his colleagues were not so lucky. Cline said he knew of other students who had to charge their credit cards for conference travel expenses. Signees of this petition wrote that they have gone into debt and personal hardship as a result of the late disbursement.
Frazee also considers herself one of the lucky ones.
"When I got it, I breathed a sigh of relief," she said. She explained that she was fortunate to have support from her family and partner over the summer, but the delay in payment was an additional source of stress. "I was just worried I was going to run out of money."
The graduate students and AAUP staff will enter a new round of salary negotiations in the spring of 2018.
Joseph Hong can be reached at jhong@diverseeducation.com. You can follow him on Twitter @jjshong5.