Tanya Torres fondly recalls her childhood days growing up in Houston, Texas. "From the moment I was born, my dad was giving me speeches," she says, explaining that they were about the value of going to school and that she took that advice to heart.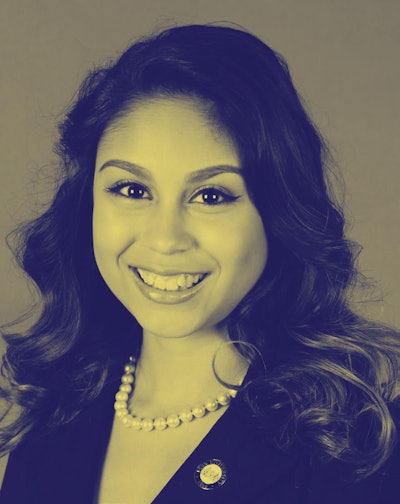 Today, the 21-year-old political science major at Nashville's Fisk University is reaching another milestone. As the 2017-18 school year starts, she debuts as president of Fisk's Student Government Association (SGA), making her the first Hispanic to serve as the elected student leader of the 151-year-old historically Black university.
She is appreciative of the chance to lead. "I'm not opposed to working hard," says Torres. She describes being student government leader as carrying "a torch of excellence."
Indeed, earning a chance to lead the Fisk SGA is a welcome challenge, Torres says, noting the university's history of social activism. As for being the first Hispanic student to become the student leader at Fisk, she doesn't see it as an issue.
"It is okay to be comfortable with being uncomfortable," Torres says, adding she keeps an "open mind to differences. I've learned so many things about my peers and [their] experiences."
Indeed, coming to Fisk was a tough choice, but the university family made it less complicated as the application and recruitment process began, she says.
Fisk was among several institutions — Howard University, the University of Houston, Texas Southern University and the University of Texas at Austin — that were hoping to lure Torres from Houston's J. Frank Dobie High School, where she was in the top 10 percent of her class of some 800 students and was a member of the high school debate team.
Fisk's recruiting team included Fisk and Dobie alum Brianna Herman, who had been a member of the high school debate team as well. Herman had visited Dobie High during her 2015-16 term as president of the Fisk SGA.
Down the homestretch of pitches, Torres says Fisk emerged as the best match for her for several personal reasons.
"They made me feel and know I wasn't just an applicant," Torres says. "Fisk was more family-oriented, and it just felt like the perfect fit. I learned of the social activism, the tenacity of the Fisk Jubilee Singers …" She also came to learn of and appreciate the work of Fisk student Diane Nash and other student civil rights activists during the 1960s.
"When I first stepped on campus, I enjoyed student life," Torres says. "I saw their work ethic," she says of her fellow students. "I wanted to love it as much as them."
It is clear that she had done more than read school advertising fliers before reaching a decision on which university to attend.
Nearly four years after making Fisk her choice, Torres voices no regrets about having chosen the school and touts its value to others. In fact, the university now has five Dobie graduates among its student body. One of them is 19-year-old sophomore Lorena Torres, Tanya's sister, a business major who ran for freshman class president and won.
Tanya Torres is attending Fisk on a full scholarship that has included a string of community service and government agency internships. She says the internships have given her exposure to a variety of real-time workplace experiences and have helped her prepare for pursuing dreams beyond the undergraduate years — namely, attending law school.
Meanwhile, she has communicated via email with other fellow SGA presidents around the country and has thought about her agenda and responsibilities for the coming school year, Torres says.
She wants to get the SGA to strengthen outreach programs with potential employers. She also hopes to develop a strong working relationship with the university's new president, Dr. Kevin Rome, starting with his formal inauguration.
"I am an extrovert and enjoy talking to people," Torres says. "Fisk and I are keeping our hearts and minds open for the coming season. I can sense it's going to be a successful year."
Torres does have strong backing at the institution.
"She's an excellent student — well rounded — and has done a remarkable job of establishing relationships," says Adrienne Latham, the university's alumni affairs director. As for Torres's ability to pitch in, Latham cited a campus event in which Fisk alum Nikki Giovanni was scheduled to appear. However, she became ill a few days before the spring event and was unable to attend.
"Tanya stood in and read" Giovanni's part, a last-minute stand-in that would have made Giovanni proud, Latham says. "She delivers."
This story also appears in the 21, 2017 print edition of Diverse.