About a month into the school year, the University of Southern California touts its freshman class as its brightest, most engaged, and most diverse ever.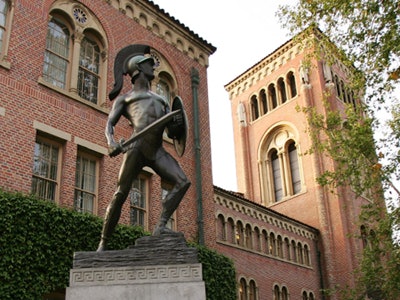 According to a release published by the Los Angeles institution on Thursday, its class of 2021 not only has the highest average test scores in the university's history, it also contains the highest percentage of first-generation college students. Of the 3,358 incoming students,16.7 percent are the first in their families to go to college, according to the release, which also states that nearly two-thirds of the class consists of students of color. The SAT and ACT scores for this group averaged in the 96th percentile, an increase of one percentage from last year.
"Many, many years ago we were called the University of Spoiled Children," said Provost Dr. Michael Quick whose responsibilities include overseeing admissions. "Some of the greatest advancements we've made as an institution is that we've become more academically rigorous, and we've also become more diverse. I think that's a wonderful story that you can have both."
Quick added that a student body consisting of an array of viewpoints has been crucial to the strengthening of campus culture. The emphasis on building a class through a holistic admissions process that emphasizes outreach has been a key factor to the university's success.
"We believe that one of the best ways to get students aware of the university is to go to them," said Timothy Brunold, dean of admissions. "We cannot accept students from diverse groups if the applicant pool itself is not diverse and broad."
To expand this pool, Brunold and his team have visited nearly 2000 high schools every year. Rather than sending alumni or third-party representatives, admissions officers from the university visit campuses to make sure prospective applicants have accurate information about USC.
"We want to drive the discussion," Brunold said. "When you rely on the internet for information, people aren't necessarily searching for the right things or asking the right questions."
The list of schools can change each year, said Brunold. The admissions office at USC uses data acquired from ACT and ETS to determine which communities are likely to send students to the university. The team has to overcome certain obstacles with some under-resourced schools, Brunold said, especially when academic counseling offices are short-staffed at high schools. But the admissions team would do what it could, sometimes visiting single classes or holding shorter sessions. Visits to high schools typically consist of presentations primarily for juniors and seniors regarding admissions and financial aid followed by Q&As.
The cost of attending and the reputation of USC is one thing that administrators hope to clarify to applicants. According to Quick, the university has a financial aid budget of $330 million. Quick encourages students not to perceive finances as a barrier to attending the university.
"If you're good enough, and you can do the work, we'll figure it out," he said. "We'll work with you and your families. USC's available to everyone."
Brunold said that the class of 2021 only advances a decades-long trend at the university where incoming classes are more intellectually rigorous and culturally engaged, as well as more demographically representative of both the national and global community.
According to Quick, USC's changing student body is most obvious in the classroom. In a neuroscience class he's taught for over ten years called The Thesis of the Brain, Quick said he speeds through the material at nearly twice the pace compared to when he first started teaching it.
Beyond admissions, Quick mentioned several university centers and resources that work to create a more inclusive campus environment. Earlier this year, USC announced that Dr. Shaun Harper, a former professor of education at the University of Pennsylvania, would launch the new USC Race and Equity Center. Quick also added that the university will continue monitoring and supporting students as they progress to maintain their high retention rates.
"At the end of the day, the best predictor for a student graduating is their incoming quality," he said. "Most of the kudos for their success goes to them because they're motivated, they're smart, they're figuring it out and they're being successful."