INDIANAPOLIS — Last year, five minority serving institutions, or MSIs, each received $325,000 grants from Strada Education Network, formerly known as USA Funds, to close the gap between academic and professional success.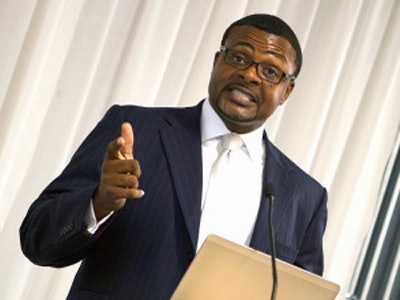 Administrators from the grantee universities met in Indianapolis on Monday for a three-day conference to look ahead to implementing their plans for improving students' career-readiness. The five universities represented, Harris-Stowe State University, Martin University, St. Thomas University, Texas A&M University-Corpus Christi and Wiley College, are each using these funds to work with low-income, first generation and nontraditional students to bridge the gap between degree completion and gainful employment.
"We created this grant as an intentional experiment to help minority serving institutions," said Dr. Lorenzo Esters, Vice President of Philanthropy at Strada Education Network, who designed the MSI Measuring College Value Grant. He added that the grant required each institution to build a team of personnel, including faculty, chief academic officers and business partners. "It really becomes an institutional effort versus a siloed project."
This gathering of the five institutions, or The Fantastic Five as they were referred to in the meeting's agenda by Strada, came on the heels of a study conducted by the organization in partnership with Gallup. The Education Consumer Pulse, which surveyed over 22,000 adults aged 18 to 65 who attended both two-year and four-year colleges, found that the most common source of advice about college majors is friends, family or community leaders.
"First generation students have less access to the informal social network," said Carol D'Amico, Executive Vice President of Mission Advancement and Philanthropy, in her opening statements Monday evening. She added that, according to the survey, 47 percent of students who have parents with a high school diploma or less received their advice from the social network compared to 65 percent who had parents with a graduate degree and 60 percent with a bachelor's degree. "So the question becomes, how can we increase access to people who don't have access to that social network?"
The MSI Measuring College Value Grant hopes to address these types of discrepancies in college experience and professional preparedness. The three-year framework for the grant took off in 2016 with the planning phase. The awardees spent the last year collecting data about their students to determine how best to use the funds. The Indianapolis meeting provided an opportunity for The Fantastic Five to share their ideas before entering the implementation year, which will be followed by an assessment year.
"It was great to hear what other universities were doing on their particular projects," said Dr. Brian Steuerwald, vice president for institutional effectiveness at Martin University in Indianapolis. He said that the goal for the implementation of the grant at Martin was to "improve career readiness for undergraduates as well as creating a valued college experience that goes beyond a well-paying job." According to Steuerwald, the value of an undergraduate education has more to do with whether the graduate's career is meaningful and allows him or her to find purpose in a community.
At Martin, one of the focuses will be to integrate work and school for its employed students. Steuerwald said that over 80 percent of Martin's students work at least 20 hours a week. The MSI Measuring College Value Grant will be used to work with companies hiring students so that the businesses are encouraged to support their student employees.
St. Thomas University in Miami Gardens, Florida, arrived at the idea of training its business programs students in using data analytics. But like at Martin University, the grant's impact will go beyond the classroom.
"We are going to create more experiential learning," said Larry Treadwell, St. Thomas' director of student success. "I'm particularly excited about the internship analysis."
Treadwell explained that St. Thomas will use coursework in data analytics to further improve the students' internship experiences at the university's partnering businesses such as SunTrust Bank.
The other universities shared an array of plans for using the data they have collected to facilitate the transition from student to professional. At Texas A&M University-Corpus Christi, the grant will be used to train engineering students in communication skills so that they can better explain their work to non-expert audiences.
Wiley College in Marshall, Texas, will launch certificate programs that will endorse the professional experience of its graduates. Harris-Stowe State University in St. Louis will develop software students can use to develop career plans early.
Before the implementation year, the meeting in Indianapolis gave the university personnel the opportunity to not only share their plans but to develop strategies for collecting data from alumni. It also provided training on how to showcase the success of their projects. On Tuesday afternoon, MSNBC anchor Richard Lui guided TED talk-style presentations with each of the universities. The meeting ends on Wednesday with a lineup of guest speakers who will address the topic of career outcomes.
"I'm quite excited about the great progress that they've made. I think it's changing the conversation at these institutions," Esters said. "In many ways, I think these institutions, many of whom are under-resourced, can serve as examples or models for other institutions who are similarly situated."