Dr. Frank Sánchez is the 10th president of Rhode Island College, a position he has proudly served in for the last 13 months.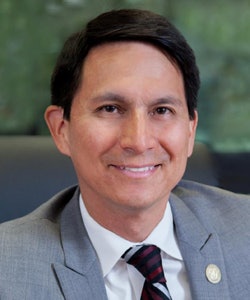 Before he began his career in higher education, Sánchez was an undergraduate student at the University of Nebraska, where he was heavily involved in campus activities, becoming president of the Mexican American Student Association.
His involvement as president led to a serendipitous introduction to a career in higher education. He and other members of the association organized a protest against the school administration because of a lack of diversity in the student body, faculty and curriculum. "It was really that experience that kind of prompted me to ask, 'Well, how do these administrators get these jobs?' and that's when I learned about master's and Ph.D. programs and higher education administration."
Since then, Sánchez received his bachelor's degree in psychology from the University of Nebraska-Lincoln in 1991, a master's degree in student affairs and higher education from Colorado State University in 1993 and a Ph.D. in higher education administration from Indiana University-Bloomington in 2003.
Early in his leadership at RIC, he established a new associate vice president for community equity and diversity position for the college, after reviewing faculty and staff committee work and reports, which discussed the need for leadership in the area of diversity. He also launched a President's Commission on Inclusive Excellence, bringing together 25 leaders from different communities and government to discuss RIC being a leader in diversity. His time as president also has resulted in re-engineering for the entire division of student affairs at RIC, in addition to construction and alumni outreach initiatives.
"We'll be launching a 21st century skills requirement, essentially, an experiential learning requirement for every single student at the college," says Sánchez. "We're going to expand and invest in undergraduate research, study abroad, senior capstone projects and internships for our students at the college."
Over the course of his 26-year career in higher education, his focus on higher education administration was fueled by a passion for designing policies, programs, services and infrastructure to enhance the college experience for students.
"My passion has always been about creating opportunities for those students who are motivated, talented, passionate but may have not grown up with either the financial resources or the social capital to get a college degree," he says. "I've always been a big believer that if you can help a first-generation, bright kid get a college degree, you're really impacting the generation of their children and their children's children to get a college degree."
 This story also appears in the Sept. 21, 2017 print edition of Diverse.