Dr. Elizabeth Ortiz comes to work every day with a sense of urgency. As the vice president of institutional diversity and equity at DePaul University in Chicago, she hopes that today's students of color will not have to repeat the struggles of past generations.
"I always tell people it was a lived experience," she explains.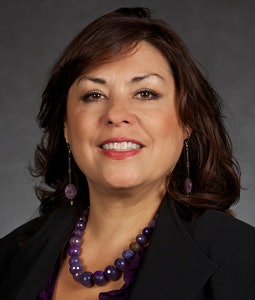 Ortiz was born and raised in the Chicago area. She was born in a neighborhood with a substantial Mexican population, where her parents owned a grocery store. They had always emphasized the importance of a Catholic education, which led Ortiz to enroll at St. Joseph's College in Indiana.
She started working at DePaul in 2002 and continued to do so while finishing her doctorate in education at Northern Illinois University. She was encouraged to finish her dissertation by a mentor, Dennis Holtschneider, the former president of DePaul University. She completed her doctoral thesis in 2010.
Ortiz has worked in a variety of fields in higher education, from the community college system in Chicago to the private sector. What has always stood out to her are the overlaps in the experiences of students and faculty of color.
"No matter where you went in higher education, you always carried the first-generation experience with you," she says. "I was experiencing the same problems that our students of color were experiencing."
She says "imposter syndrome" permeates all levels of the university community that feel marginalized. She describes it as the feeling of "I don't belong here. I don't have what it takes. I don't feel as good as my peers." She adds, "This affects many people from many socio-economic backgrounds." She hopes that her work will help students realize that they deserve to be at the university.
Most recently, Ortiz has worked on building a more inclusive faculty. She has focused on adapting the Faculty Search Guide to achieve this goal. She also built the diversity certificate program, which requires 18 hours of competency training.
Ortiz is proud to work at a university whose mission parallels her own. She says that every year at commencement, one statement is repeated: "If you get a good job, we'll be happy for you, but if you change the world, we'll be proud of you."
One of the challenges is keeping up with the current environment.
"Diversity is always changing and the landscape is always changing," Ortiz says. "There's always more work to do. You're not going to see the end of diversity officers any time soon."
This story also appears in the  Sept. 21, 2017 print edition of Diverse.