When members of Alpha Phi Alpha — the nation's oldest Black fraternity — stage scholastic chess tournaments in Cleveland and Louisville this month, the venues in both cities will be college campuses.
Tony Dunlap, director of the Cleveland chapter of Alpha Phi Alpha Fraternity, Inc., says that is by design.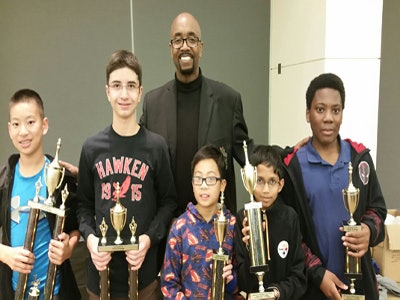 "We felt that it is important for the youth and the higher educational institutions in our communities to have a functional linkage," says Dunlap, who has been organizing the annual Cleveland Scholastic Open since 2012. "We wanted the youth in our communities to feel comfortable on campus and be curious about what happens on or in college."
This year's Cleveland Scholastic is slated to take place Saturday at Cleveland State University.
The Cleveland Scholastic Open is distinct among chess tournaments in that organizers go to great lengths to secure scholarships for the winners.
The University of Maryland, Baltimore County (UMBC) — known for its powerhouse chess team — is among several institutions of higher learning that offer scholarships to top finishers in the tournament, which it has been doing since 2014. Both UMBC and Alabama A&M University, a historically Black land-grant institution, offer scholarships of $3,500 per year for up to four years to the winner of the high school section of the tournament.
Alabama A&M also offers the same scholarship for the top finishing female in the tournament.
The University of Akron offers a $3,000 scholarship and the Hampton University Alumni Group of Cleveland offers $1,000.
"Given UMBC's focus on academics and the success of our chess program, partnering with the Cleveland Scholastic Chess Open made sense," says Jane Hickey, director of financial aid and scholarships at UMBC.
In an effort to expand the impact of his fraternity's forays into scholastic chess, Dunlap reached out to a fellow Alpha in his hometown of Louisville, Kentucky, where Dunlap grew up and first learned chess at the historic Ormsby Boys Club — now the Ormsby Boys and Girls Club — in 1970.
Dunlap got lucky when his frat brother, Manuel Garr, a software developer for Jefferson County Public Schools (JCPS), connected him to John D. Marshall, a fellow Alpha who also happens to be chief equity officer of the Diversity, Equity, & Poverty Division at JCPS.
"JœI was like, 'Man, this is perfect,'" Garr recalls. The fact that the school district was already offering chess — coupled with the fact that Dunlap was a fellow Alpha — made the decision to support the effort a "no-brainer," says Marshall, who is a lifelong member of the fraternity.
Marshall says the scholastic chess tournament coincides with the fraternity's principles of scholarship, fellowship, good character, and the uplifting of humanity. Marshall also liked the idea of holding the tournament on a college campus. The first Louisville Scholastic Open — thanks to help from the undergraduate chapter of Alpha Phi Alpha in Louisville — was held last Saturday at the University of Louisville (U of L).
Marshall says he enjoys giving JCPS students  — many of whom live near U of L but have never visited the campus — the chance to "fraternize with other students" and "come together for this thing called chess."
In order to appreciate the intentionality behind the Alphas' decision to hold their chess tournaments on college campuses — and to offer scholarships to the winners — it helps to understand where both Cleveland and Louisville stand nationally when it comes to college enrollment.
Whereas nationally 69.7 percent of high school graduates in 2016 were enrolled in college as of the October after graduation — up from 69.2 percent the previous year, according to federal statistics — the college enrollment rate in Cleveland is much lower and has been receding.
"We continue to struggle in the area of enrollment, which at 51 percent is 10 points lower than when we began measuring," Cleveland Mayor Frank G. Johnson wrote in a 2016 "Report to the Community" from the Higher Education Compact of Greater Cleveland, an initiative the mayor launched in 2011 to increase the number of Cleveland students who earn degrees.
"There are several potential explanations for this, including the financial barrier, but it remains an area of concern," Johnson wrote. "We cannot expect to see continued gains in college completion if we continue to see declines in enrollment."
Like Cleveland, Louisville also has a mayoral-led initiative to increase college enrollment. It is called 55,000 Degrees. The organization, for which Louisville Mayor Greg E. Fischer serves as board chairman, seeks to add 55,000 more college degree-holders — 40,000 bachelor's and 15,000 associates degrees — by the year 2020.
Louisville too has seen its college-going rate plummet in recent years. For instance, according to a 55,000 Degrees data dashboard, Jefferson County Public Schools has seen its college enrollment drop from 67.2 percent in 2009 to 53 percent in 2016. That has ramifications for the economic well-being of Louisville students.
"A college degree does not guarantee you a job, high pay or any other economic benefit," the 55,000 Degrees website states. "However, when you compare those with a high school diploma and those with a college degree in the Greater Louisville area, the differences are striking and clearly show the advantages you gain from furthering your education."
Specifically, it states that in Louisville in 2010, adults with a bachelor's degree earned an average of 71 percent more than their counterparts with a high school diploma — roughly $42,300 versus approximately $24,700, respectively.
Whether holding a chess tournament on a college campus and offering scholarships to the winners can help turn things around in Cleveland or Louisville — or anywhere, for that matter — remains to be seen.
For instance, one of the ironies of the Cleveland Scholastic Open is that, despite the fact that one of the objectives of the tournament is to increase the number of African-American students from Cleveland's public schools who play chess, the tournament is often dominated by students from other backgrounds. Yet another irony is that the scholarship prizes those students win have thus far gone unclaimed.
However, just like a chess game itself, every move counts. Organizers say just having students compete in an intellectual game on a college campus is a victory in itself.
"For some of these kids, this will be the first time they've ever set foot on a college campus," says Garr, the JCPS software developer. "Part of the motivation for this is exposure."
This story also appears in the Oct. 5, 2017 print edition of Diverse.
Jamaal Abdul-Alim can be reached at jabdul-alim@diverseeducation.com.