Randall Woodfin has always started early. At the age of 15, he served as a youth leader at Sixth Avenue Baptist Church in his hometown of Birmingham, Alabama. Most of the other leaders were 17 or 18.
Years later, he went door-to-door to each dormitory to hear the concerns of the student voters during his campaign for Student Government Association president at Morehouse College. After Woodfin won that election in the spring of his junior year, that engagement with students gave his senior year presidency a head start.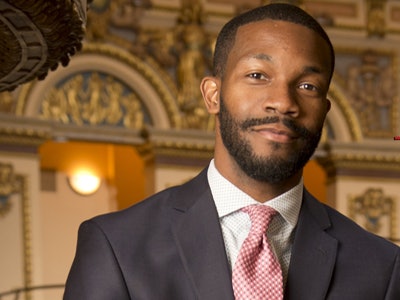 At 36, Randall Woodfin is the youngest elected mayor of Birmingham, Alabama in over 100 years. The proactive and precocious candidate defeated the seven-year incumbent William Bell. In an interview with Diverse, Woodfin reflected on the plans he has for education in his hometown and how his college experience has shaped him.
As a student at Morehouse College in Atlanta, Woodfin spent nearly all four years in leadership. In his sophomore year, he was the president of a student organization called The Alabama Club and the office manager for the Student Government Association, or SGA. In his junior year he was elected as a secretary for SGA and went on to serve as president his senior year.
"I would say the immediate thing is listening," Woodfin said. "The other thing that makes a good leader is actually having a vision."
The leadership positions at Morehouse allowed him to hone both of these leadership skills. He reminisced on the brotherhood he experienced with his classmates and the shared passion for public service. Despite being born and raised in Birmingham, he proudly indicates his Atlanta area code, a small symbol for the connection he feels with his former classmates. He recalls his freshman dormitory on the second floor of White Hall, which he shared with his roommate John Cox, who is now a divinity student at Baylor.
"Although he's not back in Birmingham or Atlanta we stay in contact," Woodfin said. "Guys were from at least 20 different states just on my floor alone. We just remain genuine friends and all support each other across the entire nation."
"Actually," he added, "it's across the entire globe."
This camaraderie was fostered in a college that demands both leadership and academic excellence from its students. That said, Woodfin developed long-lasting relationships with both peers and mentors.
"Tobe Johnson kicked my butt," he said. Dr. Tobe Johnson, professor of political science and former Morehouse student, ironically specializes in the performance of African-American mayors.
"It's interesting. He just called me his homeboy because he's actually from Birmingham," Woodfin added.
But Woodfin's relationship with Johnson was not always so easy-going.
"He didn't take no slack, man," Woodfin said. "You know how college is. Some people, as a senior, you try to get away with stuff. Dr. Tobe wasn't having it."
Woodfin remembers writing his senior thesis under Johnson's supervision and struggling to balance his academics and student government work. But ultimately, he handled the workload and graduated from Morehouse with a plan.
"I remember everyone around me, my junior and senior years, they were all taking the LSAT, GMAT, PCAT, GRE, going off to the military, going off to Capitol Hill, going to Wall Street, traveling," Woodfin recalled. "I knew I wanted to come home and get straight into public services."
After graduation, the future mayor of Birmingham packed his bags and returned to his city. He knocked on the doors of the president of the city council and the executive director of youth services and began work in city government. His first job was working for Lee Loder Jr., the former president of Birmingham's city council. He then went on to work for programs like Weed and Seed that focused on eliminating crime and supporting education and the workforce.
After completing law school at Samford University in Birmingham, Woodfin served in departments throughout the city, primarily focusing on youth. In 2013, he was elected to the school board. Woodfin's passion for education stems from his mother and stepmother, both retired teachers. His stepmother has served in Birmingham city schools for 33 years.
"I have a fundamental belief that if we're going to change my city, if we're gonna help people, it's gonna start with a commitment to making sure our children are actually educated," he said.
In terms of higher education, he sees Kalamazoo, Michigan's program, "the Kalamazoo Promise," as a model for Birmingham. The program, funded by anonymous donors, ensures that graduates of Kalamazoo's city schools receive varying degrees of tuition reimbursement if they attend a Michigan state college. Students who attended all of K through 12 would receive a 100 percent reimbursement.
"That's where I want my hometown to be," Woodfin said, explaining that he plans to begin engaging with local universities and colleges as well as collecting data from high schools to start a fundraising plan. In addition, Woodfin plans to focus on workforce opportunities for both two-year and four-year colleges, which would allow graduates to stay in Birmingham and find work within the community.
Looking ahead to entering office on November 28, Woodfin recognized the several other leaders who have served at Morehouse: writer and activist Shaun King who was SGA president during Woodfin's freshman year, attorney and CNN analyst Bakari Sellers who served as president two years after Woodfin and Courtney English, another former SGA president who ran for city council in Atlanta.
"I'm just part of a tradition of people who are committed to not only leadership but community service in their own towns across this nation."
Staff writer Joseph Hong can be reached at jhong@diverseeducation.com