WASHINGTON — In September, the FBI revealed allegations of bribery at multiple university athletics programs. Earlier this month, the NCAA Infractions Committee announced that it would not penalize the University of North Carolina-Chapel Hill for a long-running academic scam centered around university personnel who clustered student-athletes in "paper classes" designed to inflate GPAs.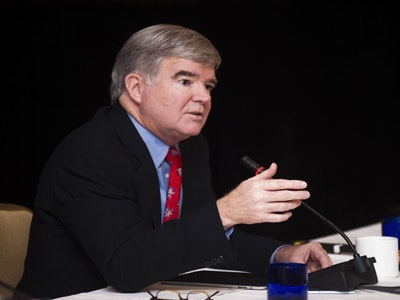 Off the heels of these controversies in college sports, the Knight Commission on Intercollegiate Athletics, an independent group that advocates for reform in college sports, gathered several experts and administrators on Monday for a public meeting in Washington. Although the speakers did not shy away from addressing an array of key issues, there were no easy solutions to the crisis of the safety, integrity and relevancy of college athletics.
The meeting opened with a conversation with NCAA President Dr. Mark Emmert, who began by tracing the history of the NCAA and the unique history of American universities in their ability to self-regulate.
"That's worked remarkably well, especially when you consider all the other options for 110, 120 years," Emmert said. He then drew attention to the present moment, a pivotal time for the NCAA, by asserting what he views as the fundamental goal of college athletics programs.
"We're in the human development business," he said. "We're committed to developing young men and young women who come to our campuses to gain an education to develop themselves physically and mentally."
However, he cited recent news of the bribes made by Adidas to coaches and families as a glaring indication that something had gone wrong in the mission of college sports. Emmert's tone shifted as he considered university athletics programs' failure to regulate themselves and what that might mean for the future.
"I would encourage you all to think about who is it that would replace self-governance in higher education," he said, addressing the present board members of the Knight Commission. "When I hear that and I think about it, I don't like the answers I come up with."
The subsequent discussion with the board members revolved around several topics such as diversity, recruitment and regulation. In particular, Emmert explicitly stated that he does not believe in the "one-and-done" rule that requires players to play at least one year in college before being eligible to be drafted by the National Basketball Association.
"I don't think there's any compelling reason why somebody should be forced to go to college that doesn't want to go to college," he said. "I just think that makes no bloody sense." He emphasized that students should not need to attend a university just to improve their skills in a sport.
Following the conversation with Emmert, a panel of experts that included a former ESPN analyst, an exercise scientist and others, discussed a variety of urgent topics surrounding college athletics.
Dr. Steve Broglio, an Associate Professor of Kinesiology, presented on the extended and sometimes delayed symptoms of concussions among football players. He also noted that the rate of this head trauma is actually higher in other sports like wrestling and hockey. Ed Cunningham, a former football analyst for ABC and ESPN, added to this discussion regarding the safety of football.
"We have the same concussion issues as the military," Cunningham said. "That's not by accident. We're doing the same things as the military. It's hand to hand combat."
Cunningham also turned the conversation to the topic of media rights for college athletes, arguing that institutions should be more proactive in compensating a student athlete for the use of his or her image or likeness.
In the press conference that followed these sessions, co-chairs of the Knight Commission Dr. Carol A. Cartwright, president emeritus of Kent State and Bowling Green State universities, and Arne Duncan, former U.S. Secretary of Education, reiterated that the NCAA stands at a crossroads that demands systemic reform.
"The Knight Commission is deeply troubled by the mounting evidence that the NCAA seems to be unable to ensure a level of integrity that has to be a priority in the education and the treatment of college student athletes," said Duncan. In what may have been the key takeaway from the meeting, Duncan added that the Knight Commission is now urging the NCAA to change a rule that allows universities to police themselves. He added that the Commission will explore options for providing the NCAA subpoena power to substantiate its investigations.
"Let me be very clear," Duncan said, "the system in place today was designed for a bygone era."
 Joseph Hong can be reached at jhong@diverseeducation.com. You can follow him on Twitter @jjshong5