Graduate students across the country breathed a cautious sigh of relief as various reports indicated this week that the newly negotiated GOP tax bill will exclude the tax on graduate student tuition waivers.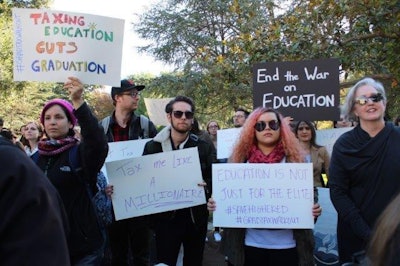 After several weeks of protest, it appears that graduate students have prevented this blow to their already meager incomes. Opponents of the tax had highlighted the disproportionate impact it would have on disadvantaged student populations.
"I'm definitely really relieved that grad student activism was able to get enough attention that Congress recognized the problematic nature of the tax code because it would have far reaching implications for American industry and services," said Kathleen Farley, a Ph.D. student and a member of the graduate student union's steering committee at Rutgers University. "Had this tax bill gone in with this provision, graduate education would have been severely restricted to people who are extremely wealthy and predominantly White."
The elimination of this tax was reported by various outlets including Bloomberg and The Wall Street Journal on Wednesday. Although the removal of the provision has not been made official, lawmakers like Senators Mike Rounds, R- S.D., and Steve Daines, R-Mont., have said it would be struck from the final bill.
The provision would have categorized tuition waivers as income, more than tripling the taxable earnings of some doctoral students. The swift reaction to the proposals in the House bill reached a pinnacle when student protestors gathered outside House Speaker Paul Ryan's Washington office last week. The demonstration resulted in eight arrests.
"I think that type of protest can be powerful. The implications of the legislation are no longer abstract," said Daniel Blake, a Ph.D. student at the University of Pennsylvania's Graduate School of Education. "If tuition waivers are counted as taxable income, more students would be living in poverty or forced to leave their programs."
Farley said the national response was effective in garnering attention to this issue. In late November, graduate students across the country participated in a walkout to protest the House bill.
"No one anticipated that mobilization occurring," she said. "Especially because the schools that mobilized do not have unions or are attempting to get unions."
But for some students, this reversal is a superficial solution to a systemic problem. Blake, who self-published an essay online criticizing the bills, argued that while the removal of the provision is a step in the right direction, Republican legislators have indicated a deep hostility toward education in favor of the GOP's wealthy backers.
"It's a relief that it's not going to be included, but I think the fact that it was originally included shows that anything is fair game in terms of trying to get support from their base," he said. "I'm still cynical about Congress in general."
Joseph Hong can be reached at jhong@diverseeducation.com