WASHINGTON — The United Negro College Fund hosted a panel of educators and community advocates Thursday during its 2018 UNCF Education Summit to augment the release of a new report that seeks to amplify the African-American community's voice in education-reform discussions.
The report — "A Seat at the Table: African-American Youth's Perceptions of K-12 Education" — follows two previous UNCF reports that collectively reframe the common deficit narrative that characterizes research and conversations about education for African-American students.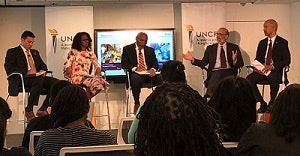 Panelists spoke on topics such as creating all-encompassing practices that support students and their network; empowering students by setting expectations for them to achieve their educational and career aspirations; and normalizing the conversation that college or other educational pathways to a career are a must.
"Our voices belong at the center, not the margins," said Dr. Meredith Anderson, senior research associate of K-12 advocacy at UNCF.
In the first of two panels, education leaders in the community discussed some of their initiatives and best practices that align with recommendations set forth in UNCF's report.
Jamar McKneely, chief executive officer and co-founder of InspireNOLA, said students at his charter management organization have access to college counselors, ACT and SAT prep programs, social and emotional counseling and job training and placement opportunities for them and family members.
Erika Harrell's organization, DC School Reform Now, offers breakfast on Saturdays, homework training for students and parents and access to mental and behavioral health providers to help students as they age through the K-12 space.
"We register the child, but we enroll the family," McKneely said.
Empowering students and mentoring are critical, he said.
"Build students up on what and who they can become" by exposing them to role models and events such as career days, he added.
Educators and supporters of African-American students should also expand their definition of success, said Erika McConduit, chief executive officer of the Urban League of Louisiana.
Panelists agreed that parents and their students should be provided with the tools and information necessary to advocate for their own education interests, because the reform space can be "very elitist," said Harrell, data manager of DC School Reform Now and a parent advocate.
On a subsequent panel featuring higher education leaders, UNCF president and CEO Dr. Michael Lomax said the new report found that African-American students have "big aspirations, but they don't feel enabled to achieve them."
He encouraged educators and African-American communities to tap into resources already available — such as summer bridge programs — to support the students coming into the education space who have academic deficiencies stemming from socioeconomic or psychological challenges, or from attending K-12 systems that did not prepare them for college.
Encouraging high school counselors to engage students on the supportive services and opportunities available at historically Black colleges and universities and other institutions that serve minority groups can help students overcome academic barriers when they arrive on campus, Anderson said.
Dr. Wil del Pilar, vice president of higher education policy and practice at The Education Trust, said counselors should not be the exclusive people informing students of opportunities available to them. It is also the responsibility of school superintendents, principals, teachers and other staff members to have conversations with students about college and career readiness, he said.
Dr. Joseph Davis, an attorney and superintendent of Ferguson-Florissant School District, said the conversation also should include civic engagement and occur earlier in the education pipeline of African-American students.
To prepare African-American students for the future workforce, several panelists said, educators need to engage the business community and share data to align curriculum with workforce needs – a drum repeatedly beat by many in higher education.
There needs to be an honest conversation about race and cultural competencies in teaching to encourage growth as a country, speakers said.
"Lean into it," said Lomax. "Embrace it."
Students, parents, civil rights organizations and community advocates are all critical players in the ongoing reform conversation for education, speakers said.
"All folks have a responsibility to educate all kids well," said Davis.
Referencing and extending UNCF's famous motto, Naomi N. Shelton, national director of K-12 advocacy at UNCF, said: "A mind is a terrible thing to waste, but a wonderful thing to invest in."
Tiffany Pennamon can be reached at [email protected]. You can follow her on Twitter @tiffanypennamon.