WASHINGTON — Superstar Chadwick Boseman, also known as superhero T'Challa in "The Black Panther" blockbuster movie, challenged Howard University graduates to focus on finding purpose rather than just jobs and careers during a metaphorical and occasionally spiritual commencement address delivered on Saturday.
Boseman, who graduated from the venerable historically Black university in 2000, invoked Howard's nickname, The Hilltop, to describe students' struggles to reach commencement, especially in times of turmoil.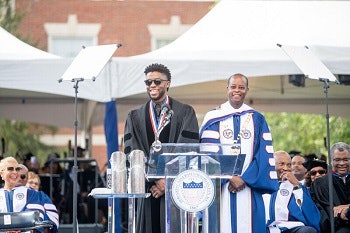 "The Hilltop represents the culmination of the intellectual and spiritual journey you have undergone while you were here," he told an audience of about 8,000 assembled on the campus lawn. "Each of you have had your own difficulties with The Hill, but it's OK because you made it on top. Sometimes, you need to feel the pain and sting of defeat to activate the real passion and purpose that God predestined inside of you."
Boseman, 40, addressed the subject of Howard's recent protests and demands for improvements in student services, financial management and university leadership, and shared his own experiences as a student activist.
"During my years here at Howard, we also protested and took over the A building," he said, explaining that he and other fine arts students resisted plans for the former College of Fine Arts to be "absorbed" by Arts and Sciences as part of then-president H. Patrick Swygert's streamlining efforts. Noting that he and his fellow protesters were unsuccessful, Boseman praised this year's activists for being better organized than he and his peers.
"Your organization and planning was impeccable," Boseman said. "You received a majority of your demands."
He said student protests are preparation for the future "because many of you will leave Howard and get to systems and institutions that have a history of discrimination and marginalization. The fact that you have struggled with this university that you love is a sign that you can use your education to improve the world that you are entering."
Howard president Dr. Wayne A.I. Frederick announced that the university will launch a campaign to re-endow the College of Fine Arts, which has produced some of the nation's most renowned entertainers. Beyond Boseman, the list includes luminaries such as Taraji P. Henson, Angela Winbush, Richard Smallwood, Roberta Flack, Donnie Hathaway and sisters Phylicia Rashad and Debbie Allen.
"Everything that you fought for was not for yourself but for those that come after you," Boseman said. "But I must also applaud Dr. Wayne Frederick and the administration for listening to the students."
In a gesture met with strong applause, Frederick recognized and commended the protesters during his remarks. Students had called for his resignation during the intense nine-day takeover, but they withdrew the demand in settling the dispute.
Boseman, a native of Anderson, S.C., encouraged the graduates to seek purposeful paths by offering examples of his own career setbacks, due in part to his questioning roles that he considered stereotypical or negative. Boseman has portrayed some of the most iconic African-American figures.
"I stand here today knowing that my Howard University education prepared me to play Jackie Robinson, James Brown, Thurgood Marshall and T'Challa," he said.
One of the graduation seniors in the audience, journalism major Jazmin Goodwin, said she was "completely moved and touched" by Boseman's speech.
"I felt like he was talking to me and specifically speaking to my Howard story…the financial, academic, social and psychological struggles that we faced to get to the top of The Hill," she said.
Goodwin, editor of the student newspaper The Hilltop, also said she was impressed with Frederick's positive statements toward the protesters during his speech.
"He seems to be a president who has been humbled through multiple tough situations and experiences where he has had to assess his leadership and the direction in which he is leading Howard," Goodwin added.
Boseman concluded his address by reminding the graduates of their choices.
"Graduating class, hear me well on this day when you have reached the hilltop and you are deciding on next jobs, next steps, careers, further education. You would rather find purpose than a job or a career. Purpose crosses disciplines. …Whatever you choose for a career path, remember the struggles along the way are only meant to shape you for your purpose," he said. "Howard's legacy is not wrapped up in the money that you will make but the challenges you choose to confront. Howard forever!"