What issues are most critical to Black scholarship in 2018?
The question may seem subjective, but researchers at the National Urban League have found the answers to such complex questions.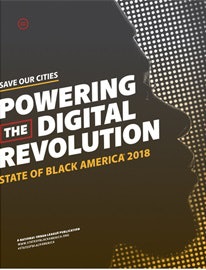 The venerable civil rights nonprofit has released its annual assessment of the socio-economic fitness titled,"Save Our Cities: Powering the Digital Revolution."
This year's "State of Black America" report, based on a compendium of data that compares and tracks Black, Hispanic, and White achievement, is organized into several broad categories such as health, civic engagement and social justice that function as indicators of socio-economic well-being.
When it comes to higher education, according to the report, two issues stand out: a persistent science and technology gap and crippling student debt, both of which affect students of color disproportionately, researchers say.
Post-secondary students of color are still, on the whole, less likely than White students to focus on subjects that fall within the rubric of science, technology, engineering and math (STEM). And those undergraduates who do choose a STEM major are less likely to continue their studies at the graduate level, the report notes.
That this disparity exists is not breaking news, but that so little progress has been made in the past decade is troubling to those in and out of academia.
It's not all doom and gloom, however, based on a closer look at particular segments, the report notes.
For example, in 2015-2016, slightly fewer White students earned degrees in computer and data science (2.6 percent) than did Black students (2.8 percent).
Dr. Gladstone Hutchinson, professor of economics and former dean at Lafayette College, says he has witnessed many success stories over the course of his long career that may have contributed to improving numbers among non-White degree-earners.
"I many times asked myself what made for their success," he told Diverse in an interview. "Often, the answer lies in high school and middle school mentorship programs. They can help students develop their natural sense of awe and curiosity. They learn that they have the capacity. Even if they come from backgrounds that are disadvantaged, even if they have not the skill set, if they have capacity and motivation when they reach the college level, they can succeed."
The Urban League is among those monitoring the impact of rising student loan debt, specifically on Black, Hispanic, lower-income and first-generation college students.
There once was a time when student loan debt was considered "good" debt, recalls Wade Henderson of the Center for Responsible Lending. Student loans represented an investment in one's future. Those days appear to be long gone, as many college graduates, including some college professors, struggle to make payments on decades-old student loans.
Researchers point to skyrocketing tuition costs at the same time wages have stagnated and states have been divesting from the business of higher education, leaving students and their families with fewer funding choices.
The report notes the results: In the fall of 2017, about 4.6 million borrowers were in default on student loans, according to researchers. Significantly, almost 90% of those in default were low-income borrowers. Additionally, 49% of Black students who began college in 2003-2004 were in default 12 years later.
Although they graduated college at the beginning of the recession, so did their White counterparts, who defaulted at less than half the rate.