A Gallup survey of Virginia Tech students suggests that they are more likely than the average American college student to thrive during their time on campus in terms of engagement, participation in activities outside the classroom, looking out for each other and well-being in general.
The poll of 2,041 sophomore, juniors and seniors last fall represented 10 percent of Virginia Tech students in those grades and builds on a 2015 Gallup survey of graduates.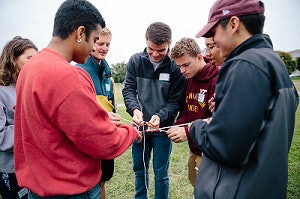 In the new study, students polled ranked higher overall than college students nationwide – and students at other large higher-ed institutions – in five categories: views on campus climate, perceptions about educational value and quality, student engagement, student well-being and student experiences.
Virginia Tech President Dr. Timothy D. Sands said the survey findings indicate that the land-grant school's "foundational values remain strong in our current undergraduate population, and our efforts to advance experiential education, diversity, and inclusion are aligned with needs of our students, our community, and the commonwealth."
Other key survey findings:
•A majority of students say Virginia Tech is a good place for racial/ethnic minorities and lesbian, gay, bisexual and transgender students.
•Virginia Tech students hold more positive views than college students nationally about the quality of their education — 16 percentage points higher than college students nationally and 14 points ahead of students at other large institutions.
•Virginia Tech students are more likely than students nationally to be engaged, surpassing the national average by 15 percentage points and large institutions by 18 points.
•Virginia Tech excels in providing experiential learning opportunities, and its students are extremely involved in co-curricular activities, ranking 13 percentage points higher than college students nationally and double that of students at other large institutions.
•Virginia Tech students believe fellow students look out for one another, with the percentage who strongly agree with that statement more than double the national average and at large institutions.
•Responses reflected a disparity among underrepresented and traditionally marginalized student groups at the school.
Sands has set a goal that 40 percent of the incoming students will consist of underrepresented, first-generation or lower-income students by 2022, and the Office for Inclusion and Diversity and other departments have instituted a series of initiatives to make it happen.
The Faculty Women of Color in the Academy National Conference takes place at Virginia Tech, and the university hired 30 new underrepresented minority faculty members to begin this fall. More than 500 students of color participated this summer in pre-college summer programs for rising high school juniors and seniors, including the Black College Institute, the Hispanic College Institute, Native American Outreach and the College Access Collaborative.
The school also is removing entry barriers to underserved and underrepresented students in its application process, including shifting its calendar to provide students an earlier notification of an acceptance decision, allowing self-reporting of transcripts to lower costs and building more support for scholarship students beyond their first year.
Virginia Tech also is adopting an application model developed by the Coalition for Access, Affordability, and Success that gives applicants more opportunity to communicate factors that don't necessarily show up in grades, extracurricular activities or test scores.
This fall's incoming class of 6,400 first-year students includes 34 percent from underrepresented minority groups or underserved populations, including first-generation students, veterans, and low-income students – a 15-percent increase over fall 2017.
"The most important aspect of all of this is that it's about removing barriers, not lowering standards," said Luisa Havens Gerardo, vice provost for enrollment management, when the new application model was announced in June. "One of the most difficult challenges I've encountered as an enrollment manager who's a true believer in access is actually translating to people that access and excellence are not mutually exclusive. It is about finding that high-potential, brilliant student and provide not only access but also the opportunity to realize that potential."