Elementary school students who participated in a comprehensive support intervention in the Boston public school district had about half the odds of dropping out of high school as students not in the intervention, according to a new study in AERA Open, a peer-reviewed journal published by the American Educational Research Association.
The 894 students who participated in the intervention from kindergarten through fifth grade had a 9.2-percent dropout rate in high school, compared to 16.6 percent for the 10,200 non-intervention students.
For the study, a team of Boston College researchers examined the impact of City Connects, a schoolwide systemic student support program based at the college.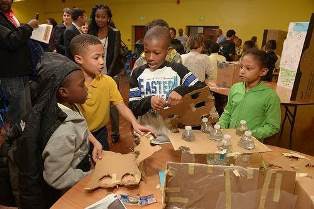 Developed through a collaboration between the college, Boston Public Schools and community agencies, City Connects is designed to make student support operations more comprehensive and efficient.
The students in the study entered kindergarten from 2000–01 through 2004–05 and were followed through 2013–14. Six of the district's approximately 125 elementary schools participated in City Connects during this period. These students were compared to students enrolled in the school district during the same time as the City Connects students but never attended an intervention school.
The researchers noted that the six participating schools had significantly lower academic achievement than the comparison schools before program implementation.
"Our findings suggest that individually tailored and coordinated student support interventions during elementary school can lead to lasting and meaningful effects," said study co-author Dr. Mary E. Walsh, executive director of City Connects and the Kearns Professor of Urban Education and Innovative Leadership at Boston College.
According to the researchers, students fail to complete high school for complex reasons that often develop long before they reach high school. The process of academic disengagement is influenced by a mix of in- and out-of-school factors, including academic, socio-emotional, family-related and societal.
Prior research has found that many factors affect dropout, including poor academic performance in elementary, middle and high school; a low sense of belonging in school; negative classroom behavior and little involvement in extracurricular activities. Graduation rates also are significantly lower for Black and Hispanic youth, for male students and for students from low-income families, single-parent households and families where parents had low educational achievement.
"Given that each new high school graduate has been estimated to yield societal benefits of $260,300 over a dropout, staying in high school rather than dropping out is highly meaningful, with an estimated $97.6 million return to society from the groups examined in this study," Walsh said.