Dear First-Generation College Student,
More than 35 years ago, I packed everything I could fit into the old Pontiac Catalina my grandparents helped me buy and drove halfway across the country to attend the University of Colorado at Boulder (CU Boulder). I did not know what I was doing. My parents had not gone to college. Three of my grandparents had not even graduated from high school. No one in my extended family could advise me about choosing or preparing for college, let alone navigating a large university once I got there. I had to figure college out on my own because I believed that I could become the first in my family to earn a degree, and I had to find it in myself to be brave enough to try.
Coming from New Jersey, I knew I needed to become an in-state resident in order to afford the tuition in Colorado. So, I got a new driver's license, rented a tiny apartment and picked up three part-time jobs – working at Taco Bell, as a receptionist for an eye doctor and selling Avon door-to-door. This was my dream come true?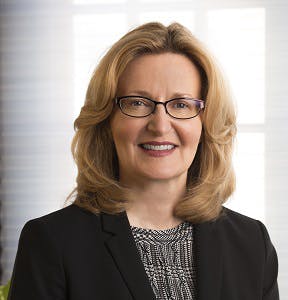 Many of you may have similar feelings, especially those of you who stepped onto campus for the very first time this semester. Your last few months have been filled with new experiences and emotions, lots of questions and maybe even a little doubt and apprehension as to whether you belong.
You do.
So as many of you prepare to return home to see your families for Thanksgiving and winter break, I urge you to reflect on what you have achieved during your first semester. Build on those accomplishments and continue to grow, keeping in mind that college is a learning experience for all students, particularly those like you and me – the first in our families to pursue a college education.
Here are six important lessons that I wish someone had shared with me when I arrived at CU Boulder. I encourage all first-generation college students to remember each of these points, especially during the first year:
Sometimes, college is a slog. I was tired most of the time from working, going to classes, studying and commuting. See this as a short-term problem. Without an education, you may work at a job that will make you tired the rest of your life.
Because there was no one in my family who could tell me the difference between a registrar and a bursar, I had to read things like the catalog myself (a paper document in those days) carefully and ask a lot of questions. With all the information I gathered, I made detailed plans for each semester. I ultimately managed to complete my major, a teaching credential, and a certificate in three and a half years.
You must ask for assistance. Today, there are entire offices at colleges and universities with the sole purpose of helping students like you. Find the places where you can have every question answered, and the people who will help you on your path.
Higher education attracts faculty and staff who are serious about their work, and who believe in the transformational power of education. Trust me, they notice students who work hard. This does not mean that they expect you to be perfect.
Prioritize your studies. If you put in the effort, you will succeed, despite the mistakes you will make along the way.
As an undergraduate, there were times I doubted myself and worried. I routinely put off starting homework and assignments until shortly before they were due, probably because of self-doubt. I read a lot and took copious notes to prepare for projects, but I took a long time to get started on them. Always remember that you are in school to learn.
Be careful about developing bad habits. The pattern I described above took me years to break. You will at times lack confidence. Talk to a professional, rather than finding ways to avoid a situation that makes you uncomfortable.
It is absolutely okay to be yourself. You were offered admission to your college or university for who you are — with your strengths and your weaknesses, and the fullness of your experience. Today, higher education is more accessible to a wider array of people, and diversity and inclusion is practiced and celebrated on campus. Feel good about what you add to the community.
Think big about your future. Be open to new opportunities, consider the suggestions of others and take advantage of study abroad and programs to learn about cultures not your own, and yourself, in the process. Because of the encouragement from others, I went from pointing myself toward secretarial school to envisioning myself in graduate school and eventually, earning my Ph.D.
College is an exciting experience, one that will likely transform your life. Take it from me – a first-generation college student who went on to become a college president – your possibilities are limitless. I am rooting for you.
Sincerely,
Dr. Carolyn J. Stefanco
Dr. Carolyn J. Stefanco is president of The College of Saint Rose in Albany, New York and is a first-generation college student herself.