Anea B. Moore, a senior sociology and urban studies major at University of Pennsylvania (UPenn); and Kristina Correa, a senior biology major honors student at Stanford University; have been named 2019 Rhodes Scholars.
Moore, who lost both her parents while in high school and college, is a first-generation college student and has served as co-president of the Penn chapter of a nonprofit focused on providing additional services to first-generation college students, according to The Philadelphia Inquirer.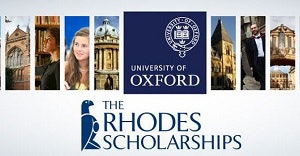 Correa immigrated to the U.S. from Mexico with her parents and grew up in southern Texas, according to Stanford News. During her time at Stanford, she has worked in multiple labs and with the university's Ziff Center for Jewish Life as a summer camp counselor for children whose parents currently have or have had cancer.
The oldest and most honored international fellowship awards in the world, the Rhodes Scholarships will provide all 32 student recipients with the opportunity to study for two or three years at the University of Oxford, all expenses paid.
The 32 Rhodes Scholars were among 880 applicants from 281 institutions across the nation. Almost half of the scholars are immigrants or are first-generation college students and 21 out of the 32 scholars are women, the most ever awarded since women became eligible to apply in 1976.