A notice in his mailbox to join Triton College's Transforming and Inspiring Undergraduate Men Pursuing Higher Education (TRIUMPH) program proved transformative for Brian "BJ" Miller, Jr. at the River Grove, Illinois school.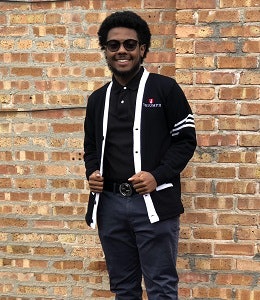 The TRIUMPH program – launched in 2014 to increase the retention and success of men of color on Triton's campus – provided Miller with a community of support from other men of color in addition to personal development experiences while pursuing his associate's degree in finance.
"If I had any issues or anything, there was somebody there that could talk to you and it also was a safe space as well," Miller said. "Once you confide in somebody or talk to them about a certain situation, it opens up another door for you because trust is gained and all sorts of things."
A five-year, $500,000 grant award from the ECMC Foundation this fall will expand TRIUMPH at Triton and allow more young men like Miller who are enrolled at neighboring Chicagoland colleges to participate in their own comprehensive support program. Triton will initially partner with Elgin Community College and Waubonsee Community College, leaders said.
Further, the grant will support increasing program officials' data capacity to monitor data and scale programs to the other institutions.
"We continue to monitor [students' outcomes] because it's not just enough to put the programs in place," said Dr. Deborah Baness King, dean of academic success and interim dean of student services at Triton. "We have to show that we're making significant gains as well. We're not doing our students a service unless we can see the service in the data."
Dr. Adetokunbo "Earl" Fatoke, Triton's director of student support initiatives, noted that because the community college space is a "primary point of entry" for men of color in higher education, one of the main goals in creating TRIUMPH was to provide ongoing support and additional resources to create a sense of belonging on campus. This connection is "vital to their success," he said.
"The ultimate goal of TRIUMPH is to empower our students to not only succeed at the community college but to move on into the workforce and into four-year institutions with a high degree of confidence," King said.
TRIUMPH empowers students to succeed academically, personally and professionally through intensive mentoring with male professionals and targeted workshops to reduce social, emotional and non-cognitive barriers to success. To accomplish this, program leaders set learning outcomes for the men to achieve competencies in emotion management, conflict resolution, time management, financial literacy and utilization of resources.
"We provide not only the resources, but also opportunities to utilize resources," Fatoke said. TRIUMPH scholars attend Friday workshops throughout the semester focusing on their self-improvement and awareness, academic excellence and servant leadership.
A goal-setting workshop, for instance, requires the men to map out their academic plans and their plan of action to achieve their goals. Writing and public speaking workshops refine the men's ability to assert and articulate their points, but also emphasize the value of listening, Fatoke added.
In addition, the young men learn how to tie a bowtie or tie, learn how to communicate with professors and others, or learn the appropriate behavior in a restaurant setting through a spring etiquette luncheon. A male leadership summit is scheduled for April 2019, Fatoke said.
"We do focus a lot on what does it mean to be a man of color on our campus, what does it mean to be a man of color on a campus that identifies as a minority-serving institution," King said, and "what does that mean in terms of, as you go through your process and become successful, what obligations do you have to give back to your community and give back to generations that are coming behind you."
These conversations extend to how the men can navigate their world post-graduation in environments that may not always provide a support system like TRIUMPH.
Students in TRIUMPH typically take three years to leave the community college setting, King said, so it provides an opportunity for older students in the program to serve as "big brothers," creating a network of mentors to incoming men of color at Triton.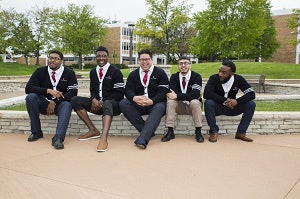 "When it comes to the financial side, [TRIUMPH] helps students learn the difference between credit and understanding a credit card, and what goes on with a credit card – how to use it, how to pay it off, what not to do with that," said Miller, who intends to improve his community's financial literacy skills. He is looking to transfer to the University of Illinois or an Ivy League institution after completing his degree next semester.
"As far as critical thinking, it allows us to have different mindsets [such as] being open-minded," Miller said of TRIUMPH. "It also gives me somebody else that's a part of the program that is just like me or that is similar to me, and it gives a connection."
Leaders are seeing indicators around the program's impact: students are attending classes at higher rates; retention, completion and transfer rates are increasing; and the program is giving students the confidence to branch out to attend four-year institutions beyond the region in some cases.
Triton, Waubonsee and Elgin college leaders recently met in September to discuss the expansion of the TRIUMPH program to the latter campuses. Expanded program initiatives will include group visits to historically Black colleges and universities and Hispanic-serving institutions beyond the region, among other activities.
"I'm really excited about the opportunity to work with other partner institutions and very pleased that institutions … are not hesitant to explore ways in which to meet the needs on their campus when it comes to our students of color," King said. "A lot of institutions would shy away from that, and unfortunately, it seems to be kind of a unique approach to not shy away from it, and we need to get away from that. It needs to be the standard."
Leaders aim to serve 1,500 men of color with the program's expansion over the next five years. This is a significant increase from the program's inaugural group of 25 students.
"The best compliment that we can have as a program is that we have so many students who want to participate that we're struggling with how do we expand at the rate in which the demand is there," King added. "At the same time, we also want to work ourselves out of a job. We want to get to a point where our students don't need a special program in order to feel connected to the institutions."
Tiffany Pennamon can be reached at tpennamon@diverseeducation.com. You can follow her on Twitter @tiffanypennamon.