Xavier University of Louisiana (XULA) senior Sydney Green has been selected as the inaugural recipient of the Frederick Douglass Bicentennial Scholarship Program, the United Negro College Fund (UNCF) announced.
Established by the Signore family, the scholarship program honors and celebrates one of the most transformative figures in American history. The program is currently administered and managed by UNCF through 2039.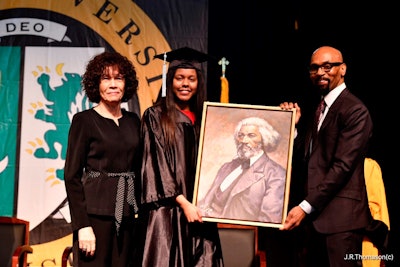 Green will receive the $10,000 award given her academic achievement, dedication to community service and strong leadership skills.
"With help from The Frederick Douglass Bicentennial Scholarship Program, I will not have to spend most of my life paying back student loans," said Green. "As a future teacher, I can focus on positively impacting the next generation, instead of stressing over the amount of debt I would owe after graduating."
Green has been increasingly involved in serving her community since she first enrolled at Xavier. She has spent countless hours at programs hosted by the Center for Student Leadership and Service, and has worked with children through both Xavier's community outreach center and in a classroom setting.
As part of XULA's annual Black History Month Convocation, Ms. Nettie Washington Douglass, the great-great granddaughter of Frederick Douglass and the great-granddaughter of Booker T. Washington, will give a special presentation to recognize Green.