Whether it is cheering on the Wolverines at sporting events, engaging with faculty during "Talk with Tuminez" broadcasts or recently updating a maternal leave policy to make Utah Valley University (UVU) more inclusive for women employees, Dr. Astrid S. Tuminez is rede­fining what it means to include, engage and achieve as the university's seventh – and ­first woman – president.
Born and raised in poverty in the Philippines, Tuminez's rise to the presidency at UVU is molded by more than 29 years of experience in academia, public policy, the corporate sector and, more signi­ficantly, her early formative experiences attending a private school run by Catholic nuns of the Order of the Daughters of Charity.
"The power of education was immediate for me," Tuminez says. "I didn't know how to spell my name when I signed up for school. The discovery of reading changed my life completely."
The young Tuminez used every spare moment seeking out knowledge, becoming a self-described voracious reader who discovered the world at large. She read about New York City and the United Nations in Time magazine, where she would ultimately live and serve as an intern.
"So the way that we invite the universe into our life, to me, that was really through education and so many doors opened for me," she says.
A nontraditional leader
Tuminez arrived in the United States at age 18 and earned her bachelor's degree in Russian literature and international relations from Brigham Young University. She went on to earn a master's degree from Harvard University and a Ph.D. in political science and government from the Massachusetts Institute of Technology. She is fluent in ­five languages, including French, Russian and Ilonggo.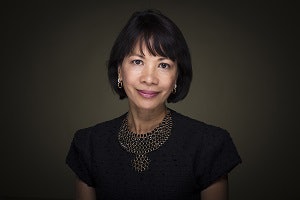 Having worked in ­five countries and at organizations and institutions such as the Carnegie Corporation of New York, the American International Group, the Harvard Kennedy School, the Lee Kuan Yew School of Public Policy at the National University of Singapore and Microsoft, a resilient and persistent Tuminez now brings a visionary agenda to Utah Valley University – one that looks to accentuate the institution's dual mission in a "disruptive moment" in higher education.
"It's disruptive in the sense that a very elite [and] high cost model of education no longer works, or it works for a limited subset of the population," Tuminez says. "The big question in higher education is really how do we systematically create opportunity to get the highest percentage of people with talent – whatever age, whatever gender, whatever background – to have the possibility of achieving more to make something of themselves?"
For this reason, Tuminez's focus on the university's dual-role mission as both university and community college takes into account that UVU is a place where 77 percent of students are working students and 38 percent are first-generation college students. Many students are married or have children, and parents do have access to child care on campus, she says.
"We are open enrollment, and therefore we are expanding opportunities for everybody who wants to come," Tuminez adds.
"I believe that education today has to be non-prejudicial in who we give the opportunity to," Tuminez says. "We have to make it affordable and I think the silos of knowledge have to be broken down."
Breaking barriers
Utah is experiencing a moment where five women are leaders in the higher education space. And for Utah Valley University, Tuminez's appointment as the university's first woman president not only brings new opportunities and policies — such as a widely-welcomed new maternity leave policy — but it builds on the progress of the past.
"On the day that I was selected [by the Utah Board of Regents] … I remember it was a fantastic, exciting moment, but also a little bit overwhelming because all of a sudden, all the attention and focus was on me," Tuminez recalls, noting that UVU previously had two interim women presidents. "It's important to remember that my being the first president was not a moment that happened magically. It's preceded by decades of really, really, really, really, really hard work."
At her recent State of the University address, Tuminez took the time to celebrate what the university has accomplished thus far, and she also unveiled words that would serve as the pillar of her presidency: Exceptional Care, Exceptional Accountability and Exceptional Results.
"If we are true to these values," Tuminez says, "I think we will be able to care for every person who walks in the doors of the university, we can hold one another accountable for our time, resources and mandates and we can be proud of and really train our sights on results."
Three additional words — what Tuminez calls "Action Commitments" — will measure the progress UVU makes in upholding its values and working toward set goals. One of these goals is increasing the university's completion rates by another nine percent by 2025, Tuminez says.
The word "Include" will continue the university's open enrollment policy and promote an environment where the campus community can be "comfortable in our occasional discomfort," Tuminez notes.
An emphasis on the word "Engage" will promote engaged learning and research for students and faculty. Moreover, it will promote a culture where students, faculty and staff will bring the best talent, ideas and energy in all they do at the university, she says.
Lastly, Tuminez connects the word "Achieve" to sports and the many athletic events she attends, cheering on students with her pom-poms.
"Sports are a good metaphor for collaborating with others when your team is having a meltdown," she adds. "When you achieve, you cry, you celebrate together, and when you are down on the ground … achievement requires teamwork and sacrifice."
Anna Tibbitts, a senior and UVU presidential intern, notes that Tuminez's arrival brought a plethora of excitement to campus and that the leader brings a new perspective and momentum to UVU that has been "almost perfect in its timing."
"At the very least, I have noticed that having a woman leader of UVU has allowed current women students to widen their goals for their futures," Tibbitts says. "They've started to believe they can do things they didn't think were possible before."
Marc Reynolds, the student body president at UVU, adds that Tuminez is able to connect with students on a level that was surprising to him.
"[Students] see her as a local celebrity or even a superhero," Reynolds says. "I hope to see her continue to make time for student interactions during her presidency."
Other students such as Kim Bojórquez, a presidential intern to the vice president of University Relations, and Nick Varney refer to Tuminez as not only a role model and "trailblazer in her own right," but also a "remarkably authentic thinker" who is incredibly kind.
"I'd like President Tuminez to focus on growing initiatives that help nontraditional students navigate resources like mentorship programs, tutoring centers and academic advising that the university already has to offer," Bojórquez adds.
Plans for the future
Such initiatives and programs are part of Tuminez's vision to serve the nearly 40,000 students that attend Utah Valley University today from a variety of backgrounds. She constantly thinks of how to continue to grow resources in order to bring the opportunities that will allow students to embrace their ambitions and talents.
"That is the single most important thing that keeps me awake at night because opportunity is meaningless — growth is meaningless — unless you can support it with courses, with faculty, with staff, with internships, with apprenticeships," Tuminez says.
In the first five years of her presidency, Tuminez says she will lay the foundation for care, accountability and results that last far past her time at the institution, while actively working to improve UVU's retention, graduation and fundraising.
"And those numbers are going to be underpinned by great, effective collaboration among faculty, administration and staff and our students will benefit greatly from that," she says.
Tibbitts, Tuminez's intern, says the president consistently advocates for students to chase their dreams and she hopes the president continues to implement the cause for dreams in her actions.
"By showing students they really can do and be whatever they want, it won't matter what comes her way as our president," Tibbitts says. "She will take UVU to the next level."
Tiffany Pennamon can be reached at tpennamon@diverseeducation.com. You can follow her on Twitter @tiffanypennamon
This article appears in the March 21, 2019 edition of Diverse.