WASHINGTON – Former First Lady Michelle Obama was the highlight of the Reach Higher Initiative program at its fifth annual Beating the Odds Summit, a one-day workshop for incoming first-generation college freshmen held at Howard University's School of Business.
"Let me just say, I am proud of you all," Obama told the 50-plus students attending the Tuesday event, which she created while in the White House.
"I just want to start by saying this is a passion for me because as I've always said, I see myself in you all," she said. "I was where you all were. I won't even count the years, but it's been a while before I started college, coming from a working-class background where you start out your whole life with people telling you what you can't do. Starting to put those little doubts in your mind about whether you are worthy or capable."
Obama, who also was a first-generation college student, was joined by Philadelphia Eagles player Malcolm Jenkins, Reach Higher alumni Rachel Scott and Ariel Ventura-Lazo, and Wes Moore — a best-selling author and CEO of the anti-poverty nonprofit Robin Hood — for a panel discussion.
A number of student issues in college were discussed, including the need for a balanced life and the importance of one's mental health.
Obama said that managing mental health is one of the pegs of success, and she stressed the important role of exercise and healthy eating.
"Having a bad diet can lead you to feeling depressed in ways that you don't even know," she said. "You got to think about having a balanced diet, you got to have some vegetables. I don't want to be the mother in here, but you really do. You can't just eat carbs for four years. You'll start feeling that and wondering why you are sluggish. We don't talk about this enough with young people."
Obama created Reach Higher as a way to encourage first-generation and underrepresented students to complete an education past high school by attending a community college, four-year college or university or a professional training program.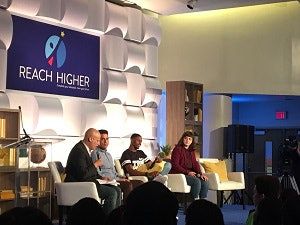 Under the initiative, student success is celebrated at events such as College Signing Day, school counseling services have been improved and useful college resources are explained such as financial assistance through the Free Application for Federal Student Aid, or FAFSA.
"There are adults in your life that are so impressed with what you did," Eric Waldo, executive director of Reach Higher at the Common App, told the crowd. "Because there were so many people out there who told you that you couldn't do it. Each and every one of you is taking that next step towards your education. We want to celebrate that."
The summit began with opening remarks from Howard University president Dr. Wayne A.I.Frederick, McDonald's operations associate Ron Williams and Wes Moore.
Frederick welcomed the students by leading the crowd in the school's "HU, You know" chant before expressing support for the former first lady's initiative.
"Being a first-generation college student is a significant undertaking and one that cannot be taken lightly," he said. "I hope that all of you recognize that your opportunity here is a significant one."
Williams and Moore discussed how pursuing an education changed their lives after dealing with difficult childhoods.
During Moore's speech, he expressed his appreciation for all of the students' hard work.
"I just wanted to take the time to say that you are exactly where you belong," he said. "And I want you to really take that and accept that. Because I know oftentimes, we end up in these spaces where you are around all these people and we sit there and say, 'I just can't believe I'm here.' I want you to erase that, you're exactly where you belong. You are never in a room that you don't belong in."
Waldo mediated a panel of program alumni – Manuel Contreras, Rochelle Fraenig and Darius Wesley – who shared positive and negative stories about their experiences in college as first-generation students. They also discussed the benefits of the initiative.
"Reach Higher gave me the necessary tools and information that I needed to tackle those road blocks that I had," said Wesley.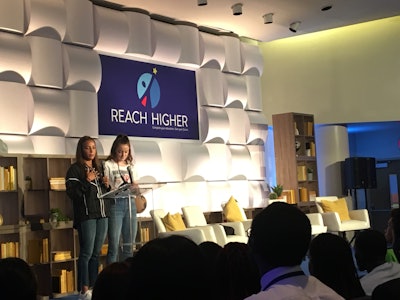 Fraenig and Wesley were part of the original group of 14 students whom Obama met in 2014 for the first Beating the Odds conversation.
"It was an incredibly nerve-wracking experience to be able to talk to someone so elegant and eloquent," said Fraenig. "But I think also very empowering to know that my voice is important, that our voices are important and that our stories are important to share."
Mallory Pugh and Rose Lavelle, players from the United States women's national soccer team, made a surprise appearance. They spoke about the importance of finding a supportive community in college.
"College was an opportunity that opened up a lot of doors for me," said Pugh. "I made some great friends, I have so many memories and I made a lot of connections. I found my community, my peers, my mentors, my friends and my teammates."
After the panels, there were afternoon workshops about the anatomy of college campuses and the transition period from high school to college.
In 2018, the Common Application (Common App), a non-profit college admissions organization, acquired Reach Higher as a way to increase college accessibility across the nation.
Students from the bottom income quartile have a 9-percent six-year college graduation rate compared to students from the upper-income quartile, who have a 73-percent six-year graduation rate.
Additionally, according to Reach Higher, 10-20 percent of students who make a concrete commitment to go to college never make it due to financial challenges, enrollment requirements or the fear of leaving home.
Sarah Wood can be reached at [email protected].