Arantza Peña Popo, a Georgia high school graduate from Columbia, won a $30,000 college scholarship in a "Doodle for Google" contest.
Her high school, Arabia Mountain, will also receive $50,000 for a computer lab or technology program, according to an Associated Press article.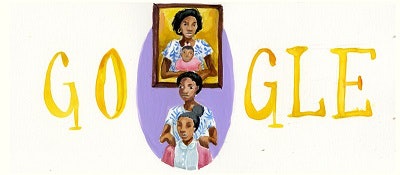 For the competition, K-12 students crafted designs for Google's logo that reflected their hopes for the future. Popo's doodle – titled "Once you get it, give it back" – features an adult Popo and her elderly mother standing in front of a framed picture of Popo's mother holding her as a baby.
Popo's design appeared Tuesday on Google.
"When I grow up, I hope to care for my mom as much as she cared for me my entire life," Popo wrote in a statement submitted with her design.
This isn't the first time Popo's art won a contest. She was the grand prize winner of the Congressional Arts Competition last year.
Popo recently graduated high school as a valedictorian and plans to study graphic design at the University of Southern California in the fall.