Students union leaders from 10 Hong Kong universities will call for a boycott of the start of classes to pressure the government to respond to the protest movement gripping the city since June, they said Thursday.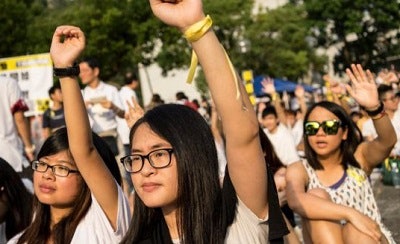 The student leaders called on students to skip the first two weeks of classes in September. They vowed to escalate their action if the city's Beijing-backed leader, Carrie Lam, fails to respond by Sept. 13.
Young people have been at the forefront of the Chinese city's protest movement, which was sparked by calls for the withdrawal of an unpopular extradition bill. The bill, which would have allowed suspects to be extradited to mainland China where the judiciary is not independent, was eventually shelved – but the crisis has deepened and supporters now have four other demands, including full democracy.
"Two weeks should be enough for the government to really think through how to respond to the five demands," said Davin Wong, acting president of the Hong Kong University Students' Union.
The student leaders said they haven't decided how to step up their action after the first two weeks, but it could include an open-ended general strike.
Also Thursday, high school students thronged a downtown square for a rally. Hundreds of teenagers, wearing black and holding umbrellas in oppressive heat, chanted "Liberate Hong Kong" and "Revolution of our times" and called for Lam to step down, before breaking into groups to discuss the city's political future.