Embracing its role as an urban institution, Temple University provides opportunities for graduate students of diverse backgrounds and interests.
In 2017, Dr. Zebulon V. Kendrick, vice provost for graduate education at Temple University, was honored by the Southern Regional Education Board (SREB) for his work with doctoral students of color. Dr. Ansley Abraham, director of SREB's doctoral scholars program, described Kendrick as providing crucial support to doctoral students that enabled them fulfill their path of becoming researchers and faculty members.
"Higher education, particularly graduate education, is a place where optimal environments for interaction and for learning of diverse student populations really enhances everything," says Kendrick. "If we can recruit a diverse student population, the students will be in classes together. They'll be interacting inside and outside of classes, inside and outside of laboratories. They'll be sharing cultural events.
"Because of diversity … I truly believe graduate education provides the opportunity for students, faculty and administrators to have a better understanding of the cultures within the United States as well as the world," he adds. "It makes for positive dialogue among all of these populations."
Temple's Graduate School currently offers 135 master's programs, 55 doctoral programs and 10 professional science master's programs. Kendrick oversees all the graduate programs and endeavors to find ways to promote diversity. Part of his job involves approving new graduate courses. He works with the graduate board of 30 elected faculty members from different schools and colleges at Temple.
"I work with graduate programs to develop new programs that meet the needs of the 21st century or restructure graduate programs that would better meet the needs of the 21st century without losing the perspective of how we got to where we are today," says Kendrick.
Temple has a legacy of diversity initiatives dating back to the Future Faculty Program for underrepresented students founded in 1988. For underrepresented students from the United States, there continue to be Future Faculty Fellowships.
"I work with individual programs to try and increase diversity of students, both domestic and sometimes international," says Kendrick. "I work with those programs to target funding to increase their yield of applicants."
The Graduate School is active in attending McNair Scholars events and diversity fairs across the country. These events provide the chance to engage with gifted students from underrepresented populations.
Kendrick has also initiated local recruiting efforts to attract students from the greater Philadelphia area. He is also responsible for the post-doctoral office and participates in SREB's diversity program as part of recruiting post-doctoral fellows to Temple.
Temple's Graduate School offers several key retention programs. It partners with the university's schools and colleges to offer approximately 50 four- or five-year fellowships for incoming doctoral students and two- and three-year MFA fellowships.
There is also the First Summer Research Initiative, which provides summer research grants for U.S. underrepresented students, who do not have summer support, so they can remain fully engaged in mentored research. This program is specifically designed to enhance retention by keeping students involved in research year-round. Kendrick notes that the Graduate School funds about 30 First Summer Awards annually. There are additional summer grant-in-aid funds for 15 to 30 doctoral students.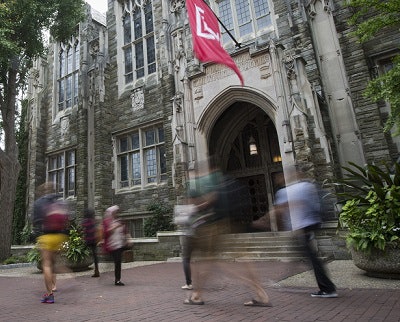 Every semester, the Graduate School runs grade reports and flags grades below a B-minus. The dean's office of the individual schools and colleges are alerted so that extra advisement or other support can be provided.
"I offer funds to co-sponsor professional development of graduate students [with the individual schools] at Temple," says Kendrick. "This past year, we co-shared the travel costs for students to go to professional meetings to present their research."
Kendrick credits his own educational background with giving him insight to best serve graduate students and faculty. His bachelor's degree is in history, his master's is in physical education and his doctorate is in kinesiology. He also did a postdoctoral research fellowship in pharmacology.
When you put historical perspective together with an understanding of the mechanisms of science as well as psychological and sociological aspects, Kendrick feels he's well poised to be an effective advocate for graduate students.
There are about 60 dissertation and project completion grants awarded annually to students who no longer have funding to complete their dissertation or MFA project. Kendrick has mentored many doctoral student dissertations and masters theses over the years.
Temple's Center for the Advancement of Teaching provides workshops and special events for faculty and teaching assistants to address issues that may arise in the classroom. An overall campus-wide commitment to inclusion is present.
"My hope is the students are having a really good graduate school experience beyond the classroom and the lab," says Kendrick. "Part of that is the growth that students would experience by learning about other cultures. It makes a better world. We've got to keep working to increase not only diversity and retention, but the opportunities for diverse populations to come to Temple and succeed."
This article appeared in the Aug. 22 issue of Diverse.